Keke Palmer has been acting since she was a child, but she may have landed her biggest role yet in Hustlers alongside Jennifer Lopez, Constance Wu, Lili Reinhart and Cardi B. Based on Jessica Pressler's article on The Cut about a group of street-smart former strippers who "hustle" a bunch of their Wall Street clients out of money, the former Scream Queens star takes on the role of one of the dancers, Mercedes. Palmer passed no judgment on her character, but did find herself challenged by the role itself.
"I think I really had to be on my toes," Palmer, 26, says over the phone. "The director really allowed me to improv a lot, which of course, is something I was also interested in and interested in showcasing in this kind of project. [I was] really making sure I was ready for every moment, filling more spaces and bringing whatever moment to life in that scene."
While Hustlers is likely to be a memorable moment on her resumé, Palmer has a lot to be excited about. Just last month she was announced as a new ho'90s Icon Julia Stiles Returns in 'Hustlers'st of Good Morning America and released new single "Twerk N Flirt," signaling a new musical era for her. While she may be a viral star of the moment due to her (unintentionally) withering drag of former Vice President Dick Cheney, It's safe to say she'll be staying busy far into the future.
Right after surprising an unsuspecting bus of fans with Lopez, Palmer spoke to PAPER about her role in Hustlers, owning her sexuality and what the future of her music career looks like.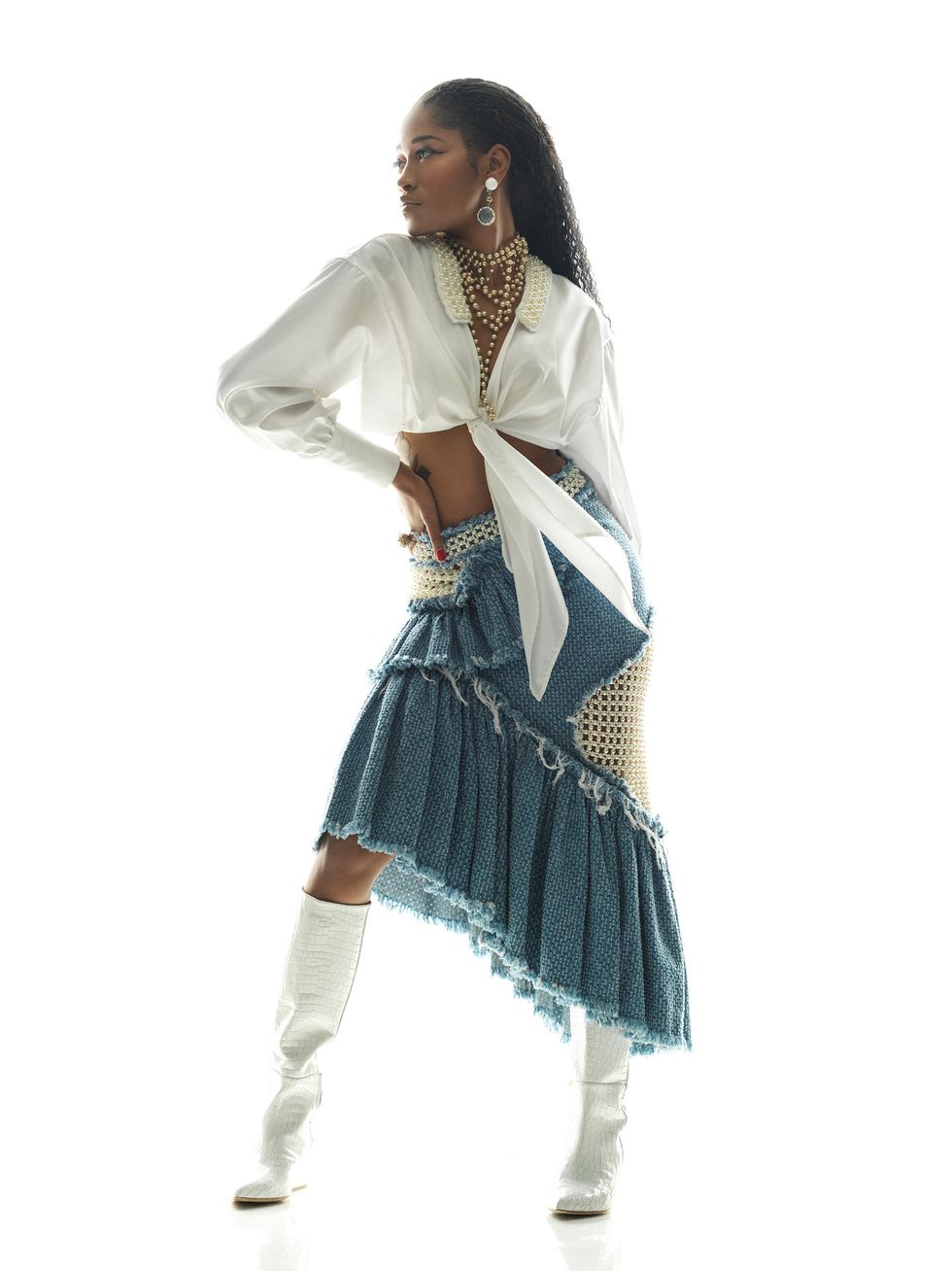 Shirt and skirt: Laurence & Chico, Boots: Tibi, Jewelry: Erickson BeamonShirt and skirt: Laurence & Chico, Boots: Tibi, Jewelry: Erickson Beamon
Tell me about your role in Hustlers. What drew you to the character of Mercedes?

What drew me to the character was the overall project: the fact that it was a true story. That it was about strippers, but it was also telling a story in a way that wasn't dehumanizing them but telling a story that has a lot of heart. And of course the cast: the cast drew me to the project. Mercedes is a part of the girl gang that ends up doing these criminal acts, but she's a really lighthearted girl. They're doing crazy things, but she's one of the people that brings a lightness to it. That's Mercedes.
What was your favorite scene to shoot as Mercedes?
Probably "the car scene." I don't know if I can say what happens in it, but it's this car scene where we get into this bad situation with this guy — it's myself, Constance and Lili. It's just really funny what the girls are trying to do, and my character and how she's reacting. And when we get to the hospital what my character does. It was a quirky moment for her.
What was your experience like working with Jennifer and Cardi?
I love working with Jennifer. She's such a girl's girl. I was just gagging. I don't know how to explain it, but it was just like hanging out with someone I've known for a long time even though she's a big star. At the end of the day, she just literally is Jenny From The Block. We had mini moments of just having fun and hanging out and I got to know her as a person and she's pretty impressive. Even though I got to work with [Cardi] only for a short time, what was dope was people see her as a very animated person, which is a part of who she is, but it was really cool to see her in this atmosphere because she took it very seriously. It was clear she had a real respect for acting and what actors do and she took the opportunity to be one. I thought it was really cool. She has this sweet shyness to her that's really interesting.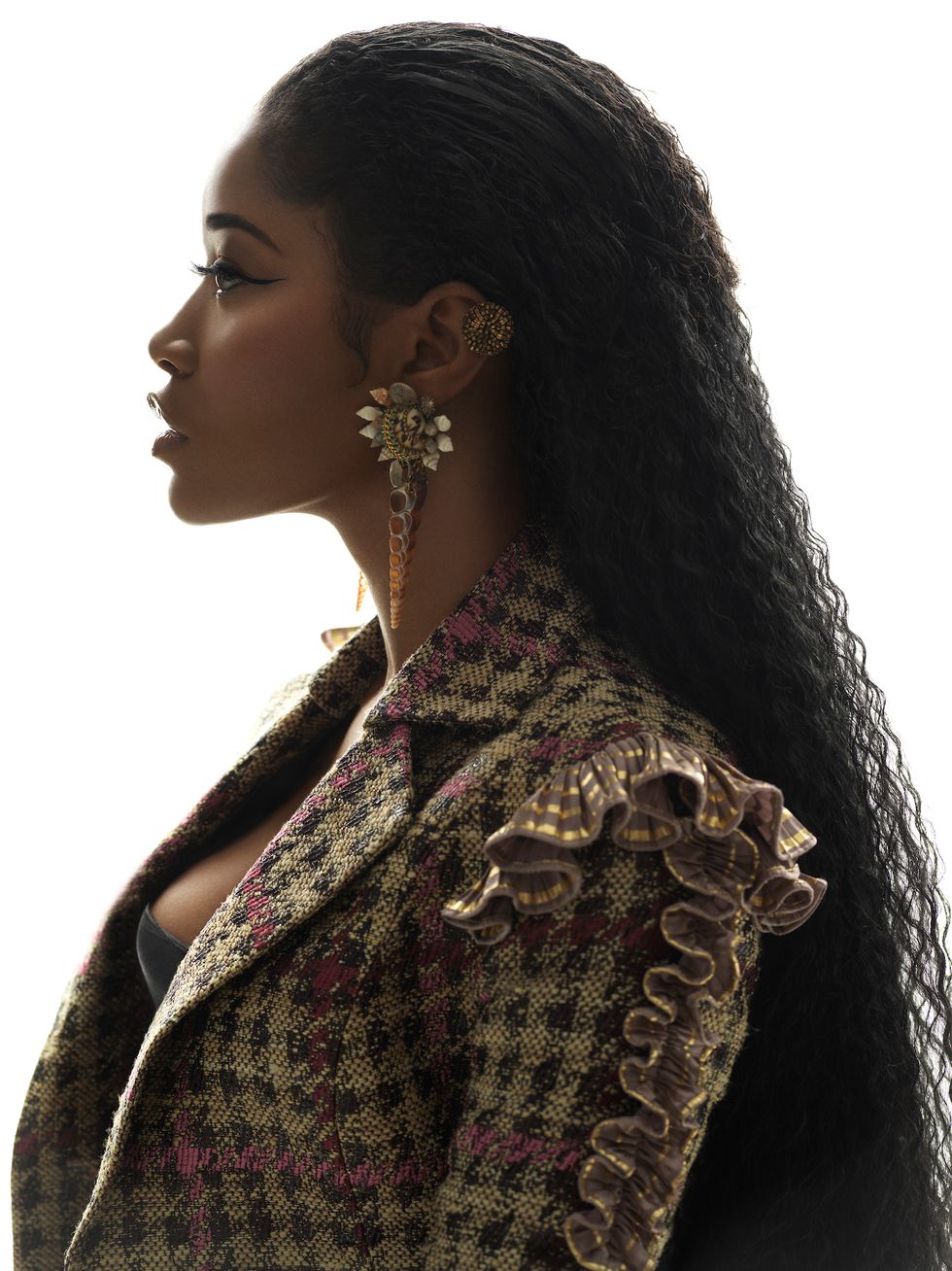 Jacket: Vivienne Hu, Top and shorts: Agent Provocateur, Earrings: Erickson Beamon, Shoes: Vivienne Hu
Were any parts of Hustlers physically challenging for you?
I didn't have to do any crazy physical stuff. I didn't have to do any major pole dancing, though I did take a class. Most of our stuff was when we were in the club which was dancing on stage. I was excited to have a reason to show off some of my moves that I usually do in my bedroom.
Hustlers is slated to be one of the biggest movies of the year. What do you feel like this film means for your career?

I'm just very grateful. I've been in this industry for a long time. When you start out as a kid, you grow and evolve into something different. For me, this movie is again another phase throughout my career. This is one of the biggest things I've done and one of the most fun things I've done as an adult. I'm just excited to have been a part of it. I can't say what's going to happen after that or how people are going to perceive it. But for me, it's another thing that's stretched me, and it's a project I'm glad I got a chance to do because it was very inspired.
Have you hung out with the Hustlers cast apart from filming?
No. Lili is always working in Vancouver on Riverdale. Jennifer is crazy busy. Constance is in LA. I'm always traveling back and forth between New York and LA, so it's kind of hard. That's the sad thing about when you do films, is y'all are together every day but then everybody has to go back to their lives unless you guys are doing a TV show or live in the same city. It's always hard to keep in touch on a physical basis, but we always show each other love on text message or social media because we have that bond of that moment together.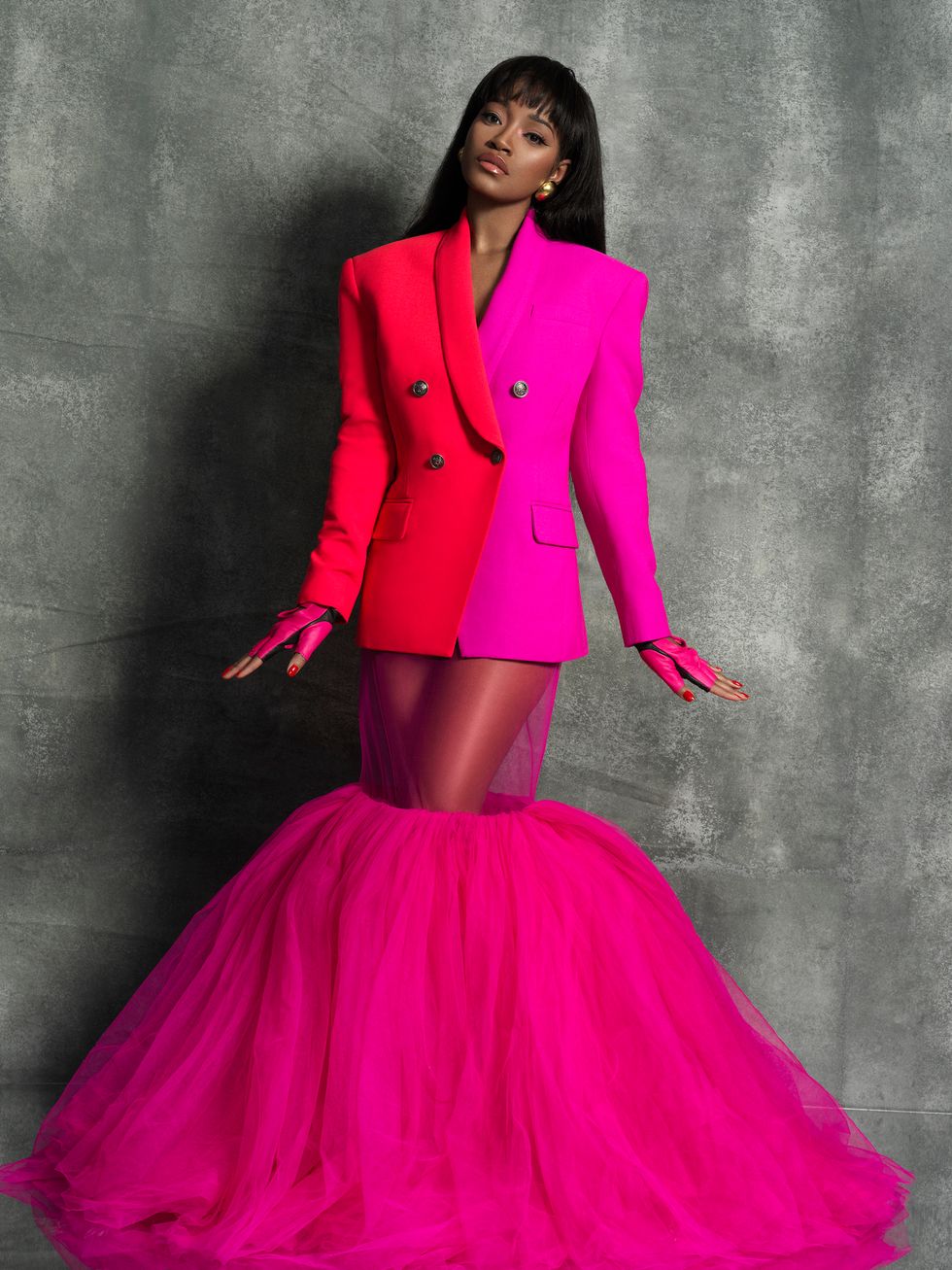 Blazer: Not-A-Label, Dress: Laurence & Chico, Gloves: Wing & Weft, Earrings: vintage Halston
Talk to me about the style in the movie. What was it like wearing the clothes?
Oh my gosh! It was so dope wearing the clothes. I love the stripper vibe moment. It was fun again. I got to be in sexier bag than I've ever been in, but that was short-lived in comparison to the rest of the wardrobe throughout the movie, which was super early-mid 2000s Baby Phat apple bottom jeans. I never got to wear [that stuff] because by the time I was old enough to wear that style, it was already kind of gone. So I enjoyed having that throwback vibe. To see Jennifer like that... it was kind of like seeing J.Lo again.
What do you want people to get out of Hustlers?
What I want people to get out of the film is that it has a lot of heart. It's about camaraderie, survival and brokenness, which I think everybody has. No matter how perfect a parent was, we all have things from our childhood that makes us feel like we want to feel accepted and loved. In this movie, you have a group of girls, whether you want to judge them for what they did or not — they were trying to do what they could the best way they knew how. They were trying to connect and find a support system, and they found it the best way they knew how. I feel like people will relate to that, and I hope that they do because that's what makes the movie so special.
Talk to me about your musical comeback. What prompted you to release "Twerk N Flirt" first this year?
I had been working on a lot of music the past few years when I was living in Atlanta. I was waiting for the right time to start rolling some of it out and that's what I pretty much started to do. "Twerk N Flirt" had to be the first one because it's sort of the theme, especially with Hustlers coming out. That's the first of more music coming soon.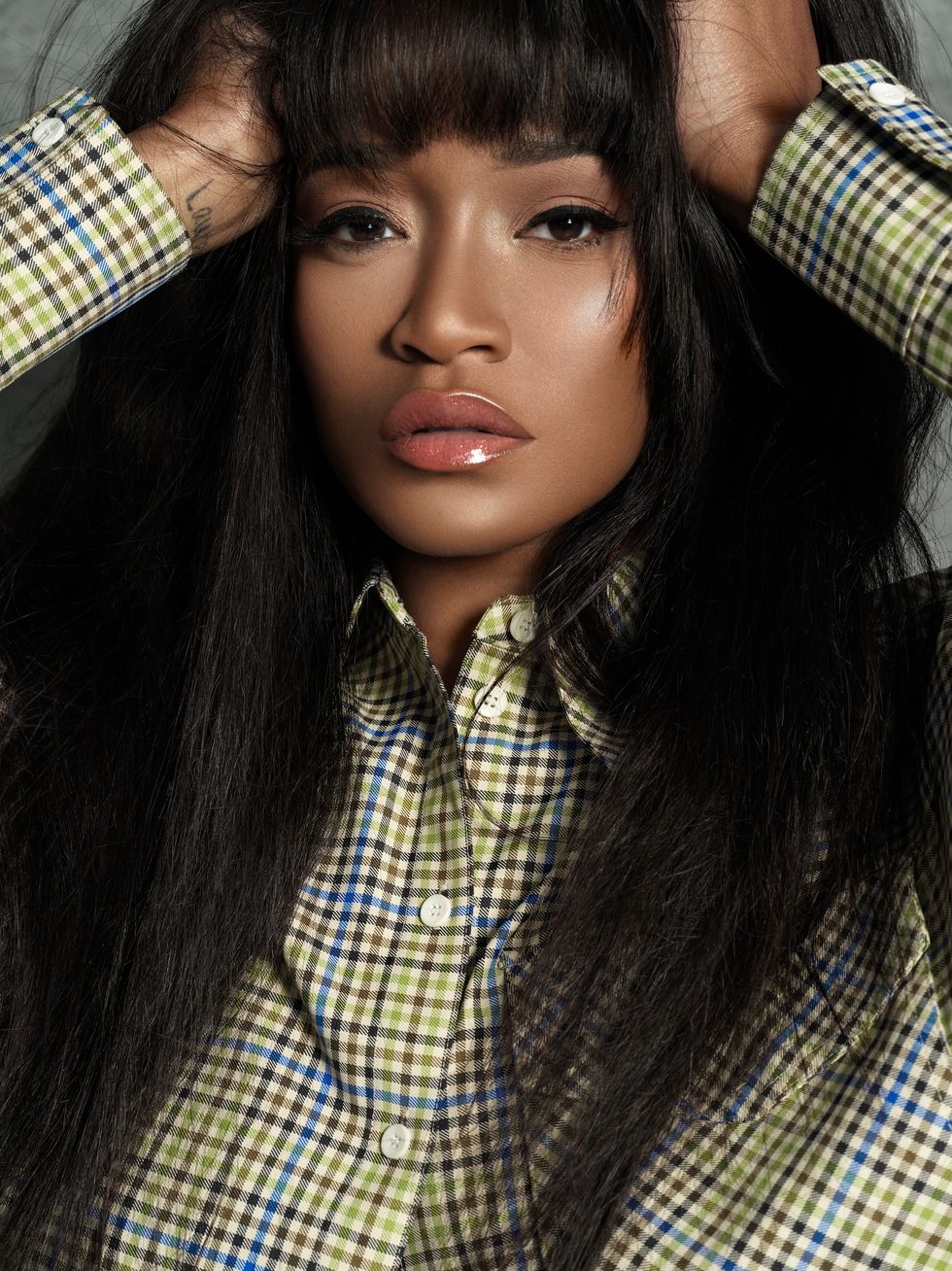 Clothing: Tibi
Will you release a full record or singles?
I don't know if I'm going to release a full album, but I'm going to release a bunch more music. I don't know if it'll totally be in the package of an album.
Which artists do you find yourself influenced by at the moment?

Of course I've always loved R&B, but a lot of trap sounds, a lot of the music I was listening to at the time was rap. Migos. I think about Brandy. Aaliyah. But currently the trap sound has been really influencing me so a lot of the production is familiar to that even if the melody on top of it is a little more R&B. I do some rapping on it. It's a little bit of everything.
You were recently named a new co-host of Good Morning America. How do you approach being on a talk show vs. acting? What's the transition been like for you?
When I did it in the past, it wasn't on the same kind of platform. This one, I think it puts me in a feeling of making sure I'm very present. I have to really pay attention to what's around me. I think it's a responsibility — don't know if it's good or bad — but I try to make sure what I bring to the show is what I represent. It's caused me to be much more aware of what's going on around me.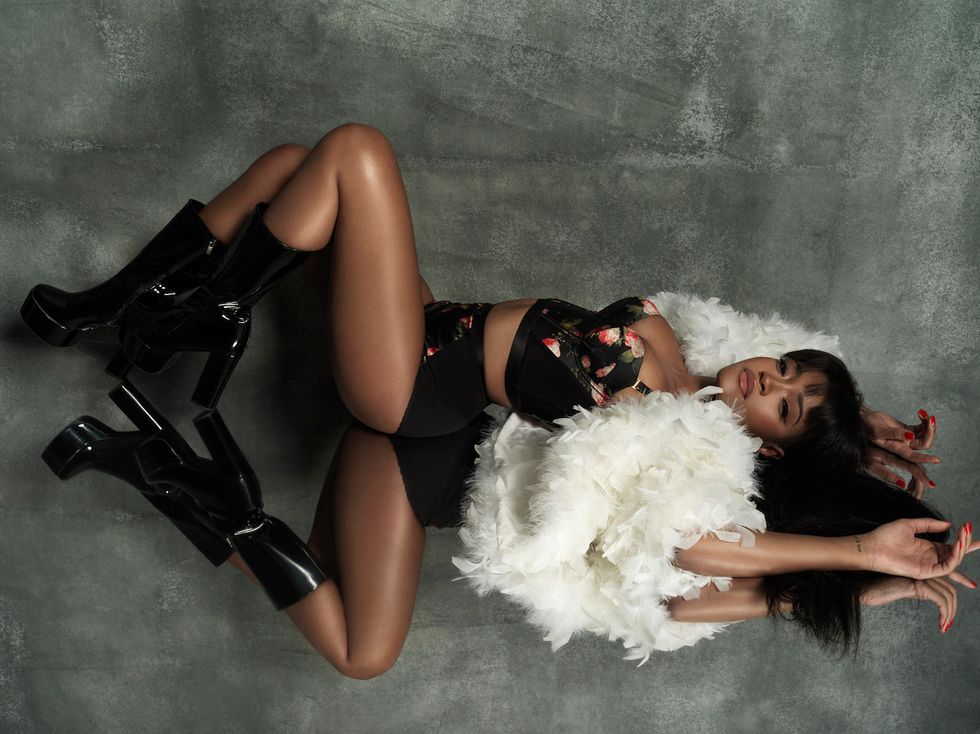 Feather jacket: Julia & Stella (exclusively for The FurSalon at Saks Fifth Avenue), Top and bottom: Agent Provocateur, Boots: Hakan Akkaya, Earrings: Erickson Beamon
You've always embraced your sexuality, but did Hustlers give you a newfound sense of confidence?
I think Hustlers allowed me to showcase a side of me that not everyone gets to see, which is the point of acting. I think we all have a little bit of whatever's in the character we play inside of us. For me, my homegirls that know me when we're hanging out or going out are like, "Yes Keke." But people don't get to see me in my everyday life or space. So I thought it was cool for me to showcase that on a major scale. I enjoyed that because it's not something I do all the time.
How has being open about being sexually fluid been empowering for you and your fan base?
When I did my video "I Don't Belong To You," [what translated was] no matter what your sexuality is or how you define yourself, what people like is when somebody is being true to themselves. We're all individuals. We're never going to fit into a box completely. Even the most straight-laced person you know, there's something about them that makes them different. That's really the point of anything I've said or been open about. The point isn't "be like me" or "do what I do" or "this is how you should be" — I'm going to be me. I think that's what people respond to the most. My audience says, "I love how you just be yourself and you're not afraid to change or be different." I care sometimes what people say, but what's most important to me is that I'm being true to myself and my journey.
Hustlers is in theaters nationwide.