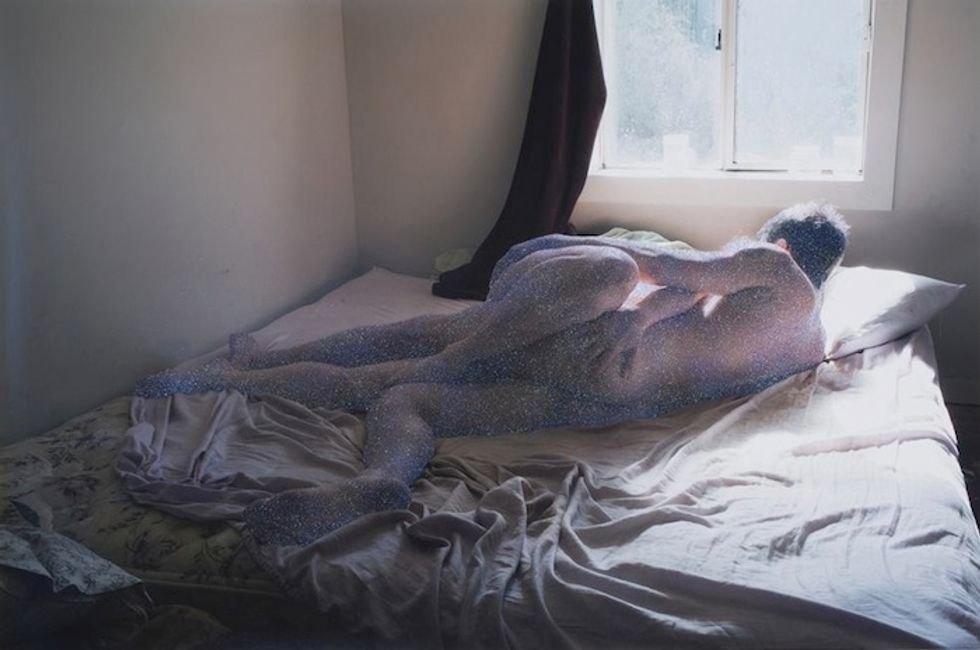 Sarah Anne Johnson,
Sparkles III
With half the art world off at Art Basel in Switzerland this week, eating delicious tiny pastries and making us jealous with art selfies, we are still here, dreading the impending doom of New York summer and the art drought that goes with it. Although the scene was quiet last night, a few shows brought substantial crowds of students, tourists and those still left on the island wanting to get a taste of culture before it goes dead in August.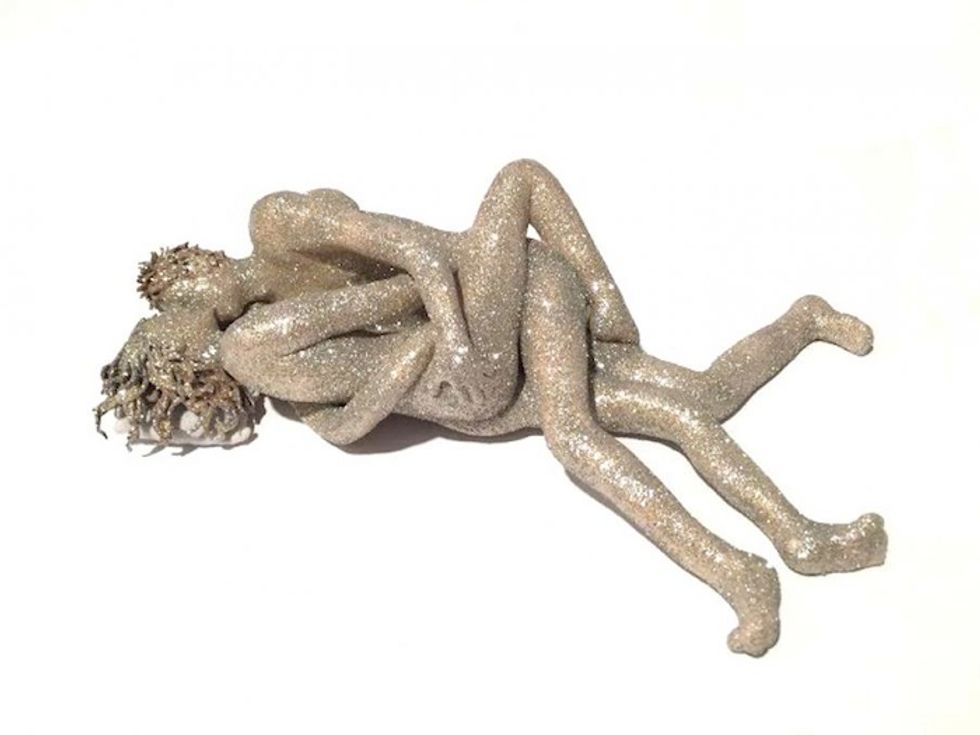 Sarah Anne Johnson, Sparkles, 2015

In a small corner of Julie Saul Gallery, artist Sarah Anne Johnson gathered a crowd at the signing of her new book
Wonderland
and exhibited a set of tiny sculptures to go along with her mystical body of photographic and collage work. Johnson's images of people in intimate moments are transformed into ethereal scenes with glitter or gold foil collaged over the photographs, then brought to life in a small sculpture, making a spooning couple into a multidimensional image of shimmering embrace straight out of a
Twilight
erotic fan fiction.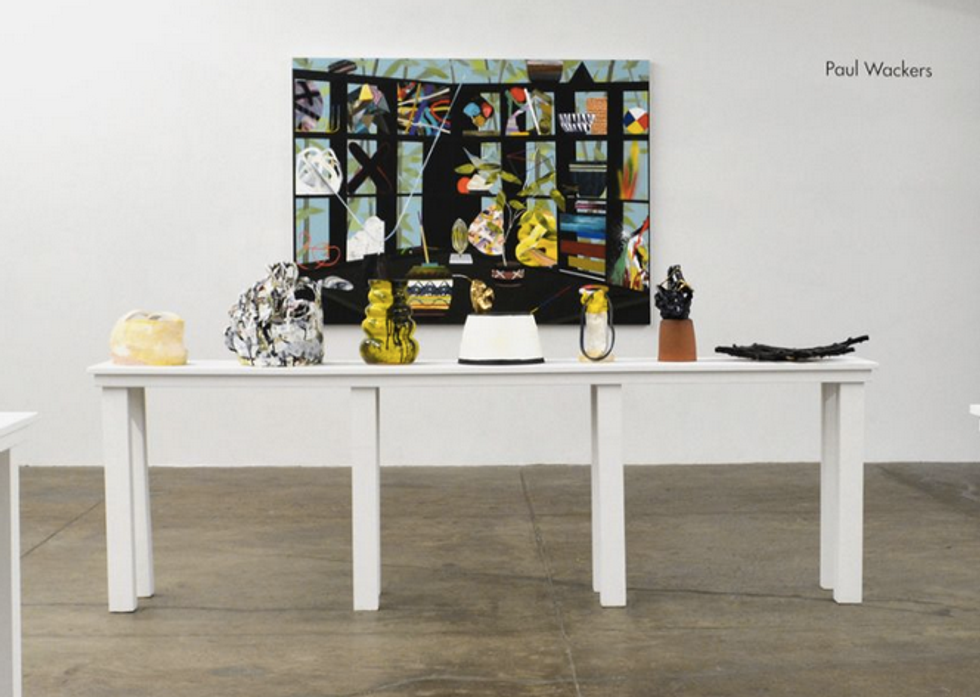 Paul Wackers at Morgan Lehman Gallery
Down the hall at Morgan Lehman, painter and ceramicist Paul Wackers worked in a similar form toying with flat and physical dimensions, showing graphic paintings of shelves and windows holding objects and on shelves in front of the paintings, real life renditions of those objects. The objects resemble household items like pottery, plants and books, but Wackers has gives them an abstract twist with vibrant colors and manipulated shapes -- like you took a little acid and went to your aunt's house for brunch. The work in these shows bring the familiar into a slightly surreal sphere, bringing on that strange calm of descending down into the
uncanny valley
.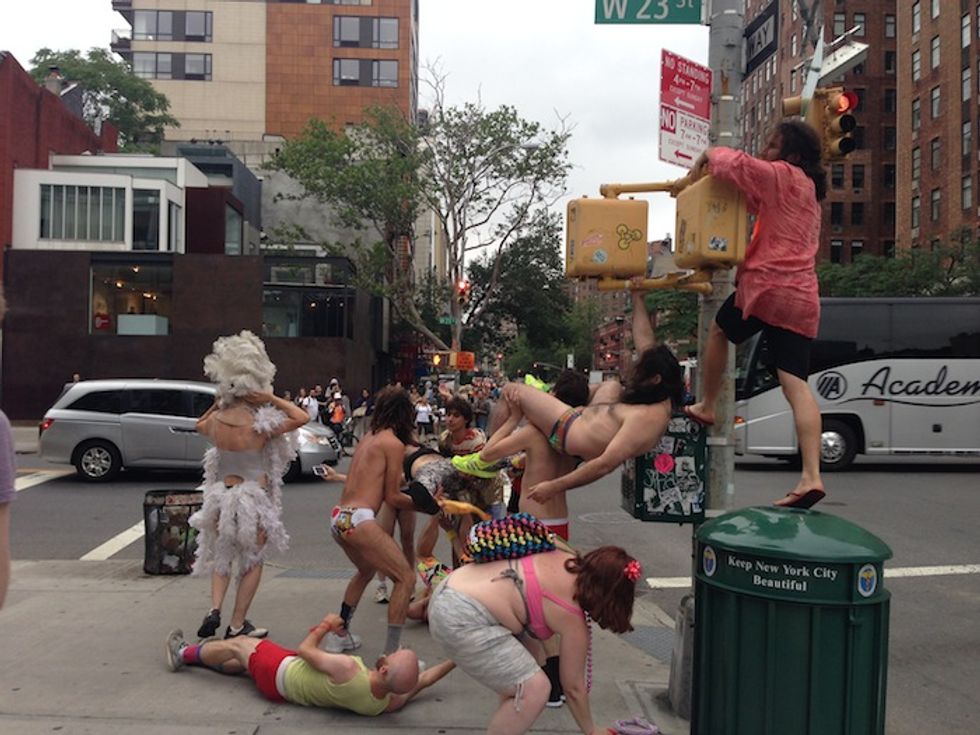 Performance on West 23rd street and 10th ave.
The waking life continued on the walk further downtown when a group of what we can assume are performance artists dressed in what we can assume is Burning Man attire, climbed street lights, rolled on the sidewalk and chanted "We're hiring, we have jobs!" to a confused crowd. Whatever their jobs were they didn't seem to get paid enough to afford pants, and all the yelling was turning the dream into a panicky nightmare.
Who knew solace can be found in the heart of the Meatpacking district at a tiny elevator vestibule-turned-gallery curated by Ellie Rhines? The space, titled after its address, 55 Gansevoort, is no bigger then a large closet that can be seen through windows on the street. Artists, writers and a few passersby gathered outside on the street, occasionally entering the room to view Ariane Schick's
A Throw of Fifteen-Love
, an installation showing images of architecture, nature and body, printed continuously on organza fabric and sealed by plastic wrapping around the room. The work had that hypnotic feeling of scrolling through an image-heavy Tumblr but in person. Standing inside it was easy to forget the screaming performers and even the neighborhood around us, and embrace a moment of calm. At least until the next show.