Katy Perry kissed a girl, liked it, wrote a song about it, and by mid-summer 2008, "I Kissed a Girl" had soared to the top of the Billboard charts, where it held court for seven consecutive weeks — a feat unmatched by a Capitol Records artist since 1964. The band was the Beatles, and the song, an innocent ode to G-rated puppy love, "I Want to Hold Your Hand." If there's anyone who could take us from harmless handholding to alcohol-infused same-sex smooching, it's Katy Perry.
Over lunch at L.A.'s Magnolia restaurant, pop music's reigning doe-eyed enfant terrible puts her chart-topping status into perspective, Katy Perry-style: "For a long time, I wished for boobies; I got that. And I wished to have a record out, and I got that. And now I have both boobies and a record — I don't think there's anything else a woman needs."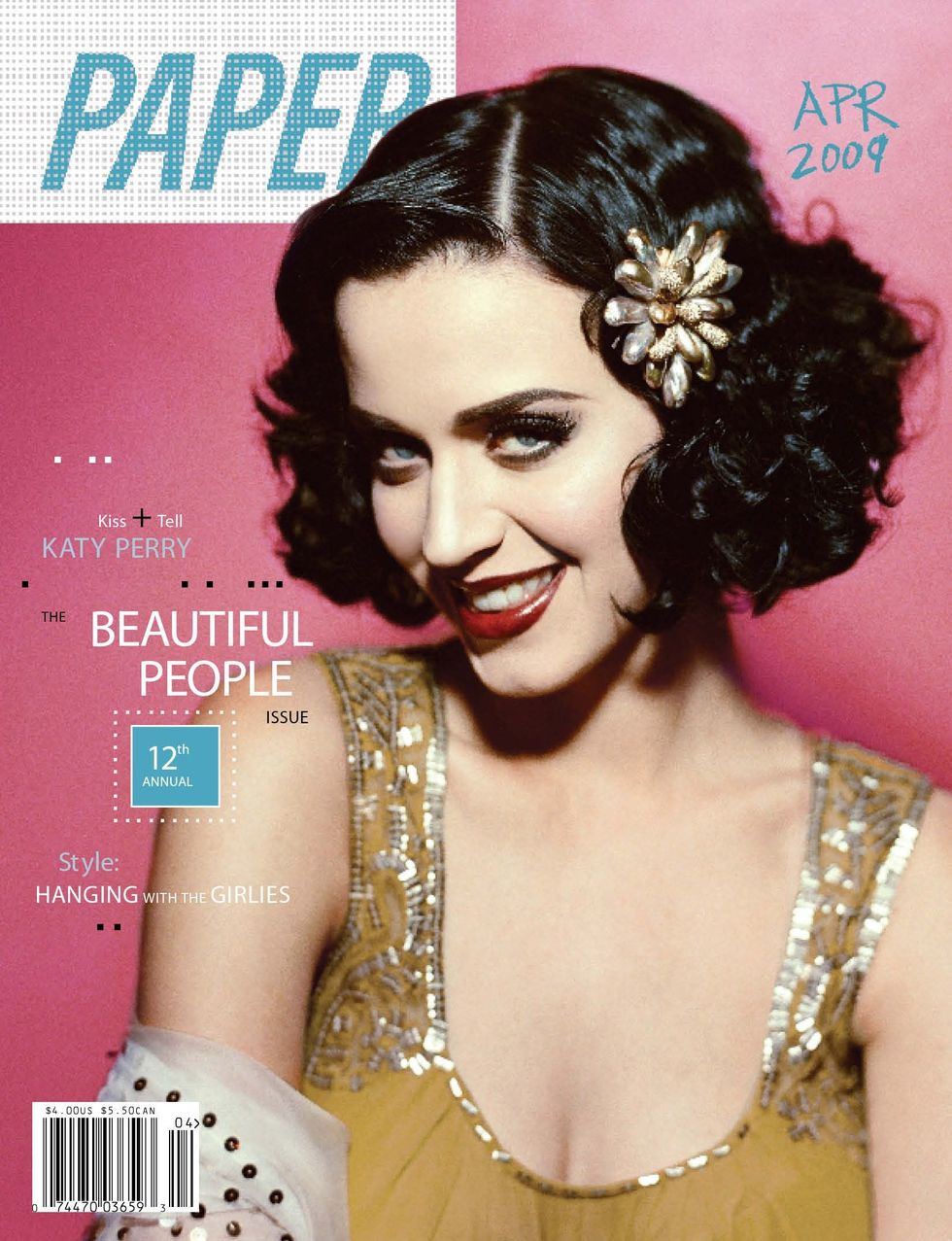 Perry grew up in Santa Barbara, California, the middle of three children, her parents devout traveling ministers who wouldn't let her consume mainstream "secular" pop culture (a Simpsons reference I make is met with a blank stare: "I wasn't allowed to watch it when I was younger," she apologizes), and only allowed her to listen to gospel music. At 9, Perry began singing in her church, and during her early teens was regularly traveling between California and Nashville to work with Christian songwriters. By 17, she had released a self-titled gospel album featuring songs with titles like "Faith Won't Fail" and "When There's Nothing Left." The record was a flop, and it was around that time that Perry discovered Freddie Mercury (whom she refers to as her musical idol), graduated from high school and packed up and moved to Los Angeles. Soon after her arrival, she managed to land a meeting with Glen Ballard (he of producing Alanis Morissette's Jagged Little Pill), whom she had watched and admired on an episode of VH1's Behind the Music (when she was finally old enough to watch it).
Perry and Ballard went on to work together for three years — three very tumultuous years, during which Perry was signed to and then ultimately dropped by both Def Jam and Columbia Records. Three uncompleted albums and over 50 recorded songs later, Perry was starting to lose hope, and she was not even 23 yet. Fame had a way of dangling itself in front of her, only to be immediately snatched away. "I remember living in Beverly Hills," Perry says, "and having a new black Jetta, being very comfortable on my monthly stipend, and my cousin looked at me and said, 'Katy, this can go away,' and I was like, 'It's never going to go away!' And then it all went away. I remember that moment so clearly." There was another point, Perry remembers, "when I would write a check for my rent with fifteen dollars in my bank account and on the memo I would write, 'God, please help.' I would not recommend that anybody do that." During various bleak times during her early 20s, the only way Perry could buy new clothes was to sell her old ones at L.A. thrift store Wasteland. "I would tell people, you know, 'I'm going to have a record out,' but after three years, after being dropped by two labels, people were like, 'You're not going to have a record out, you're a liar and what do you really do?"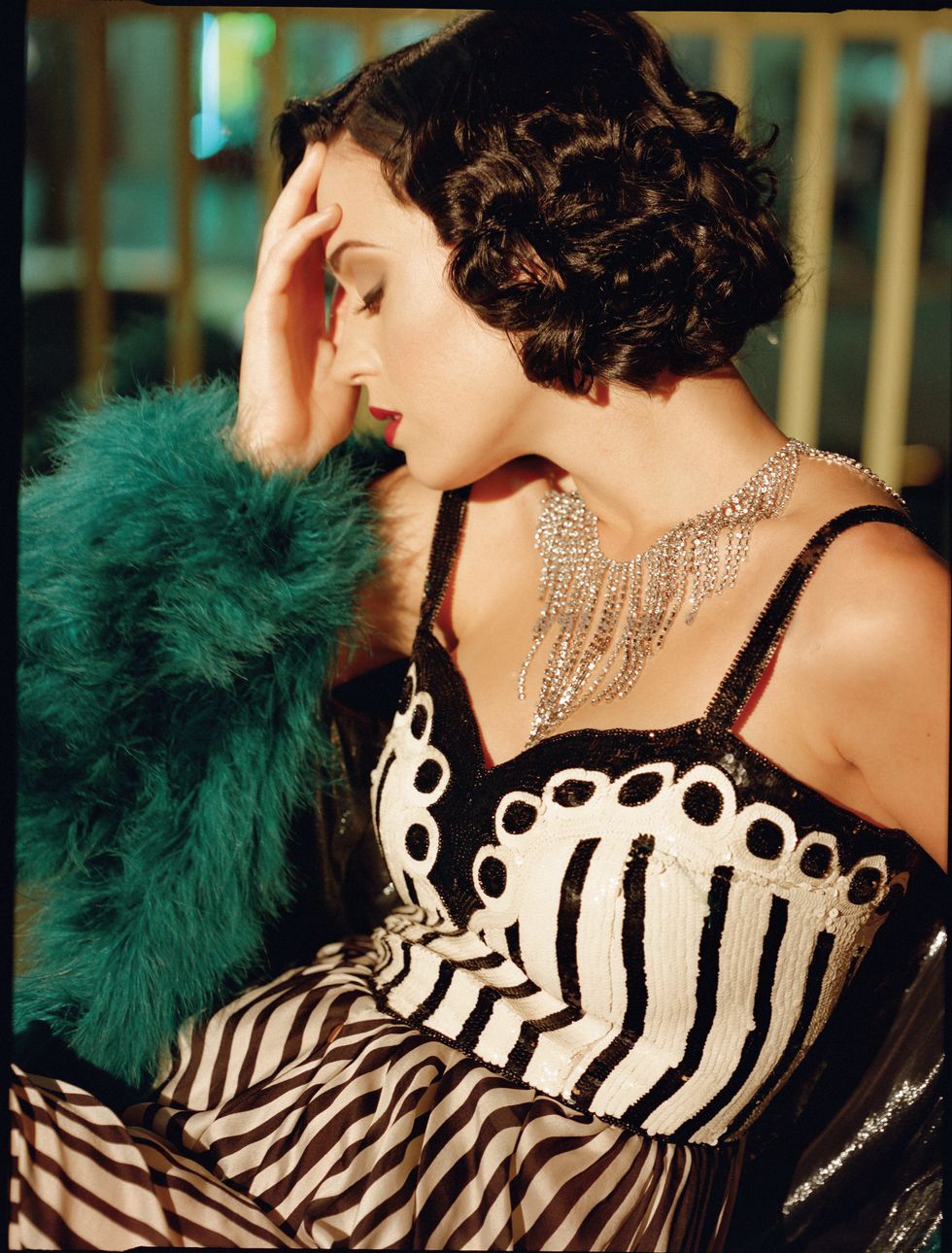 One thing Perry did was to go out a lot. "At one time in my life, it was almost a priority for me to be on the scene in L.A., but at a certain point, I was going out and not getting anything done the next day. We'd all go to Teddy's, and I couldn't believe how many lost people there were dancing the night away." For a glimpse into her party girl days, Perry points to her album's surprisingly moving power ballad "Lost" ("I'm out on my own again/ Face down in the porcelain/ Feeling so high but looking so low/ Party favors on the floor/ Group of girls banging on the door"). Read into it what you like.
To make ends meet, she got a job working in the A&R department at Taxi, which had her (a bit ironically) listening to music all day, deciding whether a band had hit-making potential or not. It was while working there, during January of 2007, that Perry received a call from the then head of Capitol Records, Jason Flom, who had heard an old recording of hers and wanted to meet with her. From there, Perry's rise was about as smooth sailing as could be — she teamed up with Dr. Luke, a producer who had worked with artists like Kelly Clarkson and Avril Lavigne, and recorded an album. Capitol released the buzzy "UR So Gay" on iTunes in November of 2007, the even more buzzy "I Kissed a Girl" in May of '08 and when One of the Boys debuted in June, the album was an immediate hit; by February 2009 it reached certified platinum.
"I'll have a Red Bull and vodka," Perry tells our waitress, before pausing a beat and coyly smiling. "Just kidding, I'll have a Coke." Perry likes to push people's buttons. From her lyrics ("UR So Gay," which was her ode to a former metrosexually-leaning boyfriend, has found some folks in the gay community less than pleased) to her live shows (how many pop starlets have descended from a giant banana into a fruit bowl during the Grammy Awards?) to interviews (she famously told one reporter that her dream lesbian kiss would be with Miley Cyrus), Perry has spent her time at the top delighting, befuddling and at times pissing off the masses. As Perry sees it, she's always enjoyed making people slightly uncomfortable. "I was always that person who said the unspoken. I remember even in school, if someone had a crush on someone, I'd go up to that person and I'd say, 'My friend has a crush on you, do you like her? You don't? OK, great. She can move on.' Or, 'You like her? Great, I just made something happen.'"
There is something ever so self-conscious about all of Perry's button-pushing, and to be sure, label executives have done a good job of exploiting her "edginess," capitalizing on the music-listening public's current desire to have their pop starlets (Lily Allen, Amy Winehouse, Lady Gaga, et al.) a little rough around the edges. And yet, there is actually something genuinely crude about Perry. While she's prepping backstage for an appearance at the Chelsea Lately show, it's decided that Perry's panty line is visible through her vintage kelly-green dress. As this reporter looked on, Perry casually dropped her underwear, did a quick wipe with a napkin, tossed it in the trash and headed out onstage. Perez Hilton, a tried-and-true Perry loyalist, has never drawn those little white dots coming out of Perry's crotch — and we suppose she would like to keep it that way?
All crudeness aside, though, these days Perry is too busy with a grueling tour schedule and constant photo shoots to get into any real trouble, or to do much of anything not related to her career. It is with some frustration that she talks about her madcap schedule: "I just moved — and hanging curtains for like two and a half hours, it's like a feat. I mean, what am I going to say, 'No, I can't come and sing on your Flo Rida song because I'm hanging curtains?'" And even if she were getting up to no good, we might not know about it — living in L.A. for many years has taught Perry the wily ways of the paparazzi, and she has actually been able to avoid them to some degree. ("There are seven thousand other restaurants in L.A. besides the Ivy. If you don't want to be photographed, have your assistant pick up a chopped salad for you.")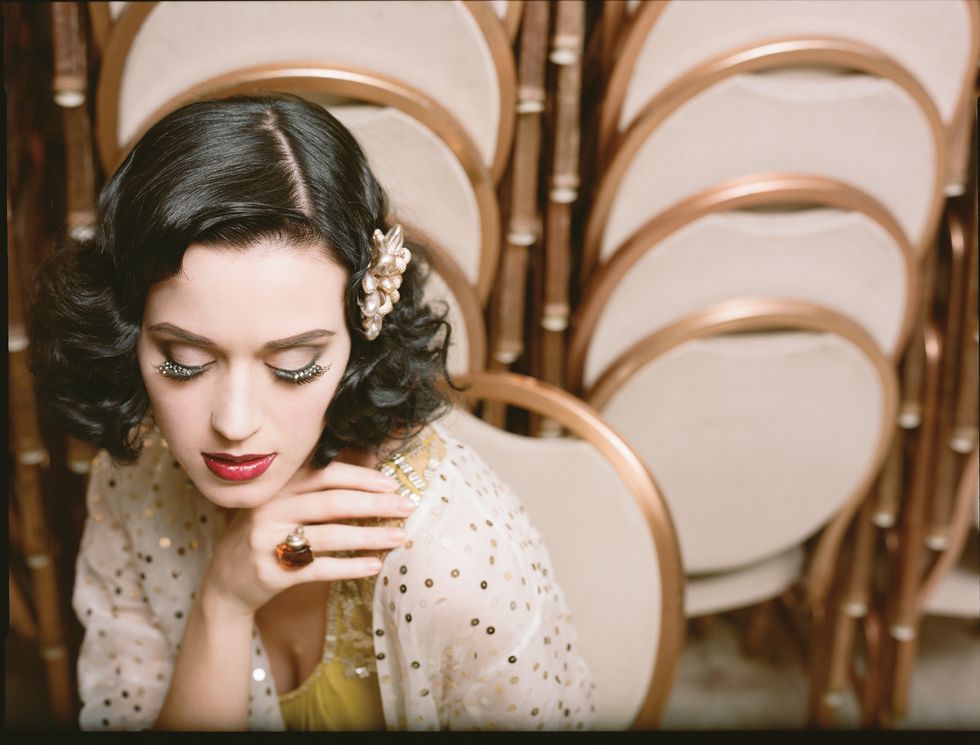 Perry tends to use the euphemism "all this" when describing her recent rise to fame and her newfound celebrity status, and one thing she has learned from "all this" is that right now, relationships are not and cannot be a priority for her. While she is understandably mum when it comes to the details of her breakup with boyfriend of a year, Gym Class Heroes lead singer Travis McCoy, it is with a surprising amount of candor and perspective that she discusses being single. "It's one of those things where I have no energy left to give to anybody," she says. "It doesn't matter if I love them or not. I give it all away on tour and when I'm meeting people." She pauses a moment, dipping her fried pita chip into a bowl of artichoke dip. "This is a really important time in my life. During the next two or three years, if I do things right, I will have a real career, and if I don't, well, I'll just be that girl who kissed a girl."
Perry is obviously aware of how tenuous her position is: "There are about five hundred other girls who are trying to and dying to be in my position — I can't take anything for granted." Right now, says Perry, "It's all about work — it has to be." She laughs and adds, "It's all from reading the Madonna autobiography." That's not to say that Perry wouldn't like to have a family at some point. "I love being in love, I love the idea of marriage and making babies — but not yet. Not until I'm thirty. I basically chew my birth control tablets — I chew them like vitamin C, I'm like 'nomnomnomnom.'" So for the time being, Perry is staying focused on her work, and is already beginning to brew up some ideas about her next album. "It'll definitely be a more present record — my first record was made during a span of five years, and I'm hopefully going to make my next record in a lot less time than that. I still want to make a pop record, but I want to make a fun, like, Calvin Harris-style record. I'm hoping to work with him on it, actually." Now, however, she has an important show to prepare for — a concert the next evening at L.A.'s Wiltern Theatre.
The night of the concert, Perry performs to a sold-out crowd on her home turf as part of her nationwide "Hello Katy" tour. With Macy's Parade-style balloons in the shape of kittens and strawberries looming in the background, Perry flails about onstage clad in a skin-tight vinyl catsuit while suggestively wielding a blow-up tube of Chapstick the size of a toddler. "I've been trying to make it for eight years here in L.A.," she bellows into the microphone. "And you know what? I fucking made it."
Photography: Autumn De Wilde
Styling: Johnny Wujek
Hair: Enzo Angileri
Makeup: Gregory Arlt
Photo Assistant: Nick Miramontes
Styling Assistant: Alexis Beck & Lisa Karst