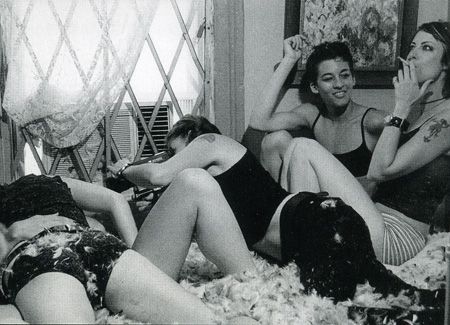 The Gang Girl
trilogy, directed by
Katrina del Mar
, is premiering tonight at the
Anthology Film Archives
, at 8 p.m. The trilogy consists of
Hell on Wheels: Gang Girls Forever
,
Gang Girls 2000
and
Surf Gang
. Artist/photographer/ filmmaker del Mar, who has been dubbed "the lesbian Russ Meyer,", started the trilogy a decade ago. I asked del Mar to tell me about her wild series of films.
What made you do the first movie,Gang Girls 2000, ten years ago?
I was inspired to make the first movie when Julie Tolentino from Clit Club asked me to do the visual displays for leather pride week. I said: 'I'll make a movie, filmed in Leatherama and in Glitter Vision.' I borrowed
Kembra Pfahler
's Super 8mm camera and shot
Gang Girls 2000
. I was inspired by the beautiful women I was hanging out with, some of whom lived on the Lower East Side, rode low-rider bikes, wore tight pants and glitter makeup. Hence, The Glitter Girls. Some other girls I knew called themselves The Slobs -- they all had cars and dogs did graffiti and lived in Brooklyn. So I made up the Sluts.
Betsy Todd
could play chicken so she wanted to be in a knife wielding gang,
Chloe Dzubilo
had an apartment in Brooklyn so the Famous Blades of Chinatown were formed. It's just real life fictionalized, and it snowballed because once people heard I was making a movie they wanted to be in it. Kembra and the
World Famous BOb
are in a gang called the Ponies who keep horses in their apartments.
What about Surf Gang 2000? Where did that idea come from?
A few years later, I was hanging out with a bunch of male surfers and they wanted me to film them surfing and at the same time people were bugging me to make another girl gang movie. So I made
Surf Gang
in 2006. At the beginning of the movie my narration says "This isn't exactly a Beach Boys song. This is the story of the Rockaway Ruffnecks; New York City surfers." Kembra Pfahler was the only woman I knew personally who actually knew how to surf so I begged her to be in it and she plays Blackie Rockaway, a beautiful 15-year-old surfer girl, who paddles out and disappears. Her little sister, Baby Rockaway, played by ex ABT ballerina
Nicolette Nolan
, forms a gang committed to violence.
Stella Zotis
, from
Project Runway
, has a big, hilarious part in Surf Gang and contributed costumes for it."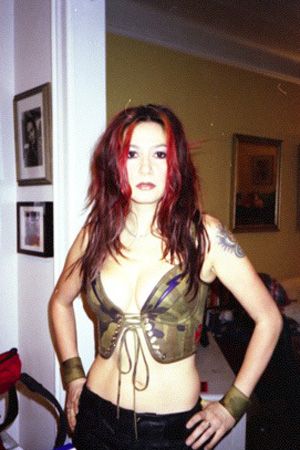 And now we have Hell on Wheels:Gang Girls Forever, the final chapter in the trilogy. Why a trilogy and not just one film?
Hell on Wheels: Gang Girls Forever
came about because I got really stoked about roller derby from meeting
Suzy Hotrod
and a bunch of those roller derby girls wanted me to make a movie so I modified that idea into
Hell on Wheels: Gang Girls Forever
and included roller skates, skateboards, bicycles, Vespa scooters and a fucking wheelchair because Betsy Todd, the star of the film, was feeling lazy. I cast
Genny Pavitt
as the butch mechanic because cinema is really bereft of butch mechanics plus as a co-writer she really wrote the hell out of that scene, it's the Yoda moment, a real turning point. It made sense to me to finish up the series with this and make it a trilogy because I'm ready to move onto some new method of filmmaking that doesn't require cajoling huge numbers of busy New York City women into cramming themselves into sexy outfits and standing around looking cool and saying ridiculous things without being paid. The movies are all "no budget" labors of love. Each film lasts about 30 minutes so it's a nice set. And each film is crammed to the gills with beautiful women and wild characters.
Top: Katrina del Mar films
Gang Girls 2000
, photo by Dayna Frank; center, Katrina del Mar.