When a then relatively unknown Kash Doll first dropped her 2014 remix of Tinashe's "2 On," her version began circulating radio and quickly went viral. The music industry wondered who she was and where she came from, until the following year when Kash dropped her debut mixtape, Keisha Vs. Kash Doll.
Like many great rappers before her, the Detroit native's breakout project was raunchy and personal, all while demonstrating what it took to get to where she was. With an already engaged fanbase, the mixtape's success eventually led Kash to her first record deal — and the beginning of a long journey to 2019's Stacked.
On the surface, every part of her life seemed to be coming together, until Kash got into an ugly, but necessary fight with her label, due to what she says was regular policing of her work.
"My grind from then until now? That was all on social media platforms," she says. "I couldn't release music. If I put it on YouTube, the label would take it down. Soundcloud, they would take it down. All I had was social media. For a time, I was booking shows all over the country by myself, but I was restricted from doing anything else to promote my music or get the same exposure as other artists who could stream, sell and release their music on the radio."
Through her struggle for artistic independence, Kash was still able to release confessional songs like "Trapped in the Dollhouse" and "For Everybody," which voiced her distaste for what was happening with her label. In 2016, she was able to open for Drake's Summer Sixteen Tour and work with Rick Ross. Now age 27 and signed to Republic Records, Kash has established herself in the rap industry as a legitimate force of her own.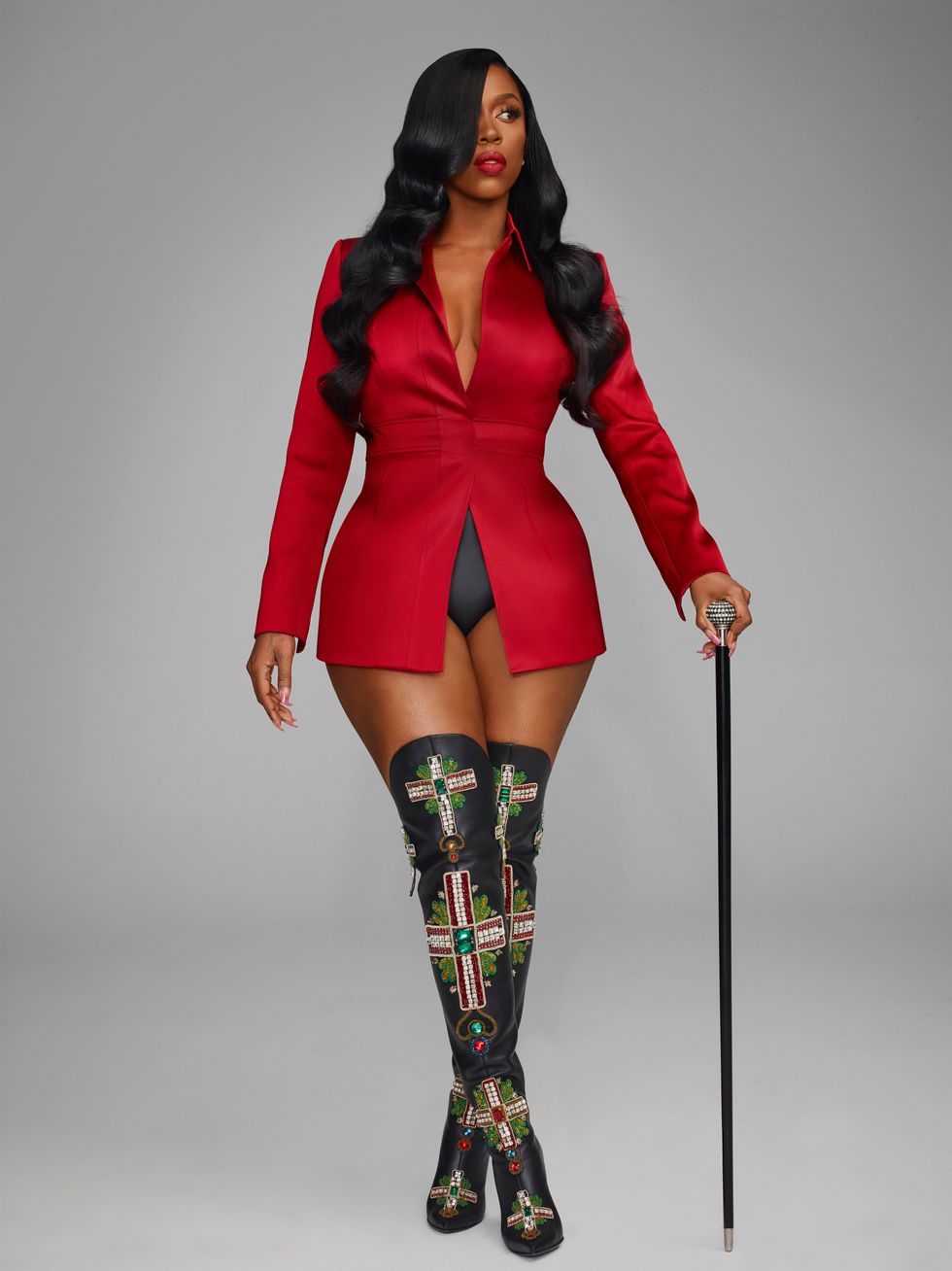 In 2018, Kash went on to record The Vault EP and another mixtape, Brat Mail, emboldened by her newfound creative freedom from Republic. It all paid off: Kash was nominated this year for a BET Award in the Best Female Hip Hop Artist category (fellow nominees included Megan Thee Stallion, Cardi B, Lizzo, Nicki Minaj, and Remy Ma). Earlier this month, she dropped her long-awaited studio debut studio Stacked, including songs like "Mobb'n," where Kash triumphs over her competition: "I'm knocking bitches out like I'm Tyson or somethin."
Lead single "Ice Me Out" became a 2019 song of the summer contender and accumulated more than two million views on YouTube within the first week of its release. While Stacked is filled with songs documenting her life in Detroit, as well as topical issues such as police brutality, Kash balances the overall mood with lighthearted bangers packed with attitude.
PAPER caught up with Kash to talk colorism, her love for Detroit, and how her stage name reflects her true identity.
You were the first "Doll" rapper to pop up on the scene among peers like Asian Doll and Cuban Doll, and had a developed rap persona along with your name. How did this happen for you?
I got my name in 2011. My friends and my family started calling me Kash Doll, because I looked like a doll and was all about my money. That's always been my thing. The other dolls, I don't know about, but I was the first doll to come up as a female rapper. At the time I was gonna change my name, but I decided to keep it.
You're from Detroit and you love your city. In the music video to "KD Diary," you were able to showcase this while still addressing the violence and policing that happens in your neighborhood. How important is it for you to rep your town through music?
It's because people don't get to see Detroit the way I see it. They only see one thing, or when they hear about it, it's always something negative, and it's just not like that at all. So I always try to show the different parts of our culture. I think Detroit's culture is not always seen like that, you get glimpses of it, but that's not what it is. Eminem showed a part of it, but he showed the trailer parks and that's not what it looked like for me. The city is who I am, I am Detroit. My style of music, and everything about me is Funk Detroit. Detroit people are really raw and they don't get a lot of attention, and for me to be one of the first people to grab that attention, I wanted to show my neck of the woods. This is also my debut and the world is getting to know me. I'm letting people know now so that it's not a question [going forward].

"I keep it pushing because I know I'm the shit."
Do you think those experiences from home have determined what you want to rap about?
It doesn't affect what I want to rap about because it's what I wanted to do from the jump. I wanted people to get to know me. I don't feel like you can get to know me without me talking about what I've been through. I got more albums to come. I'm already working on my next album right now anyway, so now I can talk about other stuff.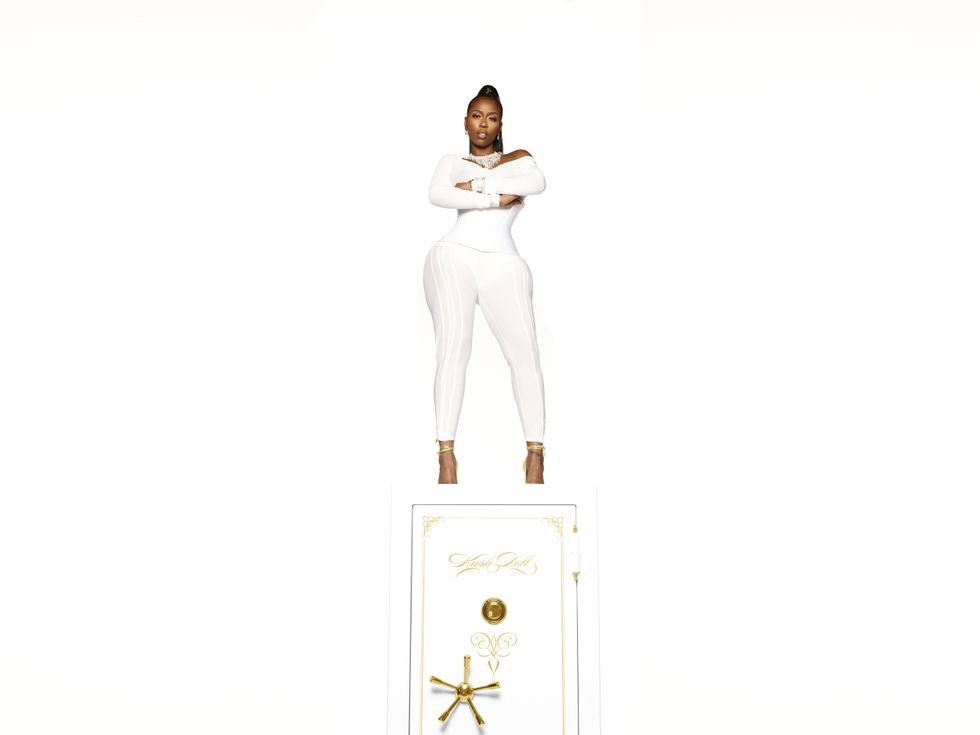 Your album is filled with features from Teyana Taylor to Lil Wayne. How was the collaborative process for you when recording with these artists?

It depends on what the song was about. Once a song was recorded, I just said to myself "I need T on this because T is gonna bring what I need." I need someone to match my vibe and she did exactly what I knew she was gonna do. With the Lil Wayne situation, I knew I needed someone who knew how to reword the word kitten [for "Kitten."] I needed someone who was very clever and would have bars for it. The best person for that was Lil Wayne, and he talked about every type of dog there was and [if you listen] you know exactly what we were talking about, and that's what I needed. He's the G.O.A.T. and I'm so honored to have him on a record of mine. I haven't been able to sit in the studio with nobody because everybody's so busy. We all send records around to each other and we get them down like that. I don't always plan on having somebody on my record until I hear it over again.

It's crazy i remember saying i haven't witnessed Colorism just yet in the industry... well it happened! This guy do… https://t.co/pojG9EBN06

— #Stacked out now! (@#Stacked out now!)1560702993.0
Over the summer, you were vocal about some people not wanting to work with you because you're a dark-skinned Black woman. How do you navigate and combat colorism, especially in the industry?
I feel like what you see will grow. So if I feed all the colorism [debates], that stuff is going to grow. I'm not about to believe that I'm not as successful because of my skin color; I'm not about to let that affect my energy or my beliefs and or how I look at things. So I'll just be honest with you: I don't pay that shit any attention. I keep it pushing because I know I'm the shit. No one's gonna tell me I ain't the shit because of what color my skin is. That makes me the shit.
Photos courtesy of Republic Records