The kale craze is still going strong with Whole Foods and Beyoncé videos alike serving as observable examples of the vegetable's societal take over. We put it in our salads, our smoothies, and even our social media — so in celebration of National Kale Day, we sat down with kale publicist Oberon Sinclair, the woman responsible for it all and the representative of kale across the nation.
Tell me about your past jobs. I know that you were a Chinese soap opera star. What crazy things have you done?

I played a young mother called "Jessica Drake" in an expat TV show and drove a polka-dot jeep around Hong Kong. I had a husband, who was my best friend in real life, and two TV children. My catchphrase was Ding Dong. I was often followed by paparazzi — [and] our TV studio was next door to Jackie Chan's, which was surreal. He would park his car right outside in the lot with his name painted on the side of his physical car with 'go fast' stickers. Needless to say, neveradullmoment.com. I've been lucky to have also worked at Motown Records, MTV Europe and Island Records (NY) before starting my agency, My Young Auntie, in 1997.
I don't think of you as a publicist, more of a connector. What do you feel about the public relations world? Don't you think that it is dated?
Thank you. I don't love titles and actually never really call myself a publicist, because I do so many different things. Yes I do connect people — it's part common sense, part passion for people I work with, part trying to push the boundaries with creative direction. And also trying to enjoy every moment of my life.
You are the queen of kale. How did that come about?

It was not planned — it was a natural (excuse the pun!) progression. It just made sense to me, the nutritional benefits, the name — the rest is history.
What was the lightbulb that went off that made you say, "Yes, I can represent a vegetable"?
I have always believed in the nutritional benefits of kale and am happy to help promote that.

Who is your actual client? The farmers? Is there a national kale group?
I work with the American Kale Association.
What do you think of the kale craze? Do you think you are responsible?
I think it's brilliant that a vegetable has become iconic. When Beyoncé sported a Kale [sweater] in her video, I knew this was no ordinary vegetable!
What do you think about Jean Pigozzi? Do you know him?
Jean Pigozzi's Instagram is hilarious. I've met him a a few times and laugh when I see his posts-he KALE'S ME!

What do you think about the "Kale" sweatshirts?
I love seeing "Kale" sweatshirts. I often photograph people wearing them. I created a t-shirt and bag line with my friends company, Prinkshop. I came up with "Kale(ing) Me Softly," and we sell shirts and tote bags with a donation to the Edible School Yard.
Tell us what makes it a superfood.

Superfoods are nutritionally dense, packed with vitamins, antioxidants and healthy fats. They also versatile, people can incorporate it in their everyday diets.
What made Kale famous? Celebrities, Chefs, or Restaurants?

It is a combination of all the above.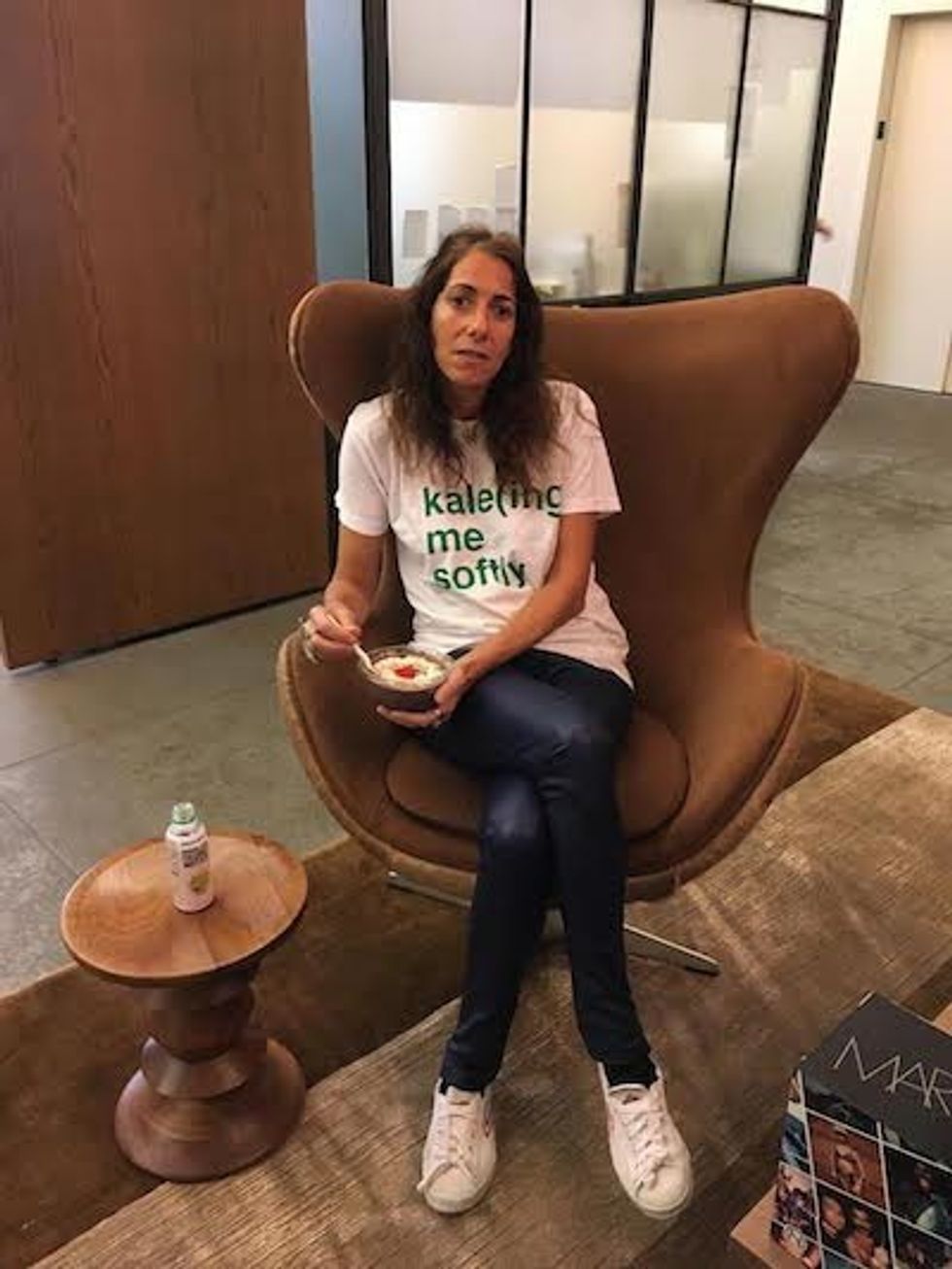 Are you rich from Kale?

I am richer knowing that I have helped to promote a vegetable that is healthy for you.

You have a new berry that you are hawking. What is that all about?

Acai is a berry that my good friends, brothers Ryan and Jeremy Black (founders of Sambazon) brought to the US from the Brazilian Amazon. It's unlike anything I have tasted and can be used in so many different ways. The acai bowls have revolutionized breakfasts and it's all over social media with all the wonderful creations. Acai bowls are blowing up the in the US and will soon become a staple in Europe. This is my prediction.

I also work with Justin Guilbert and Douglas Riboud (Harmless Harvest) who created what I can only describe as the nectar of the gods — the greatest coconut water on earth. These guys are all pioneers in natural food and beverages. They are supporting and helping the people in the countries where the goods are sourced. It's the way forward — to provide the best organic food and treat people right.

Did they come to you or are you always seeking out the new vegetable or fruit?

Everything I do happens organically. Most of my work comes from word-of-mouth introductions and referrals. I am very blessed.
Do you think that you can make any vegetable famous? Is there any food that you would not represent?
I feel very lucky and think that I have a strong intuition for knowing what is real and genuine, but I am not an egomaniac. I like to work with people and products that I believe in. It's that simple. So to answer your question — it would depend on the vegetable.
Are you like an oracle of what is going to be popular? Do you think that it is your push or what is happening in the cultural currency? Or is it the perfect storm?

I think I am lucky to have worked in many different industries throughout my life — music, fashion, design, food, art and literature — so without sounding arrogant, I think I have an ear or an eye for what works and what resonates with people. I have learned to follow my gut and passion for what feels right.
You May Also Like