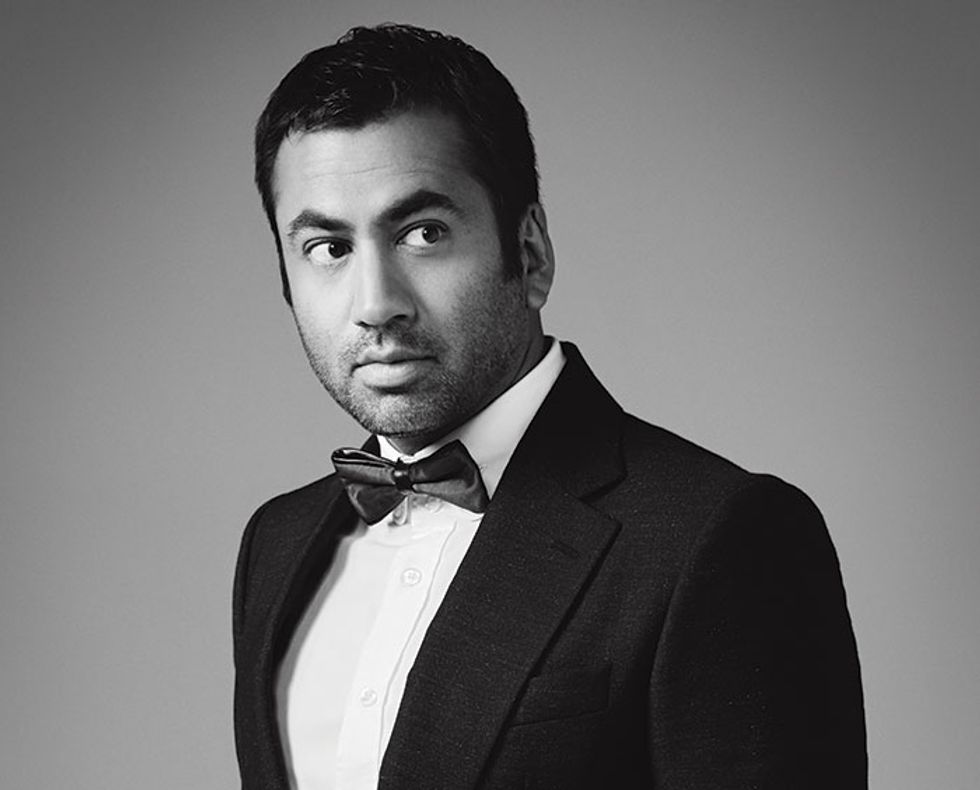 Kal wears a suit and shirt by Vivienne Westwood and bow tie by Christopher Chaun.
Going from White Castle to the White House takes range.
Harold & Kumar
star Kal Penn, who spent a few years working for the Obama administration, is now fully back in the biz, starring in CBS's
We Are Men
as a recently divorced doctor living in an apartment complex rife with other bachelors. Jerry O'Connell, Tony Shalhoub and newcomer Chris Smith play his partners in singledom. It's like
The Golden Girls
meets
Entourage
(or at least we hope it is, because that sounds amazing).
How many TV shows have you been on?
IMDB says 24, but not all of those aired, and I was an extra on other ones.
What was your first job in TV?
I played a nerd on an episode of
The Steve Harvey Show
. I was in college and the episode shot during finals week. I failed a final for it and my line ended up getting cut. Super glamorous,
whaaaaaaat
.
Would you be friends with your character?
I mean I'd get a beer with him, sure.
Have you given your character any trademark catchphrases, mannerisms or wardrobe choices?
I pitched "Cut. It. Out." but apparently
Full House
already crushed that one.
What TV character did you have a crush on as a child?
Miss Piggy.
What TV family would you want to be a part of?
(Think progressively about family): the Muppets.
What TV shows are you currently addicted to?
CBS News Sunday Morning
and
Under the Dome
.
What's the weirdest pilot you've ever auditioned for?
Some terrible WB pilot when the WB was still around. I was supposed to audition for the part of a soldier, which I was super psyched about. When I got to the audition, the casting director asked, "Um, are you even Latino?!" and sent me home. She was a douche. The pilot never got picked up. Womp Womp.
If you could write a one-sentence Wikipedia entry about We Are Men, what would it be?
Don't believe anything you read on Wikipedia.
If you could have a drink with any TV characters, past or present, who would they be?
Kermit the Frog because he's a baller and everyone wants to be like him. Blanche from
The Golden Girls
because, let's face it, she's Blanche. Astro from
The Jetsons
(he had the life), and that chick who could stop time by putting her fingers together because I want in on that.
Photographed by Emily Shur / Styled by Camille Yvette / Hair and Makeup by Christina Buzas