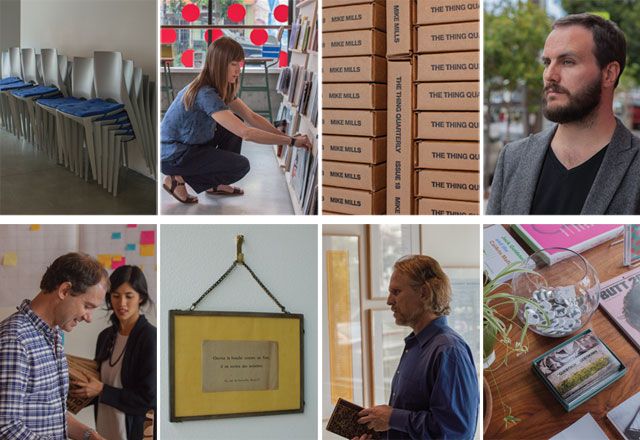 Along a fairly sleepy stretch of San Francisco's Mission District is an unassuming storefront complex that hosts some of the most eclectic and exciting art events in the city. Kadist SF, an offshoot of the Parisian exhibition and residency program founded in 2001 by Vincent Worms and Sandra Terdjman, set up shop on Folsom and 20th Street last year under the direction of local curators Joseph del Pesco and Devon Bella. The space consists of four linked storefronts -- some changing, some permanent -- where del Pesco, Bella and a roster of prominent San Francisco-based curators put on events, exhibits and happenings with an emphasis on international and Bay Area artists.
Currently, one storefront has been converted into a satellite of L.A.'s Ooga Booga boutique, selling rare art books, zines and records; there's a space which hosts events every Wednesday and the occasional Saturday; another housed a working antiquarian bookstore with a gastronomical focus helmed by the conceptual artist Ben Kinmont, that was replaced by Vietnamese gallery SÃ n Art, which, under the direction of Zoe Butt, will feature ten artists whose work has been blocked from exhibition in Vietnam; and the fourth space is the headquarters of
THE THING Quarterly
, artists Jonn Herschend and Will Rogan's object-based publication that's collaborated with Miranda July, James Franco and Jonathan Lethem on one-of-a-kind art pieces. Says del Pesco, "We bounce around thematically, and aim to surprise and reinvent the space with each event and exhibit."
To that end, they recently teamed up with Kinmont on "An Exhibition in Your Mouth," an interactive dinner featuring recipes by famous artists. The chef Leif Hedendal cooked up delicacies like Marcel Duchamp's steak tartare, cucumber salad by Louise Bourgeois and Salvador Dali's toffee pine cones. On Halloween, Kadist hosted the "Hypnotic Show," organized by Raimundas Malašauskas and Marcos Lutyens, where 50 guests lay on blankets and were hypnotized by Lutyens. Expains del Pesco, "We like to keep the audience on their toes."
Box 2: Devon Bella; Box 4: Joseph del Pesco; Box 5: Jonn Herschend, Sarah Simon; Box 7: Ben Kinmont
More Art Groups