UPDATE: Following Sunday's #SelenerGate, Justin Bieber has officially deleted his Instagram account.
The #JustinDeactivatedParty hashtag surfaced with supernatural speed on Twitter, where various clashing fandoms lamented and celebrated.
me waking up this morning for more justin drama and finding out he deleted his instagram 🙂 #justindeactivatedparty pic.twitter.com/pDgtafg1DU
— Raphael Gomes (@raphablueberry) August 16, 2016
#JustinDeactivatedParty *Justin deletes instagram account thinking everyone will feel bad for him"
Everyone else: pic.twitter.com/r9hAtdj6CA
— Andy (@dylanobrienfave) August 16, 2016
#JustinDeactivatedParty Is it too late now to say sorry? pic.twitter.com/uJnMB1EEUV
— Jack Mull (@J4CKMULL) August 16, 2016
Kylie Jenner chimed in (and then deleted), with perhaps the funniest thing she's ever tweeted:
Kylie Jenner tweeted this shortly after #JustinDeactivatedParty started to trend, but deleted it. 😂 pic.twitter.com/wNKukvBYnD
— Pop Crave (@PopCrave) August 16, 2016
Oop! Justin Bieber and Selena Gomez, former lovers and current...something, have upped their dysfunctional stunt queen antics to a new strata of -_-.
Mr. Bleeber posted a rather relentless series of selfies with his current rumored beau, model and Kylie Jenner minion Sofia Richie (daughter of clay bust Lionel and younger half-sister of Nicole), which, of course, set off the wrath of teeming Beliebers all over the world.
Hateful comments and death threats (pretty standard for Justin fans) flooded his Instagram, and Justin followed up with a finger-waggin' threat of his own, in an attempt to temper the rage:
A direct transcript, in case reading a Justin Bieber caption is like reading something while drunk and underwater (it is for me):
I'm gonna make my Instagram private if you guys don't stop the hate this is getting out of hand, if you guys are really fans you wouldn't be so mean to people that I like
WELL, the Beliebers then turned on the source himself, flinging "HOW COULD YOU?!" messages at the pop star, devastated that such a gravely offensive threat as making his 'gram private could even be considered.
As the mountainous wave of anger continued, one comment in particular, stopped the gravitational pull of the earth: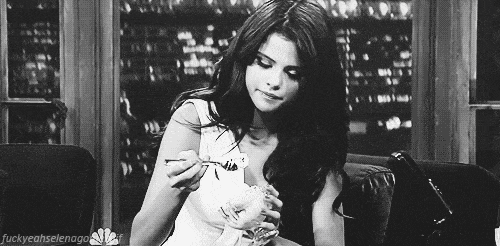 ***CUE THE OPENING OF THE SKY***


He followed with this cake frosting damage control:

Selena went right for the jugular, turning his cataclysmically loyal fans against him.
GENIUS.
Almost immediately, this hashtag sprouted up:
JUSTIN #SelenaEndedJustinParty pic.twitter.com/Y21pW5yAO2
— ♡ (@ehiluigi) August 15, 2016
I'M DYING 😂#SelenaEndedJustinParty pic.twitter.com/qcwncx8e6S
— k (@GOMEZALWAYSAF) August 15, 2016
"used me for attention" #SelenaEndedJustinParty pic.twitter.com/nvBhtl0pD9
— justin's penguin (@queridogomez) August 15, 2016
Selena then posted an Insta-series of her with her own army of fans, just to drive the stake in deeper:
Lord. While Jelena's heaved and panted into one huge brown bag, that inflated and blotted out the sun, Selena added these little ditties:

Wheww.. The queen has spoken y'all! This is not a drill! She has spoken! That burn tho! #SelenaEndedJustinParty pic.twitter.com/9S14eHWO4K
— #JohnKristoffer Cruz (@CJCruz1995) August 15, 2016
Mad.
Sad.
All.
Love.
I'm sure Selena typed this all very slowly in a dark hotel room; the only light, spilling through the sides of the black-out shades, and the soft ember of her e-cig.