What with the army of teen actors invading hollywood (see Hailee Steinfeld, Elle Fanning, Chloe Moretz et. al.), and being taken seriously in the process, we thought we'd check in on the new crop of talented youngsters getting their grubby paws on a piece of the action. Know them, love them -- but not in a creepy way, please.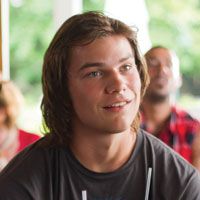 Nick Krause
Many are praising Shailene Woodley's breakout performance in Alexander Payne's upcoming film The Descendants -- and she's great -- but it's 19-year-old Nick Krause, who plays her doofy, slightly stoner-faced friend, who ends up stealing quite a few scenes with his deadpan delivery.




Mia Rose Frampton
It wasn't until we saw the Bridesmaids bonus feature, a 10-minute sparring scene between 15-year-old Mia Rose Frampton and Kristen Wiig that Peter Frampton's daughter floored us with her impeccable comic timing, delivering quips like, "You look like a tired bird" and "I bet you vacation in America."




Douglas Booth
The dashing, 19-year-old Burberry model (much has been made of his perfectly-pouty "man mouth") will star as Romeo opposite Hailee Steinfeld's Juliet in Carlo Carlei's upcoming Romeo and Juliet re-do. Let the Leo comparisons begin.




Amandla Stenberg
This essentially unknown 13-year-old apparently beat out Willow Smith for the role of Rue in the highly-anticipated film adaptation of The Hunger Games. If her small but powerful debut role in August's Colombiana is any indication, the producers made the right call.




Colin Ford
With a mop of Bieber hair, the 15-year-old (whose biggest role up until now was on the CW's Supernatural) is sure to win a following as Matt Damon's son and Elle Fanning's love interest in Cameron Crowe's upcoming holiday schmaltz-fest We Bought a Zoo. The fact that he already has a "fuckyeahcolinford" Tumblr page devoted to him is a good sign.