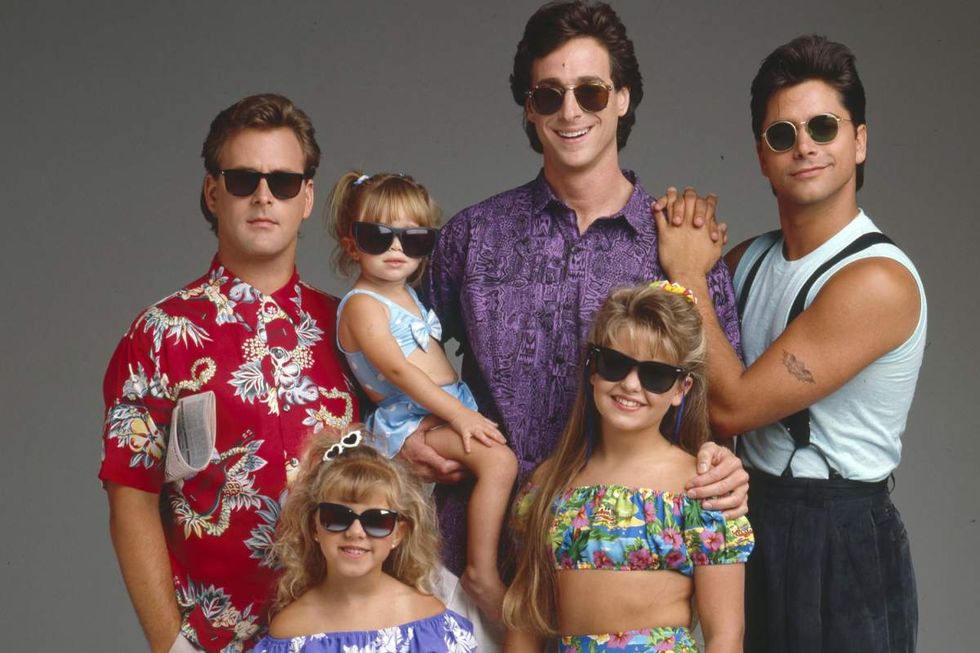 If there's one thing the internet loves, it's a resurrection. From the triumphant return of cult comedy
Arrested Development
to the upcoming
Wet Hot American Summer
series, Netflix has a deep reserve of goodwill from pop culture nostalgists. Which is why it's strange that a company that seems as tuned in as Netflix would confound the very people they purport to love by dangling the threat of a
Full House
sequel series in front of us. Et tu, Netflix?
As
TV Line reports
, the series, currently titled
Fuller House
(which -- ugh), will follow the grown-up adventures of eldest Tanner daughter DJ (Candace Cameron Bure) and her best friend and plague of the Tanner household, Kimmy Gibbler (Andrea Barber). Currently in talks to guest star are the three original leads of the show, Alanis Morissette inspiration Dave Coulier, Oikos spokesperson John Stamos, and professional pervert Bob Saget. Stamos will also reportedly be serving as a producer of the series, which is unsurprising as Stamos has been thirsting for a reunion movie
as far back as 2008
.
While Netflix hasn't officially picked up the series yet, the fact that they would even consider it has raised a lot of questions. Namely --  who is this for, exactly? Who was clamoring for
Fuller House
? To my (admittedly anecdotal) knowledge, the only people watching
Full House
in 2015 are doing so vacantly, half asleep in a finished basement somewhere. Lost, lonely and forgotten.
The second, and more pressing question is --  why DJ and Kimmy? Kimmy's obvious emotional issues aside, is there anything even remotely dramatically or comedically engaging that they could mine from those characters? Who knows. But maybe Netflix will surprise us, as it so often does.
And wouldn't that be a kick if it did. It's easy to be cynical about these kinds of naked pleas to our Millennial sense of Buzzfeed ra-ra "you won't believe what kind of troll your childhood crush has aged into" nostalgia, but maybe there's a way they could get this right. It's true that
Full House
's comedic sensibility seems a bit inert when compared to stronger network fare currently on the air, but the premise itself was rather dark. A father whose wife is killed by a drunk driver and is left with three young daughters to raise on his own? That doesn't exactly match the whimsy the show so often strived for in its eight season run. If
Fuller House
went the same, more serious direction at its start, who knows what wild turns the reboot could take.
Perhaps rather than a bright and sunny gal pal relationship, DJ and Kimmy, now living in DJ's childhood home, will have devolved into a sort of
Grey Gardens
-esque existence. Desperately holding on to their youth, DJ will constantly talk obliquely about her now-famous sister Michelle (she never visits). Her other sister Stephanie will bleat softly from the attic where she also lives, but is rarely seen. She'll be estranged from her father, whose OCD drove him away from the house she has let decay. Uncle Jesse, divorced from Rebecca, bounces between the couches of Nicky and Alex. Uncle Joey has been imprisoned for years by the government because of a tweet.
Unlikely and unprecedented? Sure. Better than what we're likely to get? Definitely. Will it still be more watchable than the
Coach
reboot? Obviously.
You May Also Like