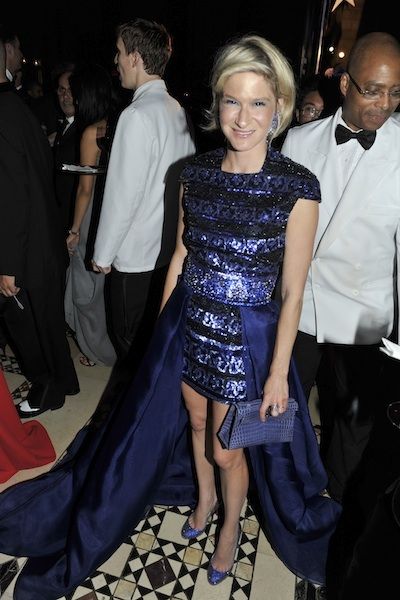 Getchyer tickets fast for the
Gay Men's Health Crisis
's "Fashion Forward" extravaganza taking place next Thursday, November 17th, and hosted by
Brad Goreski
and
Tracee Ellis Ross
(and full disclosure: I am an event chair along with fab friends like
Decades' Cameron Silver
and
The Blonds
). The night is honoring glamazon/former Hedge Fund honcho/skincare line founder
Julie Macklowe
who will receive the first ever "Style Vault Award."  I talked to Macklowe about style, beauty and the fight against HIV/AIDS. 
What was your reaction when you found out you would be the first one to get the Style Vault Award? 
I was in total shock but completely thrilled.  I mean, it is such a terrific cause.
How would you describe your style? 
Edgy, runways, risk taking. I like to get a wow isn't that piece amazing. sometimes I go too far, but that's all part of trial and error. 
Have you picked out your dress for the night? Can you give us any hints? 
Honestly, I have some things in my head, but I dress for most events about 30 minutes before I decide what to wear. Although I'm likely to wear red for the obvious reasons -- and it's the color of the season.
What products from your new line VBeauté will you be dolled up in?
VBeauté is about skin care. I will probably have minimal makeup, but you never know.
Why do you think GMHC's fight against HIV/AIDS is more important than ever in 2011?
Right now women are one of the highest at risk segments of HIV. Education about HIV/AIDS awareness is the best way towards prevention and eradicating this disease forever.
In addition to Macklowe's moment, there will be an auction and a runway show with designers Chris Benz, Thom Browne, Jean Paul Gaultier, Marlon Gobel, Sally LaPointe, Zang Toi, Timo Weiland and VPL. And besides frocks, cocktails and fabulous faces, the whole night raises money for The Gay Men's Health Crisis which has been the pioneer in fighting the HIV/AIDS epidemic. Buy tickets
here
.