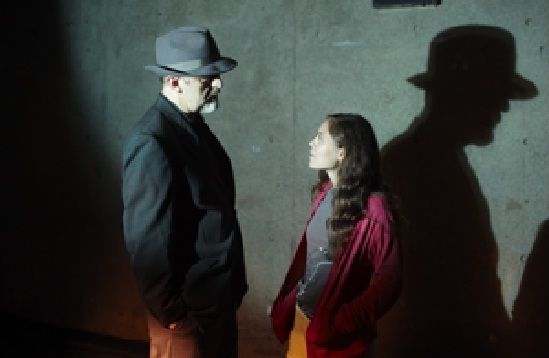 Playwright/director
Richard Maxwell
's company,
The New York City Players
, has generously produced a number of up and coming downtown playwrights;
Julia Jarcho
is the latest.  Her play,
Dreamless Land
, which she will direct, is about a teenage girl, Haley, whose best friend, Morton, is about to meet his estranged father in Las Vegas.  Haley imagines her friend's "broken home" experience through scenes right out of movies: a James Bond, a romantic comedy.  Ten years later, Haley seems to be living a grown-up life, but the fantasies of her teen-age years interrupt her reality again.  The excellent cast of four features Jenny Seastone Stern (Haley), Ben Williams (Morton), Linda Mancini and Richard Toth.  I spoke to Jarcho. 
Hi Julia.  What would you say your play is about?
It's about how we use stories and forms that are already out there, that we have been bombarded with throughout our lives.  And, more generally, how we use these materials and build an emotional life out of it.  And how do these forms become our desires. 
We have all grown up with movies.
And it's not just movies.  There's
Madame Bovary
.  There's a tradition.  Don Quixote read all the chivalric romances, and wanted to do it himself. 
How do you show this in the play?
Basically the play is in two parts.  The first part takes place with a couple of the characters being teenagers.  The second part takes place ten years later when they are young adults.  In the first part we see these different genre scenes, reality and fantasy really playing off each other.  In the first part there's not much story, the performers play different characters in different scenes; what you're seeing is a whirlwind of adolescent experience. 
Then in the second part, it's ten years later, and the sense we are trying to create is that these fantasies have come to coalesce.  Basically it's the idea that you have to grow up, and make a life for yourself out of what you have. 
Can you give me an example?
In the first part, Haley, the girl, one of the things she imagines is that she inserts herself into a scene from a James Bond movie.  She is a spy, and her boss, played by Linda Mancini, is a very sinister character; there is conflict and action.  It's a hyperbolic scene.  Then in the second half of the play, there is a scene where Haley works for Linda's character in an office, and it's no longer the spy movie.  It's still mysterious, uncomfortable and weird, but I think it's much in keeping with working in an office.  Most of the scenes are threaded through both parts of the play. 
Is there anything else that threads through?
The parent-child relationship dissolves and re-forms through the play, between different characters.  A big thing throughout the play is a desire to have a parent, through ways in which younger characters are producing the older characters as their parents. 
Is there an overall theme?
In my mind there are two themes: one, a desire for a parent, and two, trying to find a self.  In both cases, being on earth, alone, without an access to a kind of authentic tradition, and so, trying to scramble to put something together that provides you with a sense of self; and, on the other hand, provide you with a sense of family, of connection, or of coming from somewhere.
Abrons Arts Center, 466 Grand St. (212) 352-3101. Nov. 4-20. Wed.-Sun. 8 p.m. $18.Photo by Michael Schmelling