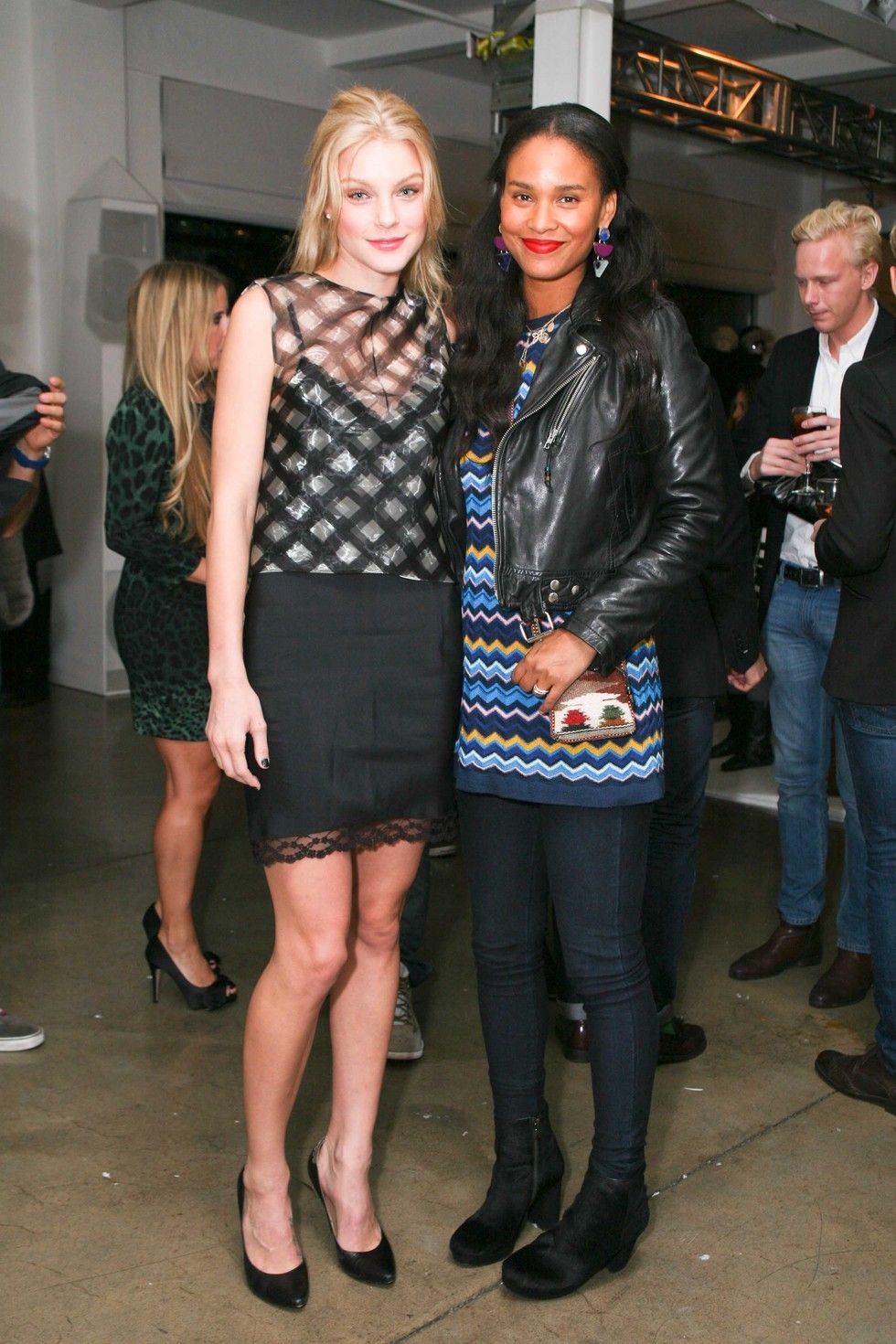 Burton Snowboards threw a shindig at Chelsea's Milk Studios Thursday night to celebrate their newest women's lifestyle website,
Burtongirls.com
, which goes live at the end of the month. While PAPERMAG pal
Jasmine Solano
provided tunes that kept the cute crowd (which included
Jessica Stam
,
Chelsea Leyland
and
Brandee Brown)
moving and shaking. We also spotted Burtongirls.com contributor, star of NBC's well-written
Parenthood
, and all-around perfect specimen
Joy Bryant
(pictured left with Jessica Stam) greeting guests on Milk's penthouse deck, where we spoke to the snowboarding actress about mountain style, her stuntman husband, and, most important, horoscopes.
I just noticed the amazing tattoos of Zodiac signs on your arms--are you big on Astrology? What signs are those?
I'm a Libra and my husband's an Aquarius [and that's what the tattoos are of]. I'm not an avid follower of Astrology, but I will read a reading from time to time and I will accept it. I'm not gonna say it's bullshit, but I'm not going to be like "Oh my god, what's your sign? I know your whole steez!"
So, tell us about your involvement with Burton.
I'm one of the contributors to the new site, so I'll be blogging about five times a month.
That's a heavy responsibility!
Yeah, but it can be anything that you want, from writing about stuff to pictures to video. I'm psyched for the season to start because my husband is a techy, snowboarder guy and I'm excited for him to follow me -- on a good day! I'll totally edit everything out if I bust my ass.
What do you usually wear when you snowboard?
Honestly, I probably pay more attention to what I wear on the mountain then what I wear on the red carpet. I'll rock a fresh camouflage one-piece, the board will be all steezed out with gold bindings, maybe I'll wear some Nike Air Force 1 snowboard boots. Then I got the denim look -- depending on what my weight's doing, I'll be wearing skinny jeans or slouchy ones. But I really do care more about the mountain style. I was doing
Access Hollywood
the other day, and I just threw on some Target for Missoni and then brought it to New York to wear tonight. But I never repeat on the mountain, darling!
Being that your husband is a stuntman, does he ever have you trying any tricks?
I'm not doing tricks and shit. I gotta be on TV, I can't afford to be hurting myself! I mean, I could hurt myself right now -- I run into glass doors at my own house. I keep the tricky shit to a minimum, though. I just wanna ride awesome powder and make nice turns. Although I might start doing jumps again. I started doing them when I was about two years into it, and I hurt my shoulder. It took a while for that to heal, and then I got kinda scared.
Have you ever snowboarded with any of your Parenthood co-stars?
I haven't ridden with anyone I've worked with, but Dax Shepard snowboards, Lauren Graham skis and Peter Krause skis, so we're all talking about getting that together. I think Lauren Graham and Peter Krause might actually be really good skiers! But that's OK, because I snowboard, and that's a whole different game.
Above L-R: Jessica Stam and Joy Bryant.