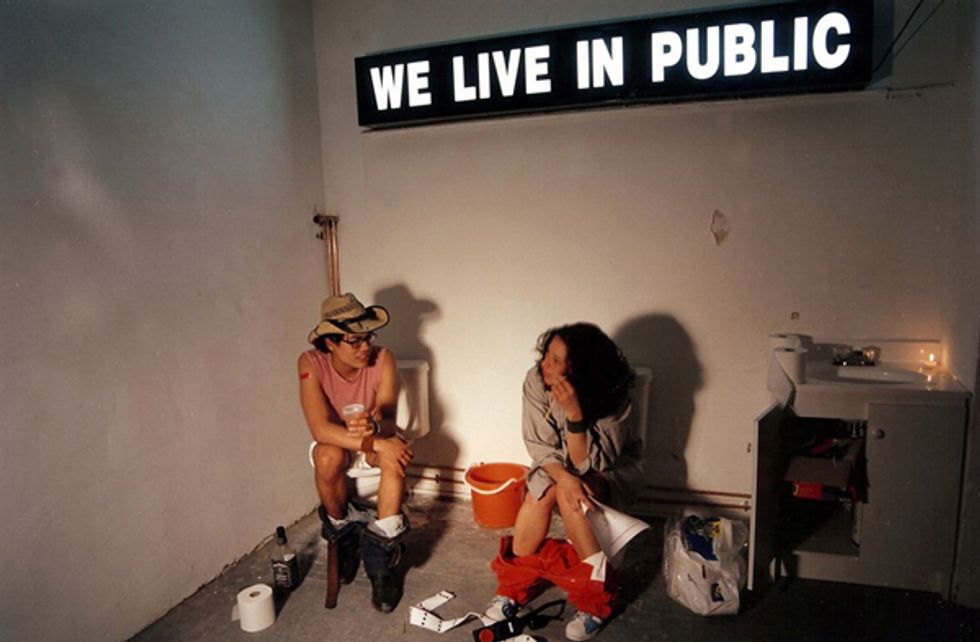 Long before Big Brother or any of the plethora of reality shows that have flooded the airwaves, there was Josh Harris. Harris came upon the scene with the first dotcom boom of the 90s, setting up his company Pseudo in the heart of downtown on the corner of Broadway and Houston. Rolling in money that he wasn't hesitant to spend, Harris was a founding partner of Jupiter Communications which he sold for some $80 million that he then blew building a studio for online broadcast (before broadband) and advancing his status as the new Warhol with wild parties.
A true visionary, Harris was also a sociopath doomed to self-destruct as he pushed the "reality" envelope, first with a fascistic/hedonistic social experiment involving up to 100 people living, eating, shitting, sexing, misbehaving and signing away the rights to Harris which was abruptly ended by a police raid; and then repeated in his "We Live in Public" show where Harris and his girlfriend subjected themselves to 24-7 video surveillance which ended, inevitably, with their breakup and the ultimate end of Harris' attempt to climb Mt. Warhol, leaving him in a state of semi-retirement first in a farm in upstate New York and then in Ethiopia, far away from the bill collectors who were pursuing him.
Ondi Timoner's We Live in Public, the documentary she made of Harris has been making the rounds of the festivals and winning some impressive prizes, including Sundance for best documentary. Since I knew Harris and papermag.com had a show on the Pseudo network, there's a sound bite from me in the film as well. Timooner, justifiably celebrated for her docu Dig, makes the material come to life and somehow endows Harris with a soul he is so clearly seeking. So eventhough I never bought into Harris' "I am the new Warhol fixation," the film captures a moment in time that resounds today for those of us who were there. It opens at the IFC Center on Aug 28.