Of all the well-considered details in the JW Anderson spring 2019 collection — the swoosh of the fringed skirts, the platform sneakers in collaboration with Converse, the just-so-unbottoned oversized sleeves on the undulating blouses — it was the key charm necklaces that had the sweetest story. "They were based on a key that [British architect] C.F.A. Voysey used," designer Jonathan Anderson told us backstage after his show. "All the keys to the houses he designed had hearts on them. So it was this idea that every time you entered into a house, it's about love."
That notion of an enduring, quiet love an architect has for the people and lives he designs for, one that he hides in his work as a secret, was not lost on Anderson, and it's an ideology he clearly shares. You could not design the kind of compelling, cerebral, yet unfailingly sensual clothes he has for the past decade without just that kind of deep understanding and regard for his audience. To say this season was a love letter to his woman would be trite, but it felt as though Anderson was wielding something personal; in the lightness of the fabrics, the tactile wrapping around the body, the breeziness of a sleeve.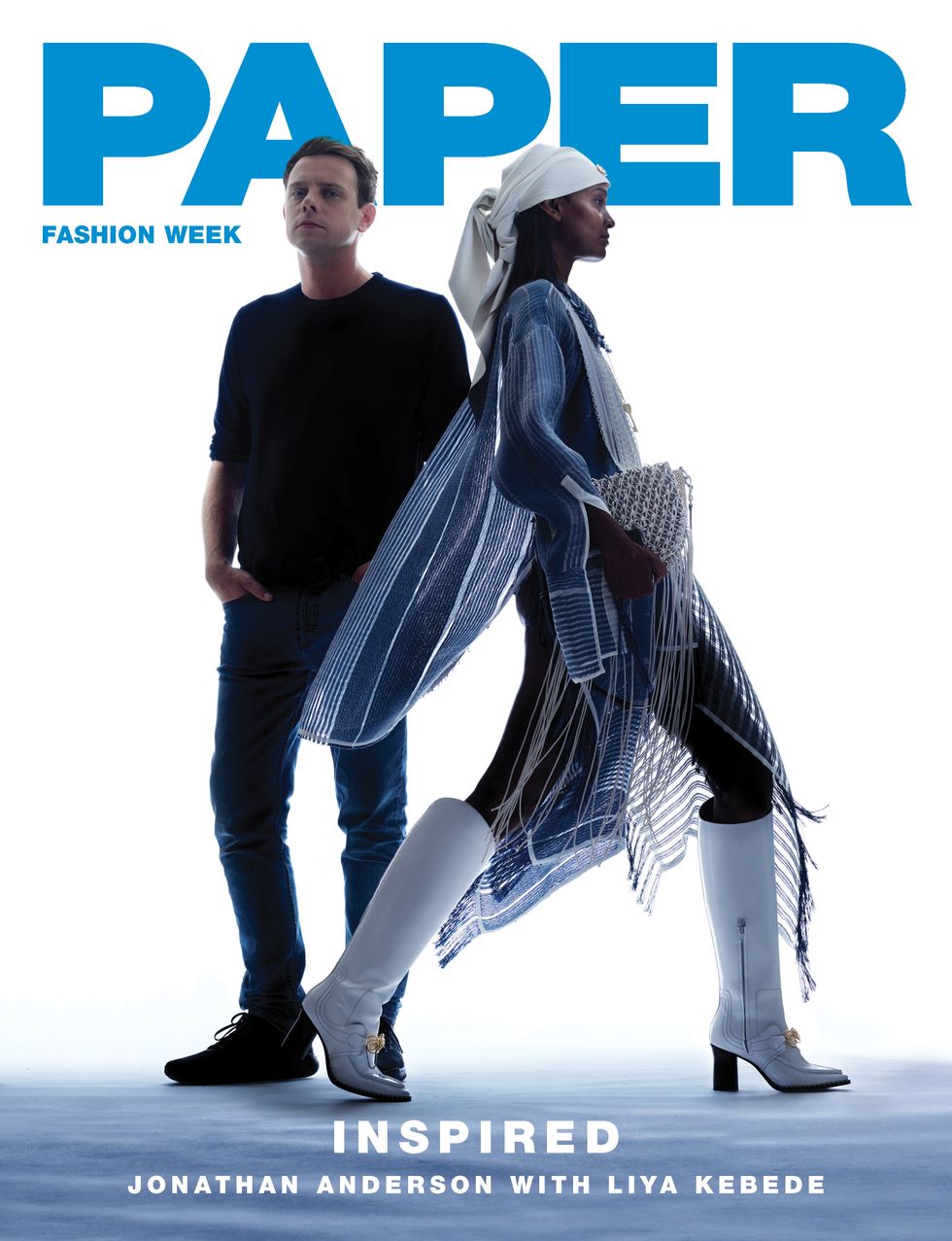 Jonathan Anderson with Liya Kebede (wearing JW Anderson spring 2019)
In particular, sets of patchwork pajamas in pastels or crimson called to mind one of Anderson's first collections, and a reminder of his own part in making bedwear as daywear a dominant trend in the subsequent years — just one of several he can take credit for. "I quite always like something that's a bit arts and crafts," he said, acknowledging the decorative arts movement that originated in Britain (of whom Voysey was an key part) and is a steady, reassuring presence in Anderson's shows. Looking at spring 2019, It would not be a stretch to imagine May or Jenny Morris in the bibbed handkerchief chemises.
In 2018, though, it is Liya Kebede, the model and philanthropist, that most embodies the JW Anderson spirit. The two are frequent collaborators on his Loewe campaigns and she is shot here in his latest eponymous collection. "Jonathan is innovative and forward thinking," Kebede told PAPER. "This is something that shows in his designs, between what he does for JW Anderson and Loewe. I love how he has a different lens through which he looks at the world and at the woman who wears his clothes. He always presents to us a whole universe, not just clothes, and I like that."
"[Jonathan Anderson] always presents to us a whole universe, not just clothes."
Kebede, whose own artisan-driven clothing line and foundation lemlem turned 10 this year just like JW Anderson, is drawn to Anderson's work for its mix of sophistication and chic "but yet slightly off and quirky" style. Kebede's work with lemlem, which promotes and sustains African artisans to raise the profile of the continent as a source of creativity and high quality production, often takes her away from the runway and the camera lens, but for Anderson she makes an exception. "He's constantly creating something new and beautiful. It's a talent that's rare."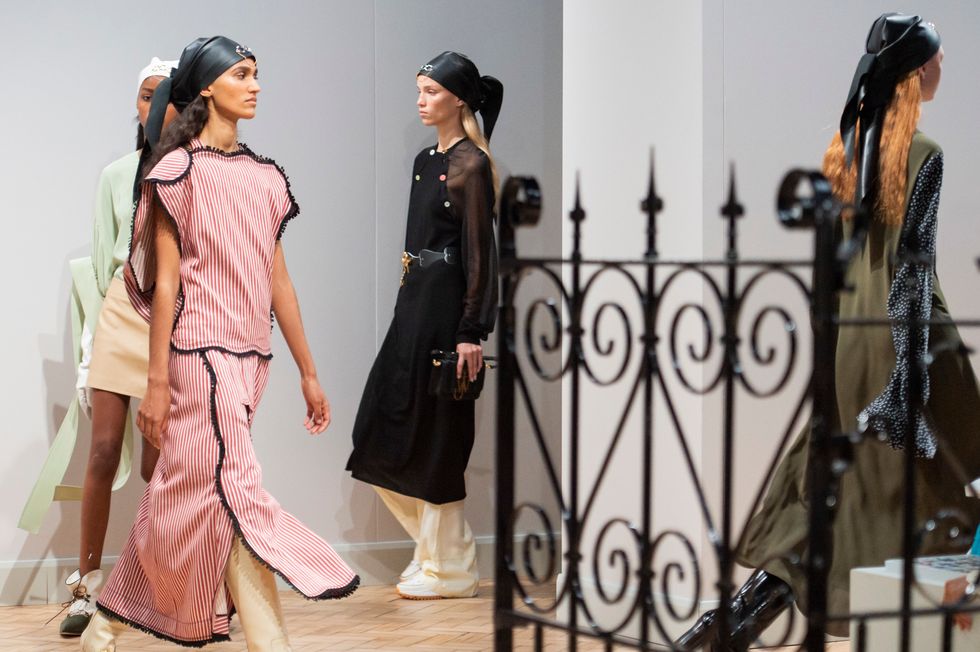 How Anderson moves between his own line and Loewe, the Spanish leather goods and ready-to-wear house he took over in 2013, has been one of the more interesting pas de deux of fashion in the last few years. "For Loewe it is more of a blockier look," he said. "I see that woman as slightly older, and it's more grounded in a domestic landscape or a gallery landscape. She's very tied within one kind of perimeter. I see them as two different kind of generations, but with like a 10 year gap," Anderson said. Which would imply that the JW Anderson woman is untethered to said perimeter, more liberated, and drawn to the unexpected and incongruous. Though it is hard not to see the luxury of Loewe, specifically the technical know-how of leatherwork, elevating JW Anderson in turn — mostly in the mouthwatering bags and shoes, of which there was no lack of this season.
But despite the continental pull of his other job, Anderson's heart appears to be firmly in London with his own label, as evidenced by the wrought iron gates that served as a centerpiece of his spring 2019 show. He had seen a study of them through different periods of time at the V & A recently, and struck him as "very, very British thing" to place in front of buildings or gardens. It is hard not to see gates (and gatekeepers) as a metaphor for fashion itself, while the older system craters making way for new ideas and creators like Anderson. And how brilliantly he holds the key.
Sign Up for the Morning PAPER