Jonathan Anderson caught the fashion bug early. As a young Jean Paul Gaultier superfan growing up in a small Northern Ireland town, Anderson wandered the racks of the discount chain TK Maxx, scooping up pieces from the designer's collections at bargain prices. Also a Gucci enthusiast, he once saved up more than $500 so he could buy Gucci jeans in Ibiza. Now, as an adult, his personal style choices are more sedate, but his work for both his own line, J.W. Anderson, and for the Spanish house of Loewe are still Fashion with a capital F. While many lament the soul-crushing pace of the industry these days, Anderson allegedly finishes his collections weeks before show time and doesn't seem interested in dressing celebrities. He does, however, seem interested in buying vintage ceramics and dishes and merchandising them in his house.
You must be the most famous person from Northern Ireland. Do you get recognized when you go home?
My father was a rugby player, so when I was growing up he was quite known for what he did for Ireland. Usually when they do pieces, it's about 'rugby star's son does fashion.' It's always quite funny, but they are always very supportive. I get more recognized in America, mainly in New York, oddly. When I go back home, I think they probably think: "Who's that person with the tousled hair bopping around?"
Your menswear is very modern, in the sense that it's very gender fluid. Is it something where you think, "Oh, I want to make a statement," or is it just what you think feels right?
We've run it like this since we started it -- that was seven, eight years ago with the menswear. The only reason we started doing womenswear was because menswear needed more volume in fabrics, so it was easier to cut the T-shirt in two sizes and sell it both to men and women, double up. I've never really looked at it as the idea of gender; it's just ultimately how people dress. We became this idea of a shared wardrobe because we don't care. I remember as a kid my mother would buy my brother and I fleeces, and she bought my brother a turquoise one and mine was floral pink. I think that at that time if the garment was nice, we wore it. I think that's what it is about now. If it's nice, you'll wear it. It's about what is right for you. Social media has made individualism more important.
How did you end up in London?
I lived in Ireland until I was 19. I then went to Washington, D.C., to the Studio Theatre, and I spent two years there and had too much fun. I dropped out of my course and came back to Ireland, and my parents wanted me to get a job, because I had nothing to do and I needed to pay back the money. I moved to Dublin where my dad was coaching a rugby team. I worked at Brown Thomas, had way too much fun, and then woke up one day and realized, "What the hell am I going to do with myself?"
You had never studied fashion at this point?
I had never studied fashion. A woman called Manuela Pavesi, who was the fashion coordinator for Prada, came into Brown Thomas and asked me to merchandise the retail, so I merchandised it.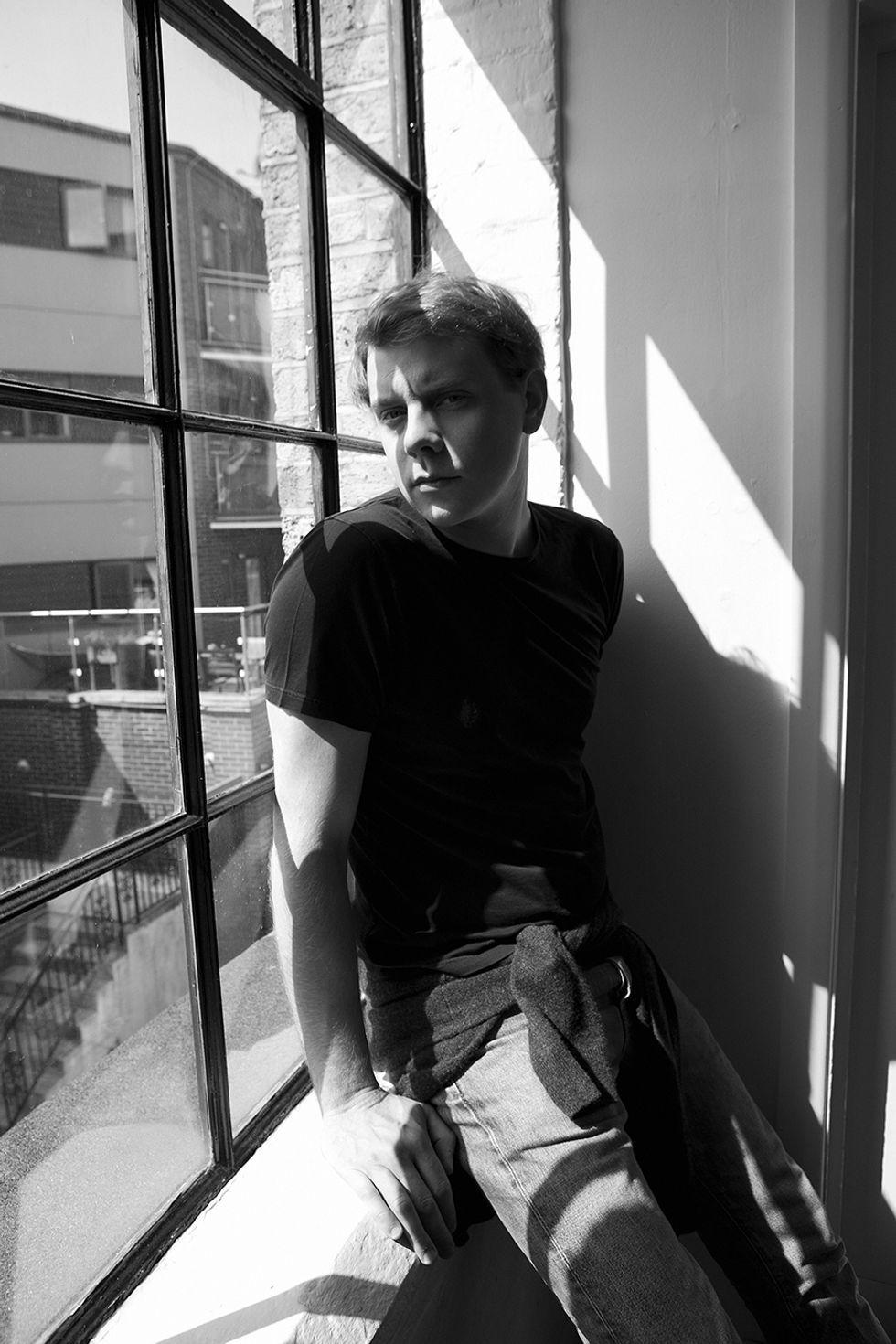 Did you know who she was at the time?
I didn't know who she was. I knew what Prada was, so it was important. She was like, "If you ever need a job, you should come to London." My parents were then like, "Where are you going to study?" So then I made a portfolio, which was actually just racks of clothing. I put this all together, applied to all these universities and none of them accepted me except London College of Fashion. I ended up packing my bags, and that was it. That's how I ended up here, and I would never live anywhere else.
Do you ever miss acting?
No. I don't think I was that good. I found it very difficult to let go sometimes. I just thought that if I'm not going to be the best in this field, I want to be at the top of my game in another field. Fashion was by luck; I think it had to do with timing, positioning and the urgency to do something. I did learn a lot. The most interesting thing I learned was Stanislavski, which is this idea of becoming a character, and I think you have to do that in fashion. You have to believe it. If you don't believe it, then you'll never sell.
Do you believe it?
I do. Everything I've ever put out I believe. Sometimes I believe it too much.
As with many designers, what you do is one thing, and what you personally wear is another thing. Do you ever wear your own designs?
When I was at university, I wore some of my stuff. I went through a mega-hardcore fashion phase. I did the Helmut Lang. I did the Dior Homme. I did Vivienne Westwood. I used to be obsessed with Miu Miu men's -- as everyone was. I did Prada. I did a jacket and a nylon coat with a pair of short shorts. I did full commitment. When I started doing fashion, it was like when you cook a meal for some people, you can barely eat it. I feel like doing fashion is like cooking: You're so subjected to it all the time that by the time you get home, you can't even think about cooking. In the morning, I literally have white T-shirts, black T-shirts, navy sweaters, jeans and Nike's or Converse. There's no decision to wear a black sweater or a white sweater; it's just the navy sweater. It's just the white T-shirt or the black T-shirt. I want to save all that energy to put into clothing and not actually design for me. I think the clothing then would become very repetitive.
Did you have a look you were going for when you were younger? Or an inspiration?
I used to be obsessed with Jean Paul Gaultier because he used to be on TV, on Eurotrash; I remember going on holiday with my parents to Ibiza when he was on TV. I will never forget when EasyJet first started -- so this was a long time ago -- in the EasyJet magazine, there was a pair of micro shorts in camouflage with lacing on the side, and I remember ripping it out and dragging my mother around Ibiza trying to find Jean Paul Gaultier in any store. You could get Jean Paul Gaultier jeans in a discount place called TK Maxx. I remember I had leopard print trousers, which I used to wear with a Breton Jean Paul Gaultier thing with a matching Breton denim jacket. It was ludicrous, but that's when you were this thin and that young that you could get away with it. I OD'd on TK Maxx, to the point where my wardrobe was a smorgasbord of every single color you can imagine, from neon jackets to anything neon, patterned, Versace, Dolce; it was that moment. Like when T-shirts were big, they were that big. I've always been into fashion. I would buy things at TK Maxx that would be a size XL just because I didn't have it. I would never wear it, but I got my parents to take all the wardrobe doors off, and I used to merchandise clothing; it was kind of ridiculous.
Did you save these clothes?
I don't have any of it. The only thing I ever bought full price was when Gucci was at its prime. I remember saving all my money up to get a pair of Gucci jeans and a Gucci polo with the green and red stripes. I remember going to Ibiza to get it, and I think it cost £400 for a pair of jeans. I had saved from the summer before to that summer, just to get a pair of jeans that, after washing them once, didn't fit me anymore. [laughs] They used to be so tight. So that was my experience with fashion, and I think I OD'd on it.
What do you do for fun, besides dominate the fashion world?
I'm an obsessive shopper still. I'll go to the Vintage Showroom and find chairs, or books or things. I'll go to a bookshop and buy more books. I'm a hoarder. I'll hide things behind old things so I don't see them anymore. I will get obsessed with something and get more of it, and then I'll be done with it and move onto the next thing.
Is your house extremely merchandised?
It's very merchandised. I'm very into ceramics, to the point where my kitchen table just has pots all over it. My side table has pots all over it. Everything is pots. They're decorative pots.
I am a dish queen. I have tons and tons of dishes, but they're for display only. If someone ever tries to use a dish or a glass, I'm like, "No!"
I love 18th century blue and white. I will literally go to every auction and try to find them. It's actually really dull and boring. I'm like an old maid. There's something I find so obsessive about it. I don't know what it is. Like a dinner service can turn me into a trance. I just bought a 147-piece dinner serving set that I'm never going to use. I saw them at an auction, and I was like, "Why not?"