UPDATE: Australian's deputy prime minister, Barnaby Joyce, mocked Johnny Depp's appearance in the unbelievably awkward apology video yesterday (alongside his wife, Amber Heard); Heard was convicted of illegally smuggling in the couple's two dogs to Australia last year.
The politician--who was one of the lead figures coming down on Depp--told Australia's Sunrise LIVE that the stiff-looking Johnny looked like he "was auditioning for The Godfather."
The news anchor laughed and added, "For two people who make a living acting, they're not doing a very good job of it, are they?"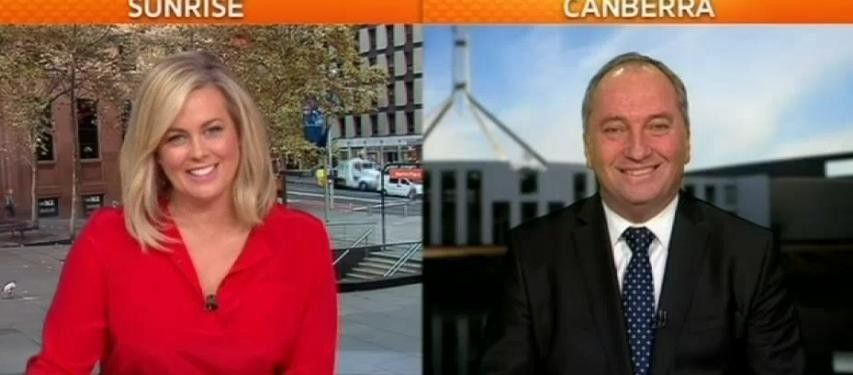 Joyce ended with "He's good at playing every person except Johnny Depp."
Deputy PM Joyce did acknowledge that despite their obvious disdain for having to make the video in the first place, they apologized, and the message that Australia's bio-security laws are to be taken seriously will thankfully be enhanced by the virality of the clip.
In the wake of Amber Heard pleading guilty for smuggling in she and husband Johnnhy Depp's two Yorkshire Terriers, Pistol and Boo, to Australia last year, the couple released a somber, brutally awkward apology video to the continent.
Here is the full transcript:
Heard: "Australia is a wonderful island with a treasure trove of unique plants, animals and people,. "Australia is free of many pests and diseases that are commonplace around the world. That is why Australia has to have such strong biosecurity laws."
Depp: "Australians are just as unique, both warm and direct. When you disrespect Australian law, they will tell your firmly. "
Heard: "I'm truly sorry that Pistol and Boo were not declared. Protecting Australia is important."
Depp: "Declare everything when you enter Australia."
We now have an official apology to a nation and continent that includes "Pistol and Boo" in it.
Excuse me while I go stare into the sun for a few hours.