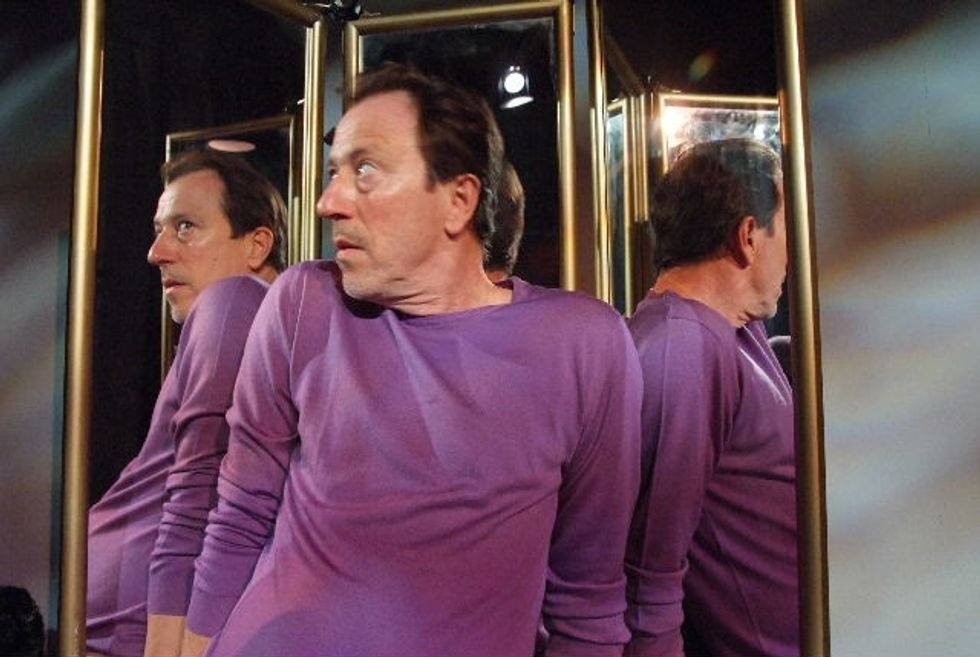 John Fleck
is one of the most exciting, arresting actor/performance artists.  His energy on stage, and the intensity of his seeming abandon, rivets audiences in their seats.  Infamous 20 years ago as one of the "NEA 4", he didn't let the fact that Congress took away his grant slow him down for long.  He has gone on to win three L.A. Critics Circle, eight Dramalogue, six
L.A. Weekly
and two Backstage Awards; all for outstanding performances.  With his latest one-man show,
Mad Women
, he takes us on a rollercoaster ride with two "mad women" --
Judy Garland
and
Josephine Fleck
, his mom.  This show was done in Los Angeles this past spring, and I heard from from several John Fleck devotees that this was his best yet.  I spoke to him by phone while he was still in L.A. 
Hi John.  I heard you had an extended run in L.A. with this show.
It ran 12 weeks at the Skylight Theater in Los Feliz. 
How did the show come about? 
It evolved.  I've been working on it for a few years.  The germ started four years ago at the Red Cap (a venue in downtown L.A.).  I did a show called "Johnny's Got A Gun," very political, anti-war.  In preparing for the show I discovered the footage of my mother when she had Alzheimer's disease, in Cleveland, in 2003.  She told me she had Alzheimer's, and I didn't want to lose her, so I had to film her.  I asked her to tell me stories of her life.  She offered stories about living with an alcoholic husband.  She had seven kids and that was the only thing that brought her joy.  She told me stories of when he got drunk.  She'd come upstairs to the kid's room, and she'd get into bed with me.  He wouldn't bother her if she was in bed with me.  She had this horrible rheumatoid arthritis, but she was a real survivor.  She had a great sense of humor.  I got my sense of humor from her.  I was my mom's foot-soldier against the alcoholic tyrant.  So I did that show (at the Red Cap four years ago) but it was too heavy, so I dropped that show.   
OK, then what happened?
Flash forward to last November.  I'm in New York City and it's Black Friday, the day after Thanksgiving, and I do a little bit in the Dixon Place lounge.  I'd been talking to David Schweizer  (Ed.: An excellent director who has directed many shows, and a lot of solo performers like Ann Magnuson and Taylor Negron), and he encouraged me to go after this.  I had this bootleg CD of Judy Garland at the Coconut Grove in 1957.  And it was her last concert, she was going to be dead within a year.  It wasn't her best by far, but she rose to the heights.  So I created this dramatic scenario where I lip-synched her songs, and her talking, at the Grove.  And then David suggested I find Garland's "rants."  She was completely penniless at the time and needed to make some money, and some guys suggested that she just talk into a mike and they'd tape it and turn it into a book, which never happened.  But she gets so fucked up and drunk; she's going "You sons of bitches..." and she really talks about all the men who had abused her in her life; like Sid Luft.  So I created a fictional scenario, using a collage of Judy Garland singing, and the rants, within the concert performance.  Also, I sing a little aria as Joey Luft, her little son, too.  That's the meat of the matter; and it was about 15 minutes at Dixon Place. 
So what are we going to see in this show?
When I got back to L.A., I started working with my director Rick Montejano, and basically, we took the footage of my mom and collaged it with the stuff I did in New York with Judy Garland, and I created this show where they mirror each other, my mom and Judy. It's almost like Judy becomes this tragic goddess who helps me and my mom.  It's like this journey where Judy Garland is this all-consuming, life-giving goddess, who guides my mother and her young son to survival.  Also, she teaches me how to become myself.  It's very funny and poignant at the same time. It's a candy mint and it's a breath mint. 
La Mama, E.T.C., 74-A E. 4th St., (212) 475-7710. Through Dec. 11th (only 7 performances). Fri. & Sat., 10 p.m., Sun., 5:30 p.m. $18; students & seniors, $13. Tickets here.