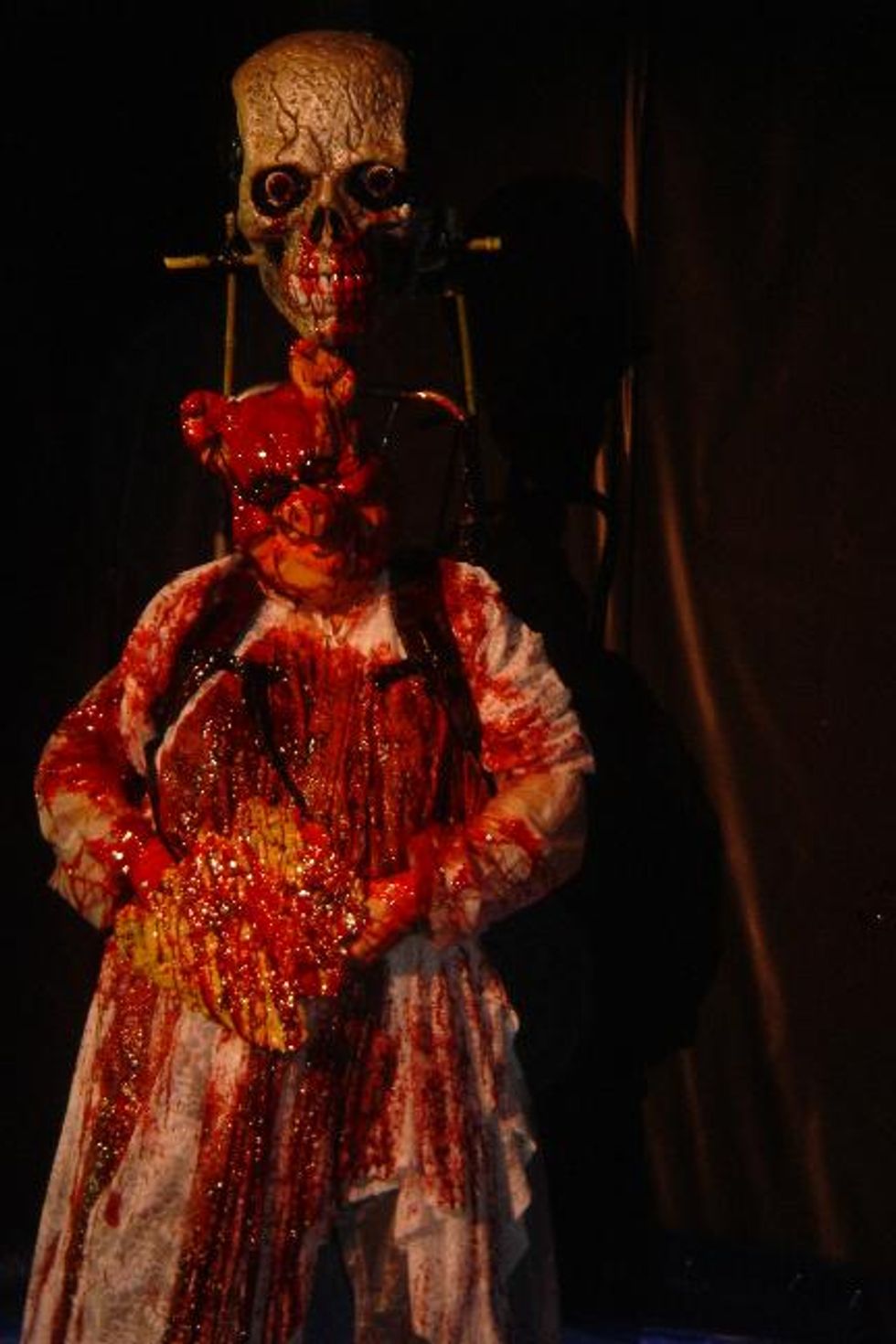 Punk rock performance art pioneer Johanna Went is having a retrospective at one of the truly cutting-edge galleries in town, Track 16, located at Bergamot Station in Santa Monica. More importantly, Went is also performing an epic work there called "ABLUTIONS OF A NEFARIOUS NATURE" on this Saturday, May 12 and next Saturday, May 19 at 8 p.m. I saw it last Saturday and was thoroughly entertained and profoundly inspired! Johanna reminds us all to STOP PLAYING IT SO SAFE! With the help of PAPER magazine's own Tom Murrin (see photo below -- he's the one in the blue babydoll headdress) and others, Went creates an Hieronymous-Bosch-like landscape featuring a calvalcade of wacked-out characters wearing phantasmagoric costumes created out of truckloads of thrift store finds. Here are some photos I took of the show (you can see others on the Track 16 website):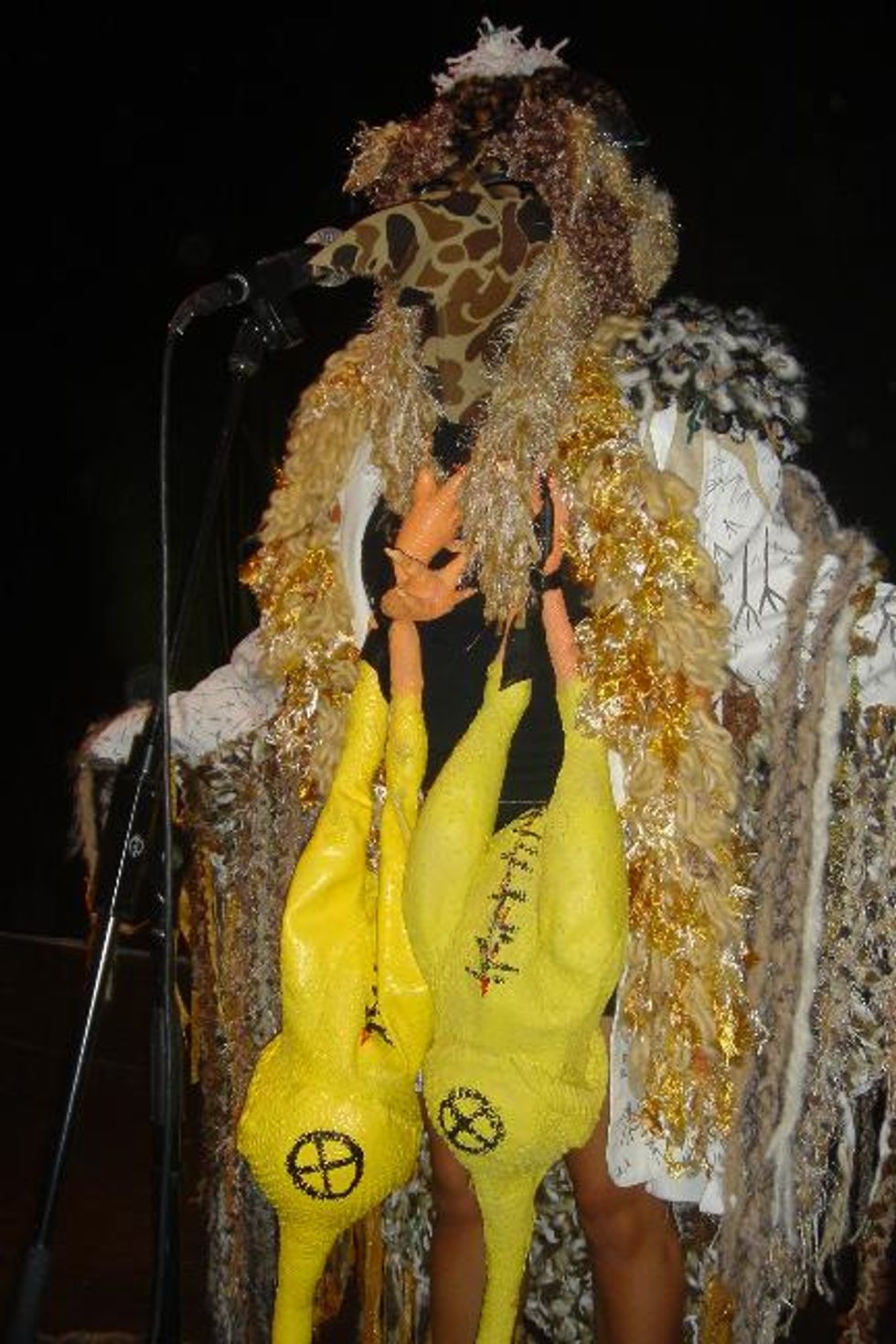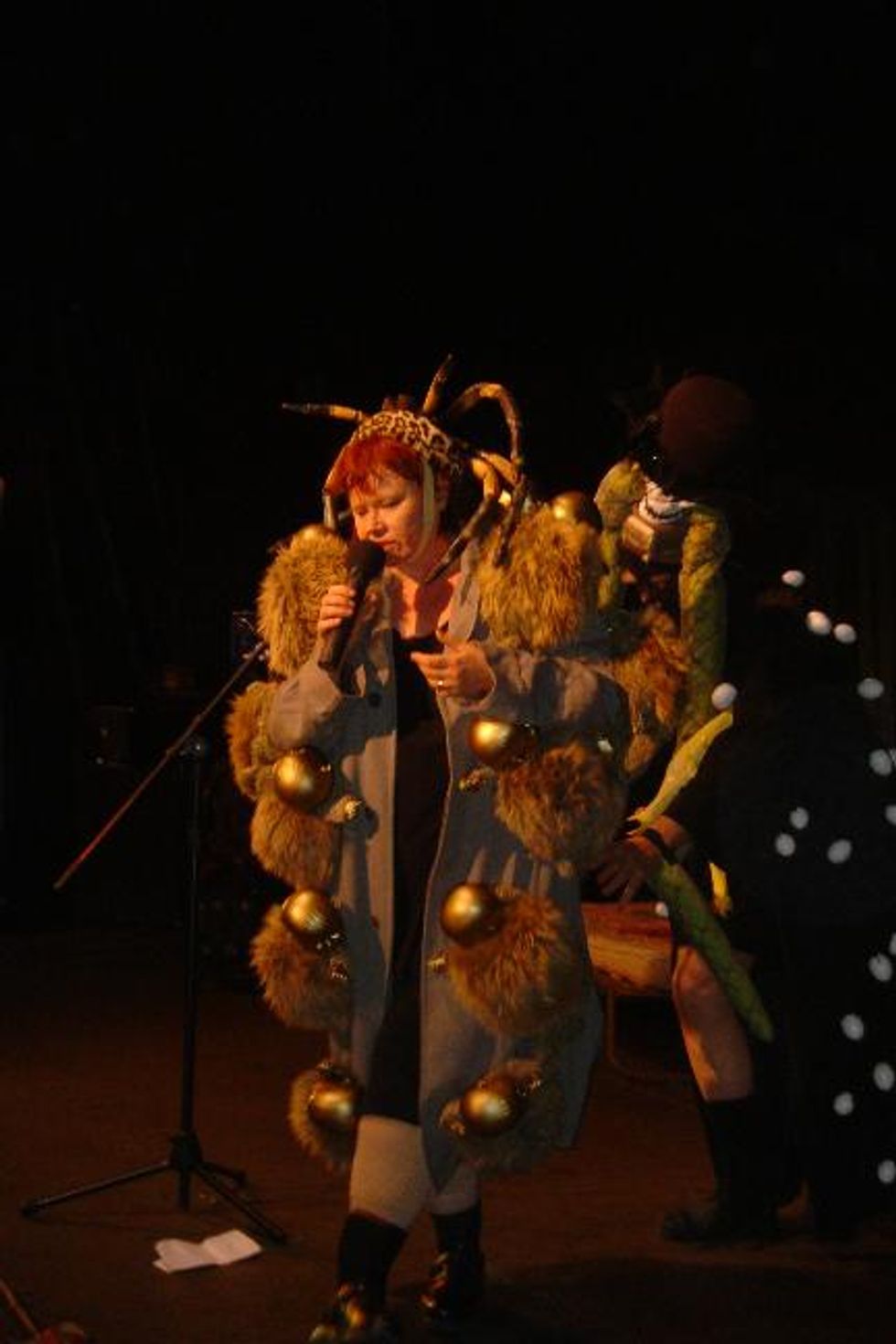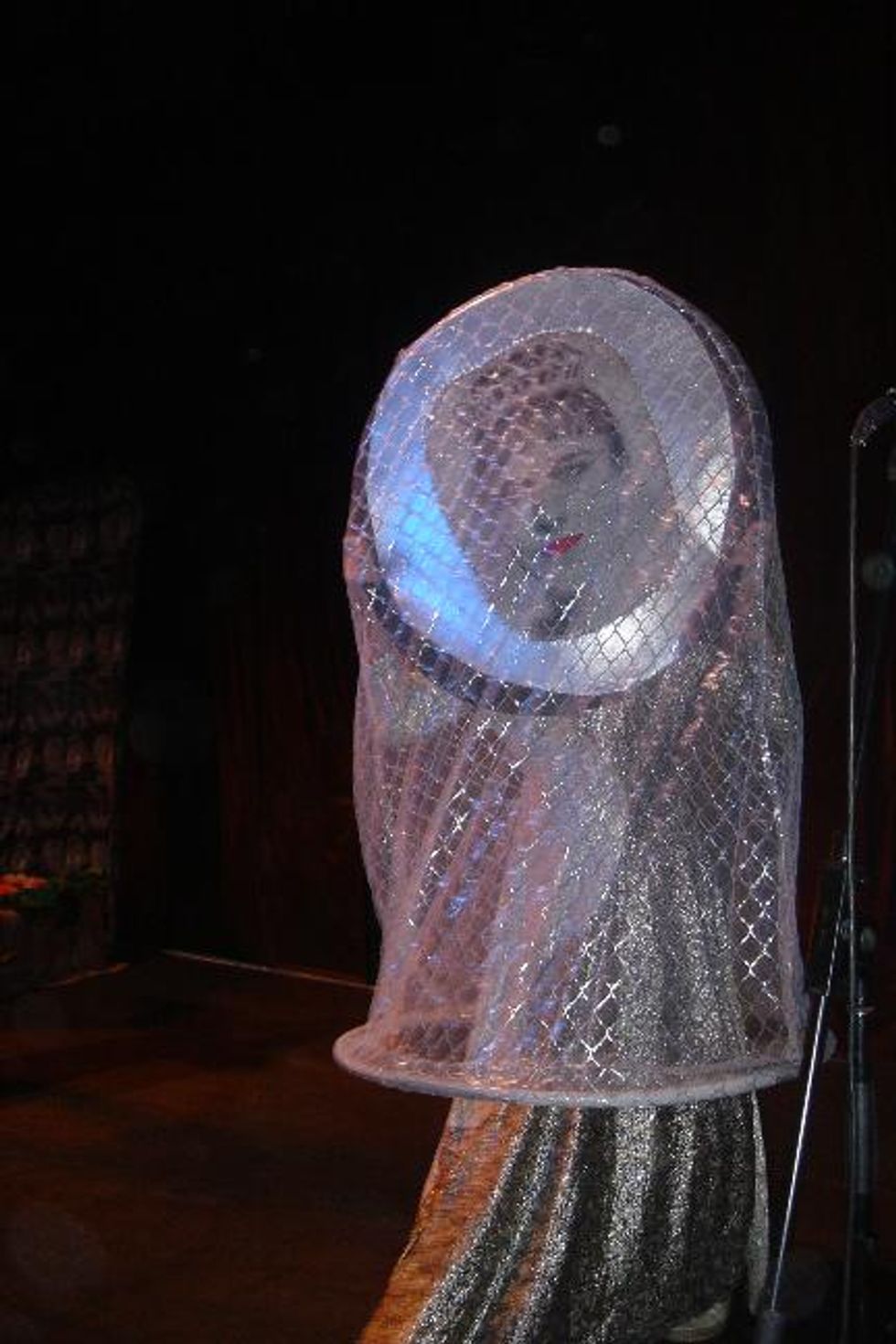 The show doesn't really have a script per se but expect to be assaulted by abstract feminist themes of fertility, mortality, motherhood, goddesshood, marital imprisonment and old fashioned, flat-out loopy madness. Imagine the Little Rascals teaming up with Flo Ziegfeld to recreate Bosch's "Garden of Earthly Delights" to a soundtrack by Suicide -- except the music is by the percussionist Z'ev and the equally fearless and experimental Mark Wheaton, Went's long-time collaborator and mastermind behind CATASONIC , an Echo Park studio used by many local musicans (we recorded my new CD there! In fact, they've released a DVD of the work called The Club Years, which you can purchase here.
Add a twisted sense of humor, a WHOLE LOTTA stuffed animals and a Carrie-like denouement featuring plenty of stage blood, and you get one satisfying evening out! My significant other, who usually hates being dragged to the theater, was extremely impressed. DON'T MISS THIS SHOW!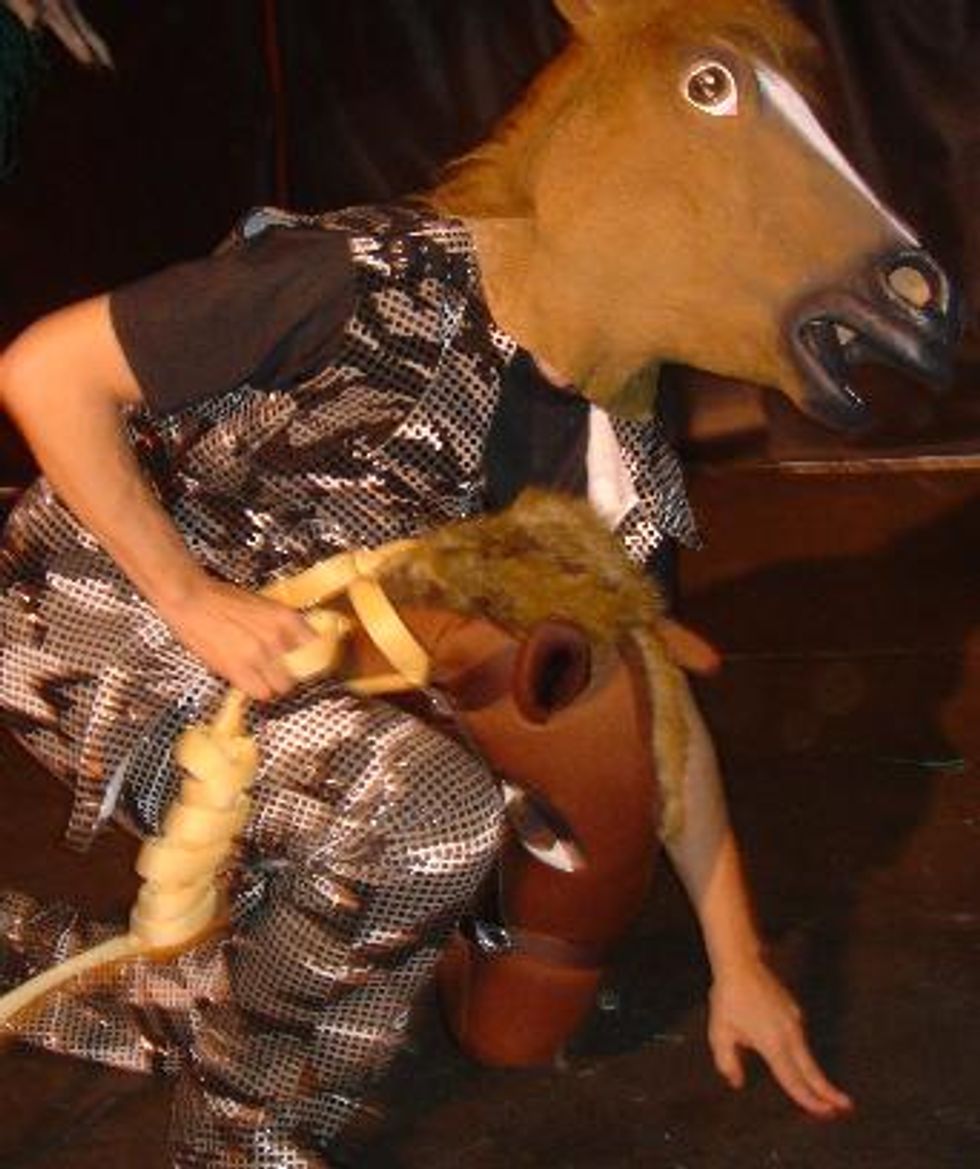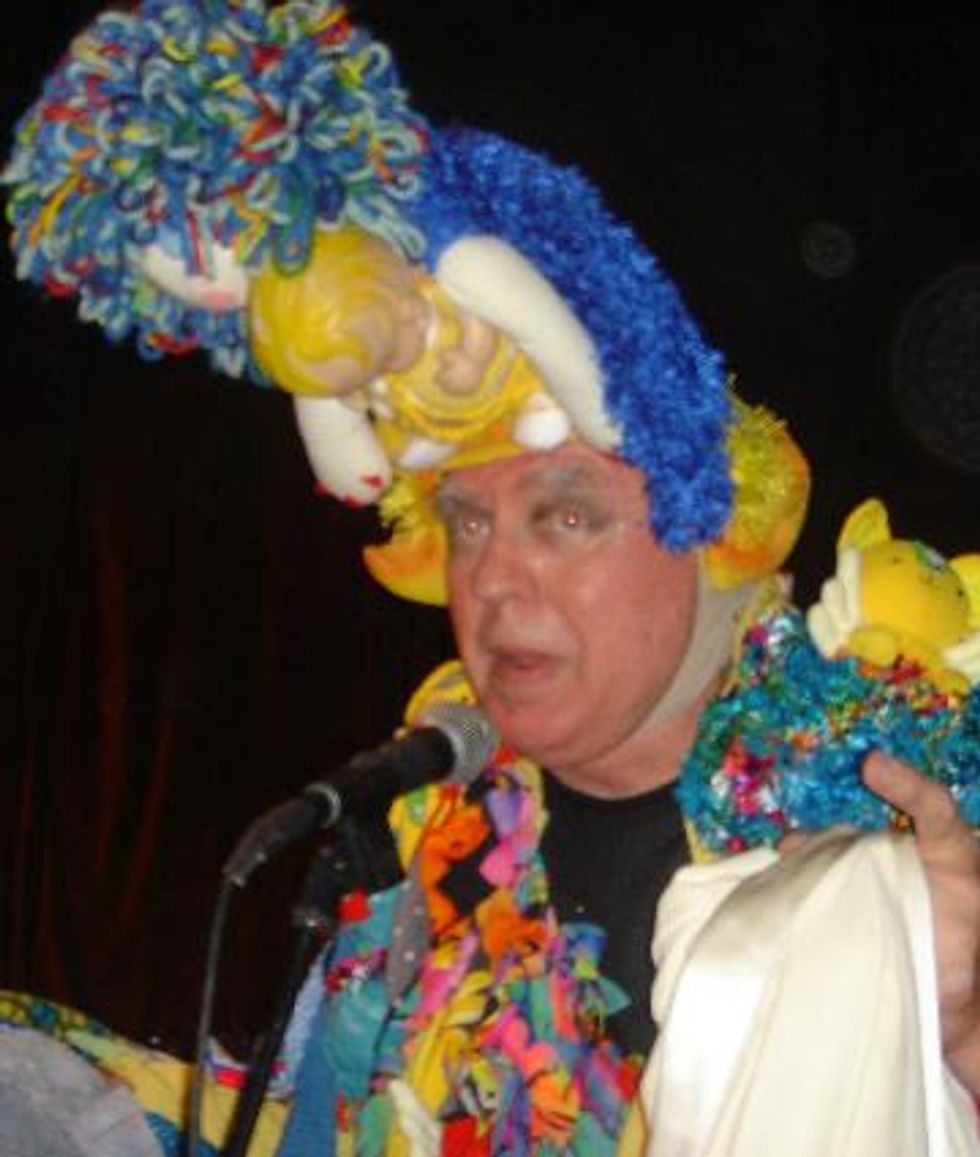 Notorious for her blood and gut spilling work in Punk Rock clubs in the early 80's, Johanna Went continues to meet her audiences head-on with de-constructed characters, abstract costumes and a guided tour through a storm of bizarre imagery. In this piece, ABLUTIONS OF A NEFARIOUS NATURE, the main characterarrives at a remote location and becomes immersed in catastrophic events leaving her unsure if she is dead or alive. Like Persephone's journeys from world to underworld, this character travels from the banks of a material based reality to the shores of an intuitive existence, wading through the river of her unconscious.
At the heart of this work is an exploration of ancient, collective, symbolism. Went's mysterious visions are often simultaneously comedic and horrific. A vast array of costumes representing fabulous creatures, and archetypical monsters, perform strange ceremonies and rituals. Went and her crew move to the music in odd directions, foul the stage with a collection of weird props, peculiar trash, unstructured concepts, and psycho noise, while at the same time giving meaning and form to both the light and dark sides of life.