Other People, the directorial debut of SNL head writer Chris Kelly (who also wrote it), is the one of the best films of the year, capturing the absurdities and hardships of being the member of a family, through the eyes of one dealing with tragedy. Kelly's semi-autobiographical story follows David (Jesse Plemmons) a gay New York TV writer who returns home to Sacramento, California to help his dying mother Joanne (Molly Shannon), who's in the advanced stages of leiomyosarcoma.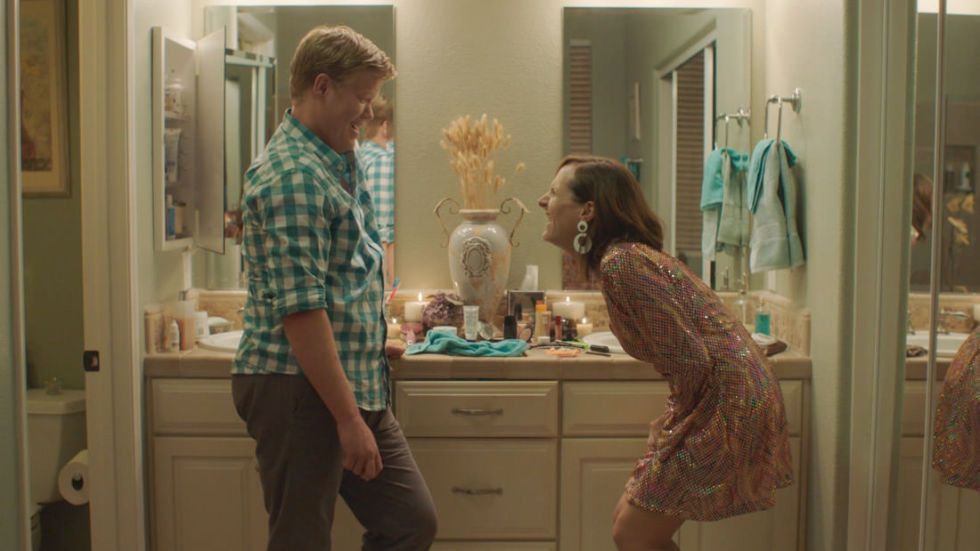 Told in vignettes--both stomach achingly funny and cry-in-a-fetal-position sad--over the course of Joanne's final year, we see David find an imperfect harmony in his relationship with his mother, as well as with his homophobic father (Bradley Whitford) and two younger sisters (played by Maude Apatow and Madisen Beaty).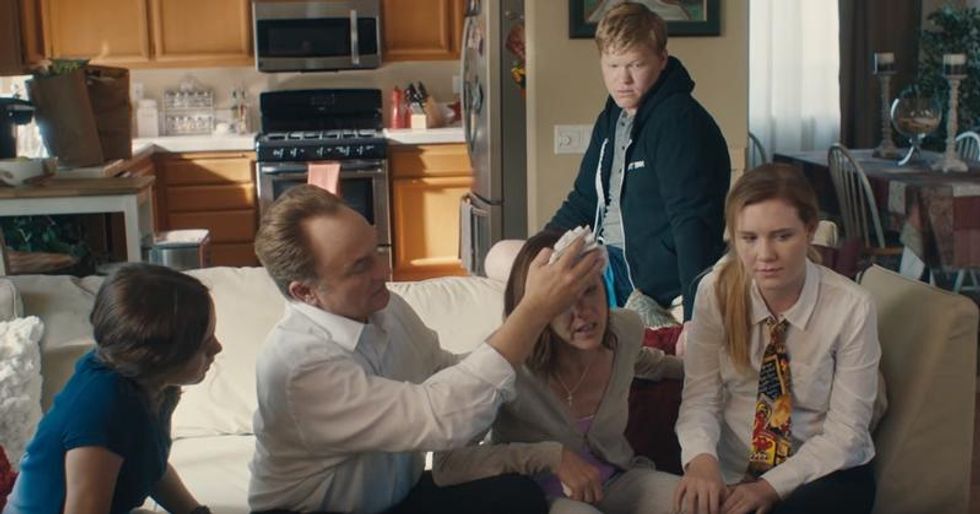 The story is rounded out by scene-stealing performances from the always brilliant comedian/actor John Early, who plays David's childhood friend Gabe. But the real surprise is Gabe's younger adopted brother, Justin, played with supernatural fierceness and presence by 15-year-old J.J. Totah.

Totah, who first came to prominence in roles on the Disney Channel's Jessie, Liv & Maddie and the final season of Glee, completely takes his limited screen time and makes it something unfathomably extra. From his introduction, where he gloriously informs David to excuse the mess in his bedroom because he and his dad are in the middle of a "redec" and installing Carrara marble...
...to his iconic performance at his dad's 60th birthday, under the moniker "Justin Carrara" (naturally!), where he has TWO wig changes and twerks in gold sequin shorts, Totah runs away with the film.
His character's quirks have some real life origin, as Totah tells me: "When I was auditioning, my family was redecorating our house with Carrara marble, and I was just obsessed with it."
And Kelly's script allows this beautiful, seemingly non sequitur pop performance to exist as its own fleeting movie.
"The whole movie is through David's eyes, going through the ups and downs," Totah says. "There's even a part when his younger sister tells him he never asks about other people, and how they're doing. I think the Justin performance was a way for David to glimpse into another person's life. To see the world through someone else's eyes, even for just a few minutes."
According to Totah, the short scene took around fifty takes. "It was so hot out, and we were filming in Santa Clarita, California," Totah said. "Imagine the hottest day in New York, and it's ten times worse than that." Totah has had some experience playing someone with such a commanding presence, with his musical theatre tyrant of a character on Glee, Myron Muscovitz.
"I definitely borrowed from Myron," Totah laughs, "but he and Justin are very different. Myron was sort of ruthless, and got his way no matter what. I think Justin was a sweeter version of him."
Audiences have clearly taken to the character of Justin, with press and praise for his small but impactful role. "David learns through Molly Shannon's character and what she's going through: Life is too short to overthink things: Just go for it," Totah says. "I think Justin's performance is a small reminder of that."
With his acclaim in Other People, signing with WME, and roles in Spiderman: Homecoming and Netflix's Handsome with Jeff Garlin coming up in 2017, Totah's individuality is translating into a big career on the horizon.
His parting advice? "Live your truth, and be who you are. Honestly, how hard is that?"
Other People is available on iTunes.
Header photo via Instagram