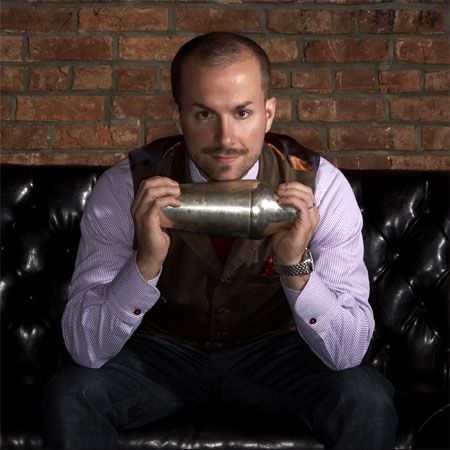 Yesterday marked the official release of
Jim Meehan
's
PDT Cocktail Book: The Complete Bartender's Guide from the Celebrated Speakeasy
(Sterling Epicure, $24.95). Aside from hundreds of delicious recipes, what sets this book apart are the amazing graphic illustrations by artist
Chris Gall
, a taste of which can be seen in this
video
. While you may be able to duplicate the recipes at home, there is still no substitute for a night at
PDT
, the reservations-only East Village bar reached through a secret portal in a hot dog stand. Here Meehan reveals some of what goes on behind the scenes. 
PDT is so civilized. Have you ever had to deal with the usual problems other bars have, like throwing out a drunk?
A few nights ago a drunk woman buzzed into the phone booth and asked for the bathroom. She got so mad when she couldn't find it that she kicked our door off the hinges. The wood came apart and we had to have a carpenter come in to repair it. We have this super-cool orange 1970s phone and I've had someone pull on it so hard that the phone came apart from the receiver. So, yes, it happens, but one of the things I'm most proud of is providing serenity at PDT, that each customer has a place to sit and the right to be served promptly and not be disturbed by lewd people or someone shouting obscenities. A bar is a mousetrap. As the operator of that mousetrap you have to consider the sort of cheese you put out to get that mouse into the trap. If you have a bar with a big, brawny bouncer you're going to attract big guys. Part of what has really worked well for us is having a young woman working the door, well dressed and friendly and accommodating, so we generally attract better behaved customers. A lot of the time when there are fights in bars it's not because they're bad people; it's the situation that makes them so mad they want to fight. It's too crowded, someone spills a drink on you or hits on your girlfriend or says something offensive. People get so annoyed with my reservation policy and rules of etiquette -- no screaming -- but these things greatly diminish the chances that someone's going to throw a punch. 
What's the most douchebag drink somebody can order?
Dirty Grey Goose martini. But I'll be very blunt about this: I'm not in the business of judging people. Bartenders are doing a great disservice by rolling their eyes when someone orders a drink they don't approve of. I tell my bartenders the key thing is to say, 'No, but...' we can make it with Belvedere. I make sure I have a product that's analogous to the product I find reprehensible. Most people who are douchebags were not born into the world that way. They became douchebags by getting into the wrong crowd and being overly influenced by advertising. 
What do you order when you go to a bar?
If I'm in a wine bar I try to figure out what kind of wine they're interested in. If it's Austrian I'll have a glass of Grüner. If it's a dive bar it's Amstel Lite. That's my guilty pleasure in life. I'm a man of many interests and many seeming contradictions. While liquid has been all-encompassing in my life, I have to turn it off sometimes. I don't drink soda, so boring beer is as bad as it gets. I'll indulge in one or six of them. 
What's your favorite gin in a martini?
Plymouth, Beefeater or Tanqueray. 
Favorite whiskey for a Manhattan?
I'm a huge fan of Wild Turkey Rye. 
Which cocktail goes best with a hot dog?
Hot dogs are a perfect foil for a cocktail but my goal has never been to pair hot dogs and cocktails. At heart I'm a wine guy with food. A hot dog almost mocks a $15 cocktail and I like that. Part of the energy of PDT is the ludicrousness of being attached to a hot dog stand. 
It seems like you wrote your cocktail book with an eye on history.
I started collecting cocktail books right after I started working at Pegu Club. Audrey [Saunders] had a bunch of books at the bar and at that time I'd also met a vintage cookbook collector named Bonnie Slotnick. I realized the history of bartending was in these old books and it was almost like proof that what I chose to do with my life was a really good decision. I tried to infuse the book with what I thought was great about these old books, make it nostalgic without being derivative. Now I'll go into a bar and see a bartender with a 19th century mustache, vintage sailor tattoos, like he's straight out of a Civil War reenactment. My goal was not to be a Civil War reenactor, but show how we're doing things now with a sense of history.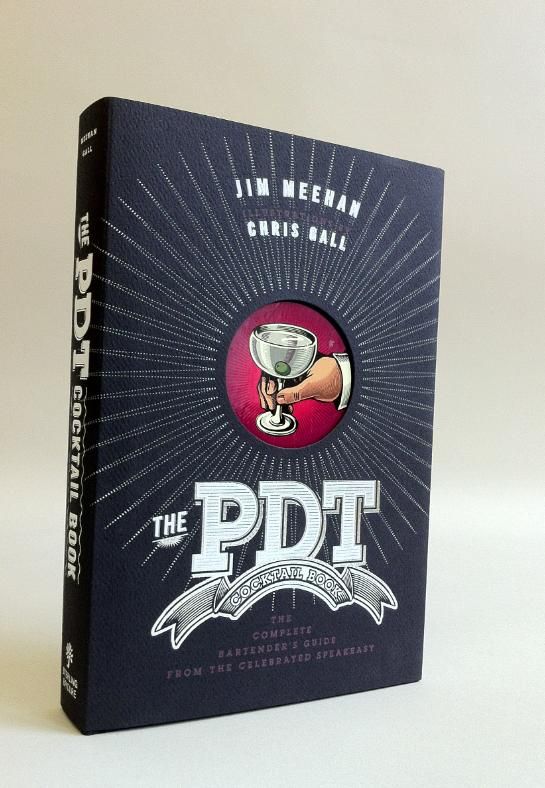 Tell me about Chris Gall's illustrations. They're so beautiful.
He's a 50 percent partner in the book. I first saw his flying fish illustration on the subway as part of the MTA arts series and knew it was exactly the sort of thing I was looking for. It had a WPA feel, the great graphic muralists from the workman era, and I tracked him down. 
You were an English major at the University of Wisconsin-Madison. Did you ever envision using your interest in literature or writing skills this way?
I've always dreamed of writing a book. I never dreamed that bartending would take me to the places it's taken me. My brother [Peter Meehan, author of the Momofuku cookbook and co-founder of
Lucky Peach
magazine] is a writer in a way that I'm really not. It's a craft, and the only way to become a better writer is to keep writing and writing. In high school Peter was more of an artist, a musician, and really smart. I was sort of like a dumb jock, but then became more of an enlightened jock. In my book I just tried to be clear and concise and left my deep, dark thoughts on the cutting room floor. 
You don't spend as much time behind the bar anymore so what do you do at night?
Write. I'm working on the
Food & Wine
cocktail book for the sixth time. I work with Banks 5 Island Rum so I take people out on my expense account to get them interested in it. I'm a ten-minute walk from the bar so during the day I'll go in and get the liquor ordered, walk through and make sure nothing's damaged, go to the Greenmarket or Kalustyan's to buy ingredients, do recipe testing before service begins, touch the tables a little bit if there are important customers. Just because I'm not behind the bar it's not like I'm not working. I'm working all the time.