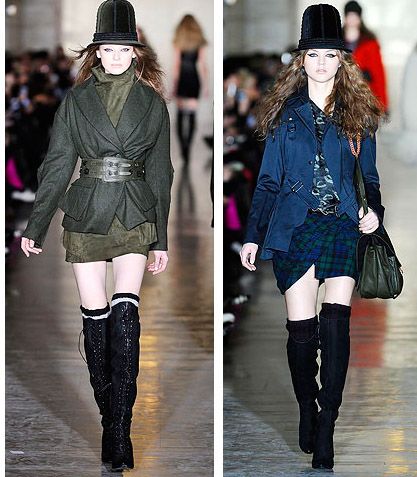 Wait -- whaaaa??  Did you know that
Jill Stuart
debuted her namesake womenswear label in
Clueless
(aka the greatest movie ever)?!  That's right, those Cher Horowitz plaid kilt skirts that reignited the naughty schoolgirl look in '95 were the work of Jill.  And at her show yesterday, they were back. 
In this collection, we saw less frills and girly hues -- more Balmain-esque military-meets-safari detailing. There were voluminous chunky knits -- including a few delicious full-length sweater coats -- and a return to preppy plaid (with a Jill Stuart edge, of course).  Where did this new-old look come from?  Read our chit-chat below and then watch the
video
for a look:
Last season you had an 'angel-rocker' look going on. This show there was more plaid -- with some old-school American sportswear thrown in. Could you tell me about that direction?
Exactly!  Yes, I really went back to my roots. I grew up in the fashion business. My mother was an American sportswear designer. When I started, my first collection was in the movie
Clueless
. My first design was a kilt skirt in black watch plaid. I started to look over all my past collections -- I went back to my first collection and brought back the black watch plaid and the red blanket fabric -- and I even went back to the kilt skirt. I was trying to combine a tutu and a kilt skirt -- and make it a modern kilt skirt.
Loved it. Now I heard that your daughter Morgan is on board and designing with you.  So cool -- your mom was a designer and now your daughter is working with you.
..
Yes, we're just passing it on, passing it on...

What's that been like? Did you collaborate easily?
Yes, very easily. We're having a great time working together -- she inspires me everyday.  She has an amazing point-of-view and we've been working together for six months -- she's twenty-two years old and she studied fashion at Cornell.

Do you switch into boss-mode? Or are you still tight as mom and daughter at the office?
Tight as mom and daughter for sure.

I can't believe your work started out in Clueless. Now I have to go home and watch it again, for the zillionth time.  What are your post-show plans?  Anything different to celebrate? 

I'd like to get a massage!  But, you know, I always like to have lunch with my family after the show.


Bon Appétit.
CLICK HERE FOR PAPERMAG'S COMPLETE DOWN-LOW FASHION WEEK FALL 2010 COVERAGE. >>