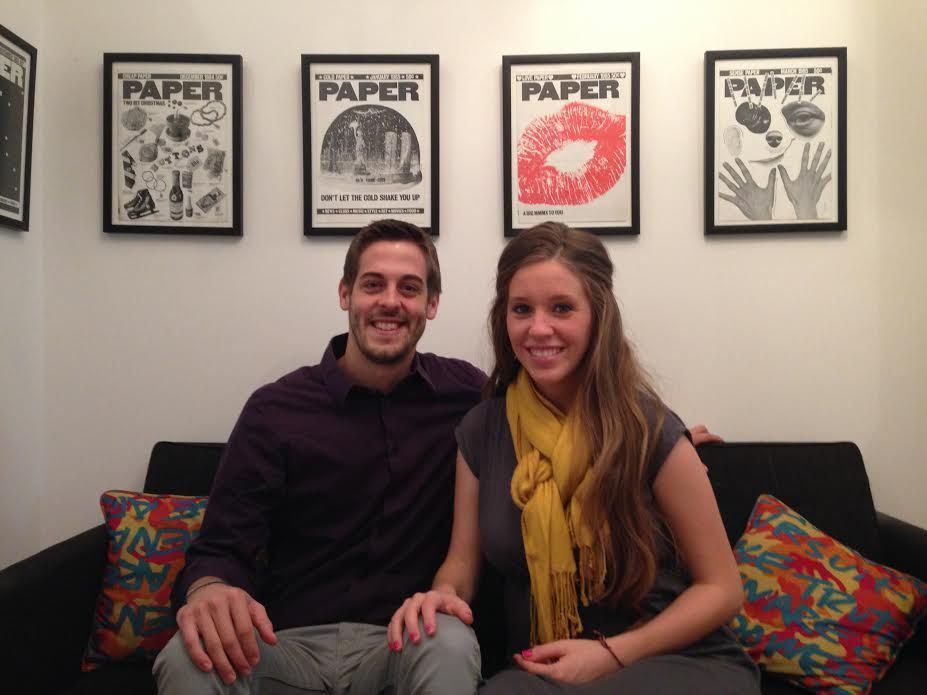 (L-R) Derick Dillard and Jill Duggar
What can I say? I love the Duggars. Their TLC series
19 Kids and Counting
is certainly not your typical reality show, and the Duggars are not your typical reality stars. There's no fistfighting, no hair-pulling and a general avoidance of all drama and discord. In a TV landscape filled with Real Housewives, Bachelors and train wrecks, the Duggars stand out by being nice, wholesome and modest. Which is to say, by acting nothing like what we've come to expect of our reality TV stars.  
Some of my friends wonder how a big-city fashion gay like me can be so addicted to a show about a rural southern Christian family, particularly with the the
current change.org petition
protesting matriarch Michelle Duggar's support of an anti-LGBT candidate. Fair enough, although the Duggars are pretty much the only Christian family on TV with a major secular fan base and everyone is allowed to support any candidate she likes, even if I don't like it.
 For me, it all started with a 2004 documentary special called
14 Kids and Pregnant Again
. Now there are 19 kids and almost as many seasons chronicling the families up and downs. This season was particularly eventful, with daughter Jill marrying her Skype sweetheart Derick Dillard and daughter Jessa getting engaged to her boyfriend, Ben. (I admittedly shed a few sentimental tears watching Jill and Derick's wedding. I feel like I've watched Jill grow up!) And I was tickled pink when the newlyweds (and soon to be first-time parents) stopped by the PAPER offices on a recent trip to NYC.

Jill, I know it's not your first time to New York because your family came here to do service at the Bowery Mission. Do you have stuff you want to show Derick since you are an old pro and have been to New York and taken the subway to Times Square?
Jill:
We talked a lot about the things we want to see and do -- go see the 9/11 memorial, and ride the Staten Island Ferry.

I've never ridden the Staten Island Ferry, and I've lived here for 25 years. Jill:
Never? What?
You'll have to let me know how that is.Derick:
That's like friends of mine who come to the States who say, "Oh, I'm going to the Grand Canyon this weekend. You wanna come?" and I've lived here my entire life and never been to the Grand Canyon or Niagara Falls. And they want to see every part of America in one year, so it would make it a busy trip.
Derick, what was your impression of New York before coming here?Derick:
I've been in big cities before, but there's things that you can only see in New York. I traveled in Asia for a few years to other big cities like Tokyo or Bangkok and New Delhi --  they're big cities but not like New York.
New York is pretty tame compared to those places! Jill, was it difficult that you were talking a lot to Derick on the phone and Skype for a long time before meeting in person?Jill:
We started talking and I asked a ton of questions -- like, deep questions, like what do you think about this or that; I just wanted to get some of those tough things out of the way. I told him, "I don't want to be in a courtship, dating, whatever for six months to a long time and not have enough courage to ask somebody questions that might be a deal-breaker. I want to get it out right away, and if it breaks off I don't want to hurt anybody -- I don't want to get hurt."
Derick:
She described it like throwing up. [laughter]
Jill:
that's what I told him! I hate throwing up!
So romantic! Jill: I told him later, down the road.Once he was reeled in you were like, "It was like throwing up!"Jill:
I said, "You feel horrible, but its much better afterwards. You feel great."
Exactly. And now, being brought into this whole TV situation, was that hard for you? Or were you blinded by love and didn't even see the cameras
.
Derick:
Not really; we just see it as a family ministry, like now as a couple.
Jill:
We both have the same mindset.
Derick:
We just want to live our life and then be encouraging to other people and serve others however we can.
Were you ever hesitant to be yourself on camera?Derick:
No. Well, I think... I was the school mascot for a couple years on the football field in front of 80,000 people.
People are surprised that I'm such a fan of the show because I'm gay and not considered the typical audience.Jill:
We get lots of emails, phone calls from people from all different walks of life and people who say, "I don't agree with you but I love watching your show." Or, "I am inspired." It's crazy how many people are interested. We feel like it is a time that God's allowed our family to be on television, to share with people that children are a blessing from the Lord. We just want to be a positive light and living example of godly character. Not that were perfect; we're far from perfect. My parents have set a really good example for us, and Derick's parents have as well. I think that's really a testimony to other people. We get emails from people who say, "I was gonna abort my baby and I turned on your show and saw how Michelle was talking to one of the little kids." And the woman said, "You know, if she can do it with 19, I can do it with one," and decided to keep that baby. This is why we're doing what we're doing. It's really neat when you get that feedback. We would be content if the show were over tomorrow.
All of the Duggars have "J" names -- will you stick to that tradition?  
Derick:
We're not doing the letter theme.
Jill:
But we're taking suggestions. If we all choose letter-themed names, by the end someone is gonna have X or Z. We're still trying to decide if we want to do another theme, maybe biblical names or family names.
The baby's due in March?Jill:
Yeah, March 24.
And Jess's wedding won't be on this season, will it?Jill:
No, I believe it's our wedding that's the finale of this season.
Did you guys have a bachelor or bachelorette party?Jill:
We did! My sisters and sister-in-law were the bridesmaids at my wedding, so we got together the night before and then he got together with his guys.
Derick:
We went to a place in our area where they had go-carts and laser tag and went and had fun until pretty late.
Last question: Do you watch any other reality TV shows? Or do you watch much TV?Derick:
We actually don't watch much TV.
Jill:
We actually don't have a television, so -- well, we have one for movies, but we don't have cable or anything. For the most part, we don't watch television.
You just star on it.