If you didn't know, you do now: JHart, the moniker of British singer-songwriter James Abrahart, has written for some of pop's brightest stars. Based in Los Angeles, JHart counts Usher, Camila Cabello (and yes, Fifth Harmony, too), Justin Bieber, and Trey Songz as just a few big-ticket names on his ever-expanding client list.
But now, JHart is ready for the spotlight, joining an elite cadre of award-winning songwriter-turned-singers before him including OneRepublic's Ryan Tedder, Frank Ocean, Keri Hilson, Charlie Puth and Julia Michaels. The charmingly down-to-earth and openly gay musician is making his debut with "Put It To Bed," a confident, slow-burning doo-wop bop full of dualism (it's worth noting here that JHart is a Gemini), about: a) not going to bed mad at your lover, and b) "putting to bed years of fear," JHart says about stepping into his destiny as a performer. In the first taste of his new music, JHart brings his years of pop songwriting expertise for a diverse range of artists to the forefront.

Related | Julia Michaels' 'Issues' Got Her a Grammy Nomination
JHart chats with PAPER about navigating the music industry to find his voice, overcoming self-doubt, and the duty artists have to elevate marginalized communities. Listen to the exclusive premiere of JHart's first single "Put It To Bed," below, and read on.
Where are you right now?
In LA, sitting in my backyard, playing with my dog and drinking a shot of espresso.
You went from writing for some pretty major artists and then transitioned into doing your own thing. What has that journey been like for you?
I think I've always had something inside of me that wanted to put myself out there, but for years I made excuses out of fear, and to be honest I don't think I was ready. So much about being an artist is being able to stand in front of people and be yourself and I wasn't even ready to stand in front of the mirror, so there was no way I could stand in front of other people. The whole therapy concept in all of this has come completely full circle and has made me ok with putting myself out there. I wish I could say that it happened naturally but it just came out of me finally deciding that it was ok to have my own music as well as write for others. You can be creative in more than one way, being comfortable with myself I decided to just do it and go for it.
"So much about being an artist is being able to stand in front of people and be yourself and I wasn't even ready to stand in front of the mirror..."
Have you taken any cues from some of the artists that you have written for? Have there been any big lessons you learned in your experience writing?
Just knowing when something represents you and knowing when it doesn't. I have worked with a lot of artists and sometimes you're in the room with them and learn quickly which artists know who they are. I think you can read that.
What does this first single mean to you and what are you hoping to say with it?
Well, I'm a Gemini first off, so I know a lot about duality, but it's a combination of a lot of things. The big part of the story is that all of the songs were inspired and written from audio recordings of my personal therapy sessions. I was in a toxic relationship that started out really passionate and ended as this really dysfunctional thing and my therapist was like "let me ask you a question about this guy, Is this something that you can get over and put it to bed or is this always going to be an issue?" When I heard that on the sound recording, I put down "Put It To Bed." It also represents me putting to bed years of letting fear be in the driver's seat and deciding that this is what I'm doing. It's multi-layered for me and I hope it is for other people.
You're openly gay and singing about men, and that's really important. What do you think about the current landscape where there seems to be now, more than ever, more openly gay, queer, and trans singer-songwriters? How do you feel that you fit in with your narrative?
I think it's amazing. I think that seeing it become more mainstream and normalized is really special. I felt scared for a long time to speak about my truths just because there wasn't a lot of representation and then eventually I got to the point where I was like "I need to do this." Seeing how Hollywood has opened up and made storylines, that are real storylines that need representation, visible, was really inspiring. I can feel the music industry catching on and it's just really exciting.
Is there anyone you are looking to for inspiration who is out right now?

I love what Troye Sivan is doing; I love what Hayley Kiyoko is doing. There are so many people that are doing it on their own terms and I think that's what is amazing about the music industry right now and where it's heading. People are doing this on their own terms and as a result, people don't have to conform or set any particular idea of what is going to make money. The reality is that there are people out there that are listening to this music and are feeling like it represents them and I think its a beautiful thing. I went in to write for Kehlani a few days ago and her guys were like "you can write about anything, she wants to talk about girls," and just hearing executives say that just feels so good because for so long that wasn't a thing.
Related | Hayley Kiyoko Knows What She Needs
You've been in the industry for a long time. Do you feel like that has been one of the biggest shifts socially you have seen in the industry?
Totally. It's happening so rapidly, it needs to be happening to a greater degree still. I don't think we should get comfortable but seeing how quickly the music industry is changing or even the entertainment industry, in general, is great.
Do you feel a certain responsibility to use your platform to promote things like diversity and inclusion, etc.? Is there ways that the industry could be more inclusive and how could that happen?
I totally think so. As an artist, it comes down to collaboration. All I can really do is speak my truth and what I have been through, but collaborating with other people is a way that I can help. For me, any opportunity that we get to hear a voice that we don't get to hear a lot is important and we should all be pushing to make sure that they are heard and not settle.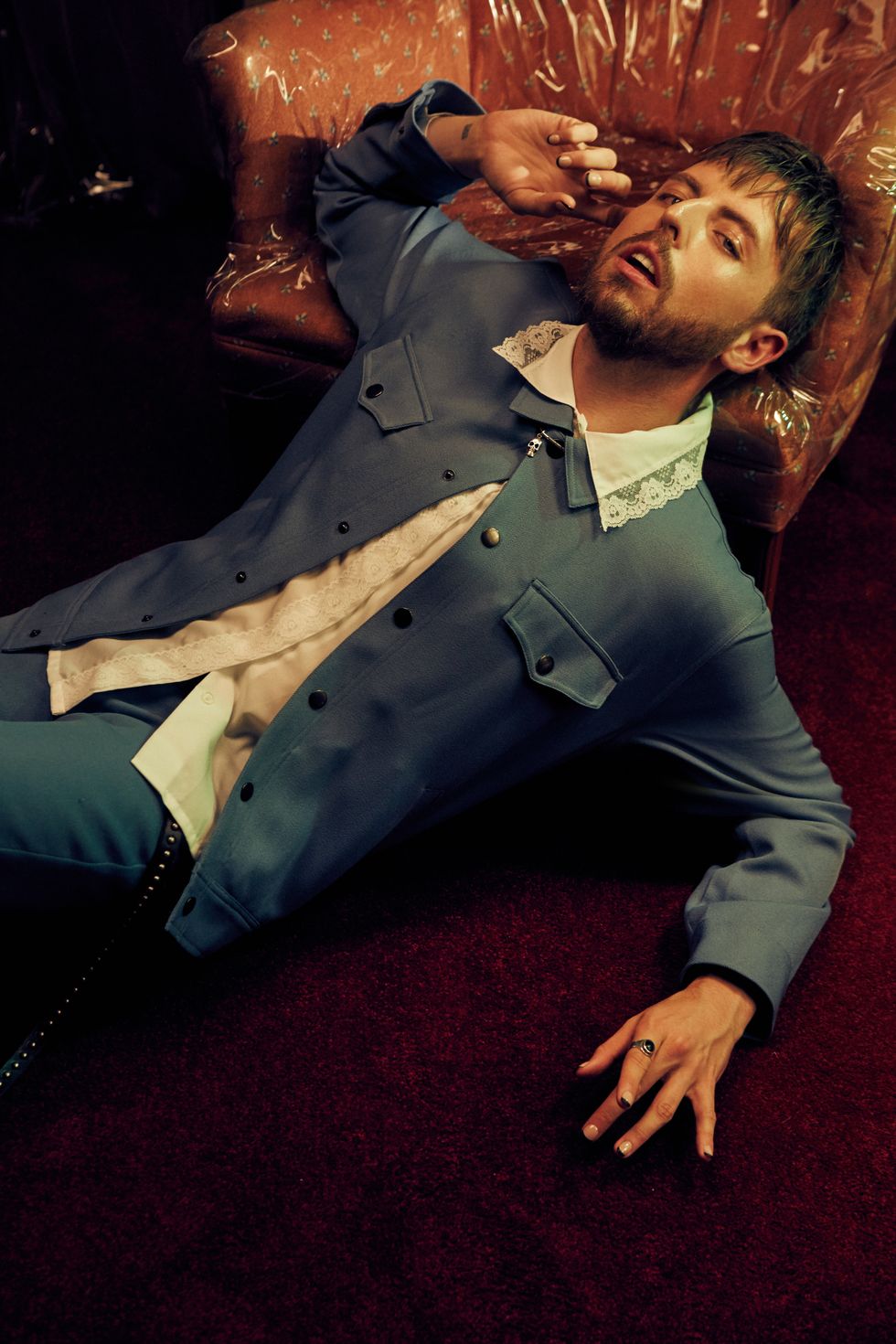 Is there anyone you hope to collaborate with?
I think Kehlani is amazing and would love to collaborate more with her in any way. Ghosted is someone that I admire. I just worked with him recently on a song that we co-wrote together called "Feel On Me." I'm always looking to collaborate with as many people as possible that share the same ideas as me.
Related | Kehlani: The Softer Side of Savage
How did it feel putting yourself out there?
It's totally scary. I think it's scary because there was a stigma about songwriters becoming artists around for a long time and I think I kind of hid behind that in a comfortable place where I was writing for other people. But the most exciting thing is the thought that there is someone out there, like me, when I was growing up, when I was a 14-year-old boy, trying to figure out who I was, and the thought that there are more artists out there who can encourage them to be themselves and to do something liberating and be who they are as a person is the most exciting thing for me. If there is any way that watching my visuals or hearing my story or whatever it encourages someone to come forward and live honestly, it's so exciting. There's not an excuse anymore not to do it, we have a duty as creators to do it now.
What do you make of pop as a vehicle for larger social messages? For queer people especially, there seems to be a calling that's massively appealing.
Yeah, it does. I think when you watch a movie like Love, Simon or any movie that has come out recently you sort of build a 3-dimensional character and you see this personal story and watch them while their struggling and it makes you fall in love with them and you see them as human beings. Where I feel that in music, it's really important for us moving forward to not only present shiny and bright pop music, but also build a narrative around people and help people outside of the bubble of where we are in our liberal views and our openness understand that we are just people and just want to be loved and want to be accepted. I think that's what makes the difference.
Photography: Chuck David Willis

Sign Up For The Morning PAPER