In a generation of surface-level connections, Jesse Saint John is looking for something deeper. The Los Angeles songwriter-turned-pop star tackles this universal sentiment on his new single, "Fake It," out today, where he strives to make the superficial somehow feel real. "Fake it until we feel it," he repeats on the chorus, above twinkling production that recalls the airy groove of Prince's 1985 single, "Pop Life" — another existential track that questioned the world through a pop culture lens.
"Fake It" marks the second solo release from Saint John, following his big debut earlier this year with "Move." While the two singles share similarly nostalgic bloghaus sounds, "Move" offers much louder, riotous energy. "Every time you shake that/ I forget to say no/ I should probably lay low/ You make me (Mo-o-ove)," he shouts, making references to his "masochistic" relationship with love in the verses. It's an unruly dance song at its core, while addressing the nuances of Saint John's experiences as a queer man.
Beyond his own music, Saint John has well-established himself as one of pop's most reliable songwriters. In addition to co-penning several songs for longtime friend Brooke Candy, from "Rubber Band Stacks to her viral breakout "Das Me," he's worked with several of today's biggest mainstream stars, including Britney Spears ("Love Me Down"), Camila Cabello ("Something's Gotta Give"), and Charli XCX ("Secret (Shh)"). He's even worked with queer icon Erika Jayne on her own foray into bubblegum pop.
PAPER caught up with Jesse Saint John to talk about writing "Fake It," pushing queer narratives in the pop industry and co-writing music as a diehard music fan.
How do you feel "Move" and "Fake It" represent you as an artist?
It's funny, to me they don't sound sonically that far apart, but that's probably because they're both from my brain [Laughs]. They both are pop, but they infuse that bloghaus sound that I love so much. All of my songs also have this sense of yearning and dissatisfaction that I like to explore.
How did you write the song?
This producer Bleu had a skeleton of a track. Sonically I was so intrigued, so I did a top line over it with the hook and post-chorus of "Fake It" that you hear now, but with much more generic verses, so it didn't really feel like me. I went back another day to rework another song I had done the same day, and we pulled up "Fake It" to re-listen and I was like, "Wait this hook, track and post-chorus are amazing, this just needs new verses, an intro and transitions." When I heard the track with the empty verses, I just got up and started shouting "FEEL IT!" and that's what you hear in the verses of the song now.
Related | Never Satisfied: Jesse Saint John Reflects on Wanting More
Lyrically, what's the story behind "Fake It"?
It's sort of this generational feeling I think we all know, we seem to be more connected than ever and have access to so much but it makes us feel so distant and we're aimlessly searching and we compare ourselves so much. I also deal with deep sadness and there's this sort of mantra like if you pretend to be happy you eventually convince yourself that you are and there's something to that, but it's also easier said than done.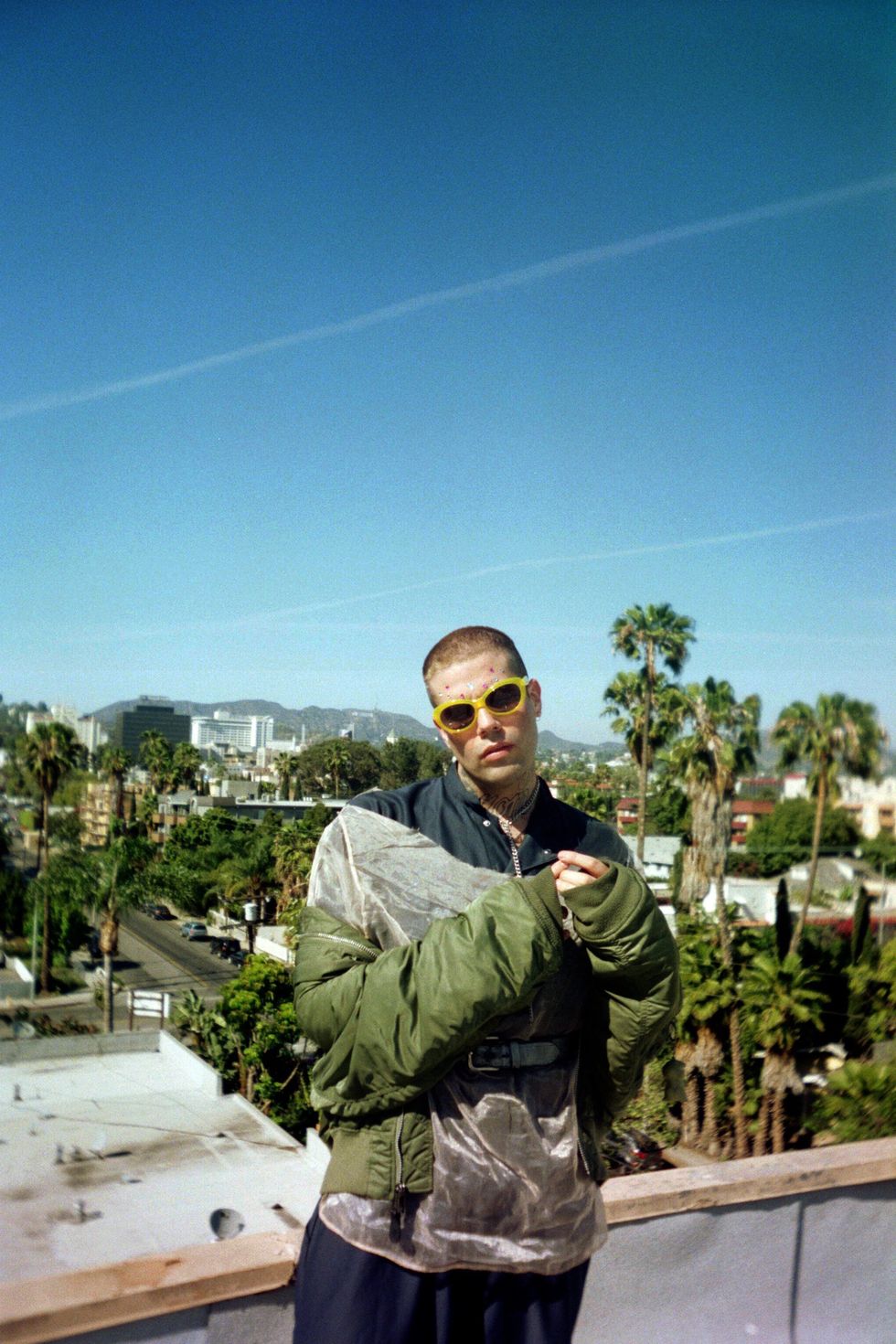 Photography: Jacob Charton
On the track you sing, "Does it ever make you feel like a fraud living just so people see it/ Wish that I was pretty enough to not think hard." Do you struggle with social media and self-love?
Yeah, I think we all do. It's so easy to see people's posts and compare yourself and think, If I was that hot I would have access to so much more and worry so much less [Laughs]. Of course, intellectually that's not true, but it's this instinct that society teaches you since childhood: somehow if you're beautiful and thin you have a better life. I once dated a YouTuber with washboard abs, and he really didn't think deeper than surface level. I was like, Wow if I was that hot I wouldn't think that deeply either [Laughs].
"The queer experience isn't inherently edgy or wild, it's just a specific narrative that translates universally and it's important to give platforms to those experiences."
The backbone of your career is songwriting. Do you consider this solo pop career a passion project?
I will always consider myself a songwriter first. I've been so lucky to be getting great responses to my artist project and I'm riding it as far as the universe wants it to go, but songwriting will always be my passion and my career. I'm really blessed right now to be able to do both, and I'll always be both an artist and writer. I have incredible friends and mentors like Charli XCX and Sia who manage to ride the line beautifully, so I think if I can follow that path I'll be really happy.
Related | Meet the Boys of Charli XCX's 'Pop 2' New York Show
Why is it important to have genuine queer narratives reaching pop radio?
Because we listen to the radio! For so long we've had things pedaled to us that people who didn't have our experiences thought we wanted to hear, or people who used their perspective of our narratives to be salacious or edgy. The queer experience isn't inherently edgy or wild, it's just a specific narrative that translates universally and it's important to give platforms to those experiences.
You're obsessed with pop culture. How does this impact the way you approach songwriting?
I really am. I grew up studying art and went to conservatory art school in Orange County, but I would always be showing them Rachel Zoe and Mischa Barton and that era of "hot mess/scary skinny." I was like, "You guys, this is art. If we're studying Warhol and Basquiat and John Waters, I'm telling you this is what they were talking about." Of course, I had no idea how far we would go [Laughs]. Anyway, I think my obsession with pop culture helps me analyze the way the general public will see things and what they gravitate toward, so sonically and artistically it helps me predict trends. I'm right like 99% of the time, which is why I've excelled my songwriting career so quickly in such a short time.
Related | Kim Petras: Most Likely to Dominate the Pop Charts
Who in pop are you most excited about, right now?
Kim Petras, Alma, Loote, always Charli XCX, Lauv, Charlotte Lawrence, Superfruit, Leland, LIZ, August 08, Ieuan, Jess Kent, SSION, SOPHIE, Bronze Avery, Sakima, Rina Sawayama. I'm a music fan first, so it's crazy that I get to be in this industry. There seems to be this moment right now of different, outsider-y type people — most of these people identify LGBTQ, and some don't — being really authentic and speaking to their experiences and their influences in a really cool way. I have hope for the future for the first time in a long time [Laughs].
Related | Welcome to the Feral, Freaky World of Brooke Candy
What's your favorite song you've ever written for another artist?
"Love Me Down" by Britney Spears, because she sang it [Laughs]. I also really love this new Brooke Candy song, "War," that I wrote that comes out on Friday because it's actually saying something and I like the lyrics.
Photography: Jacob Charton
Styling: Jesse Saint John
Music
Story by Ivan Guzman / Photography by XAVIERLUGGAGE / Styling by Marta del Rio