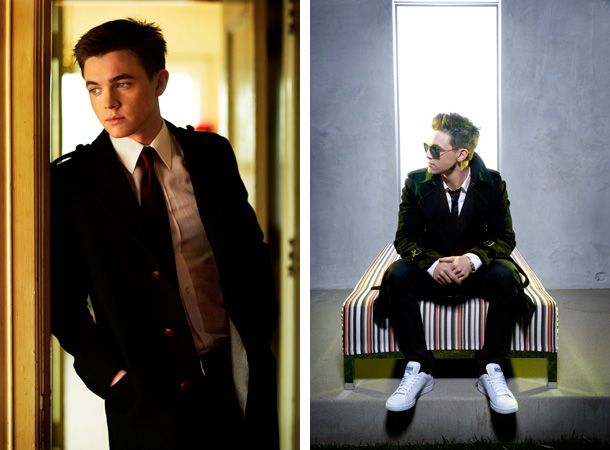 Chart-topping pop singerJesse McCartney stopped by our office the other day and we heard that he did not think he was "cool enough" for PAPER. Though his pop tunes might not be on all of our iPods, it's certainly on some (cough –"Beautiful Soul" –cough cough) and we were all excited to meet him in person. He has had quite the career in theater, music, film and TV, been linked to some hot Hollywood starlets like former Paper Magazine Beautiful Person, Katie Cassidy and he just turned 22. After he left we wanted to know more about this boy-wonder that makes steamy, sexy music videos while writing heartbreaking songs like "Bleeding Love" for divas like Leona Lewis. We caught up over the phone and chatted about his re-release of last summer's hit record Departure earlier this month with four new songs on it including his new single "How Do You Sleep" with Ludacris and his transition from teen idol to R&B soul singer.
You just performed at the Nokia Theater in New York, right? How'd that show go?
It went really well actually. I wanted to come back to New York. It's kind of my hometown market and it's always just a fun crowd.
Did you get to catch up with a lot of your friends?
Well actually most of my friends I grew up with are all away at school, speckled around the country, which is still cool because whenever I'm traveling I can look at my phone book and be like "Oh yeah Ross goes to school in Indiana." But in New York, I still have family there and a lot of musician friends and stuff so it's cool.
Do you ever hang out with your friends at their colleges?
I've been to a couple frat parties over the last four years and that's just ridiculous. But I usually don't have that kind of time though. I'm usually in and out of the city and I'm like "Hey you wanna grab a quick bite?" or "Can you come to the show?".

Do you wish you'd gone to college?
No, not really. Certainly not for the social life. If there was one thing, I'd like to study history because I want to make films later on in life and there's a lot of stuff in history I think that hasn't been captured. It would be fun to study history again but other than that… college -- didn't do it.
You got your start in the theater. Do you miss it?
Theater is great. It's a great place to start in my opinion. It was a great foundation for me and a great way to learn all forms of entertainment. Some of my favorite actors started off in the theater. It wasn't a huge commitment for me when I was younger. I had rehearsals at night, I would perform maybe on the weekends at these community hall performances and go to school 'cause I was in the public school system and had to keep up with my work at the same time. As I got older, I kept the whole acting and singing thing separate, but it was a great foundation.
So in addition to doing theater you had a regular high school experience?
I officially moved to L.A. during senior year, so I kind of missed senior year of high school. I'd finished most of my credits and I was pretty much done at that point. I was taking a lot of bullshit electives my senior year. I just finished up to get my diploma, then came back to walk with my class then came back to L.A.
Did you go to prom?
I didn't go to my prom only because my girlfriend at the time, her
prom was on the same day and she lived in L.A. and I'd been in LA for about a year and I was like "Well I don't need to really go to my prom" so I went to hers instead. So I did do the prom thing but not at my high school.
You just re-released last year's album with a few additions, one of them being your new single "How Do you Sleep" with Ludacris that is getting a lot of radio play. How are you feeling about your career this year?
I'm very excited. It's a big year. It's been a great start to 2009. The single with Ludacris I think was kind of unexpected but people seem to be really kind of into it, from what I can see, and I'm really into it. I'm stoked that I have a record with Ludacris. I grew up listening to him. His records were kind of my early high school year records so it's kind of surreal getting to do a record with him.
That is cool – but why didn't you just release a completely new album?
Because that's a big, big, big, big commitment and I'm not really done with this record yet. I really feel like I just need to kind of recharge the record a little bit. A whole other album is a whole other vision and a whole other package and it's like a lot of energy and I'm not ready to do a whole new record yet. And if I'm trying to be progressive, which I am, I don't know where I want to go exactly but I do think that it's going to be more R&B and these four songs that I did write are sort of a step in that direction.
Did you write any of the new singles on this album?
I did write a song actually that I'm really, really excited about. I think it's my summer release song. It's called "Body Language" and it's on the re-release and it's kind of like a "Leavin'" part two and I might do a remix and have a surprise guest that is definitely up there with Ludacris, like a crazy singer/rapper.
Ooh who is it? Please tell me!
It would be T-Pain. We're working on it right now. It's nothing set in stone. He's a buddy of mine. I've met him several times and I actually did a cover of one of his songs that was just sort of a fluke online.
Which song did you cover?
I did a cover of "Buy You A Drink" and he came up to me afterwards and said we've got to do something together. That's definitely the direction I'm moving towards.

Do you have any idea what the video for ""Body Language"" will be yet?
I usually at least collaborate with the director in most videos to try to come up with the concept. To me, every time I write a new record or even hear a new song from any artist, I always want to know what the song looks like so I'm always thinking "What's this video going to look like?". Seconds after it's written I'm like OK, "What will the video be?". But I haven't really zoomed in on what it is. Maybe I want a sort of dance to this record, like a "Soulja Boy" type thing maybe. But I'm still piecing it together.
Your video for "Leavin'"; was pretty risqué -- just you, a girl and a bed. Was it awkward to film?
Being intimate on camera is always awkward. It just is. But I think
because it's so awkward, it's like "OK, we know it's going to be
awkward, so now it's not going to be awkward because it's so awkward." It's one of those things where you're kind of half-naked rolling around on a bed and there's camera guys and grips all around you and they're like "Oh your hand is a little too high or a little too low…". I mean it's weird but I don't know. I think maybe I'm just used to it or jaded.
Had you met the girl in the video before the shoot?
We had lunch the day before. We hung out the day before and had lunch together before we actually did the shoot the next day. We sort of broke the ice before we had to start shooting.
Do you write all your own songs?
Most of them. I do a lot of writing. I've been writing for a long time. I've written a lot of records before for other artists. I just finished up in the studio writing for Toni Braxton. She's putting out an album in April.
Oh she's making a comeback?
Evidently. I don't know what exactly she's doing. I wrote a couple
records that she recorded. And then Jordin Sparks, she's a friend of mine. She and I toured together last summer and I just talked to her a
couple weeks ago and I had a couple songs I wrote that I think she'd
be awesome recording.
Do you have a big-voiced woman hiding inside of you?
A lot of my buddies are like "Hey, when are you going to write for
guys?" and I'm like I don't know, I should probably get on that. The only people I'm promoting are these female divas.
You also wrote "Bleeding Love" for another diva-type, Leona Lewis. How old were you when you wrote that?
I guess I was 19.
That song is very intense and emotional for someone so young. Had you been in love when you wrote it?
Yeah, hardcore… I was in a relationship for like three and a half years and I was like 18, right out of high school, with my high school sweetheart. That was one of those times.
So you are familiar with heartbreak?
It's tapping into an emotion that I'm familiar with.
Are you in a relationship now?
No, riding solo. It's good. It's ok. It's sort of -- it's whatever at this point. It's not a big concern of mine by any means. It's more to focus on my work and everything I have to do professionally but
eventually I'd like to settle down.
Where do you feel you are headed with your music career?
I'm sort of at a bridging the gap sort of phase. I feel like it's just sort of finally starting to mend itself. Like I feel like I'm just getting over that bridge. But that's exactly where I want to be, in the sort of urban, rhythmic R&B world that has maybe an older sort of audience. Which is really sort of the main goal, fill my audience up a little bit and have my peers, the people that are my
age, showing up to the shows. I feel like I'm about to land this summer with the release of this song.
You're just now turning 22 but you've been in the business since you were a young kid. Do you feel older than 22?
I don't know. I don't know that I feel older than an average 22-year-old. I think I need to and have to tap into the 22-year-old every once in a while. I guess I have experienced a lot more than an average 22-year-old in my life thus far. I don't really think about it. I don't want to rush anything either. I don't want to rush myself to be this other guy, this older person.
So what's next for you?
I am going back on tour hopefully by June, for the summer tour.
So what's on your iPod?
I like the new Black Eyed Peas record. It's dope. It's crazy. Will.i.am is really making a big comeback. It's nice. I love the Black Eyed Peas. I love Fergie too, she's the shit. Adele, Chasing Pavements, that whole album. I'm really fond of her. I'm really a big fan of The Dream's new album. He's got this
one song called "Walking On the Moon," it's very futuristic and it's
with Kanye West.
Jesse's re-released album Departure: Recharged was out April 7th.