Jenny Saville made history this weekend, becoming the highest selling living female artist. The British painter's 1992 self-portrait "Propped" went for $12.4 million at a London Sotheby's auction after an intense bidding brawl among eight candidates that raised the piece's value from around $5 million, reports Artsy.
"Propped" is visceral, fleshy nude self-portrait, presented as a reflection in a steamy mirror, with words of feminist philosopher luce Irigaray's essay "Ce Sexe Qui N'en est Pas Un," scrawled into the oil-painted fog.
The masterwork previously belonged to British advertising tycoon Charles Satchi, and was taken home by an anonymous telephone bidder.
Women and their ideas are worth less to our society, something that gets brutally quantified in the art world.
Saville's "Propped" has displaced Cady Noland's "Bluewald," a 1989 sculpture which went for $9.8 million at a Christie's auction in New York City in 2015. But both women's works are still at least $48 million behind the record for a living male artist, set by Jeff Koons for his "Balloon Dog (Orange)" which sold in 2013 for $58 million. Meanwhile one of David Hockney's swimming pools is predicted to break Koons' record when it goes to auction in November for at least $80 million.
Not even legendary women artists who have died are valued even close to living, younger male artists. The late Louise Bourgeois and Georgia O'Keeffe have higher-selling pieces, but O'Keeffe's "Jimson Weed/White Flower No. 1" went for $44.4 million and Bourgeois' "Spider" sculpture went for only $28.2 million. Taking a wider lens, Hyperallegic found that in general, art by women in general typically sells for 47.6% of the prices male artists can take home.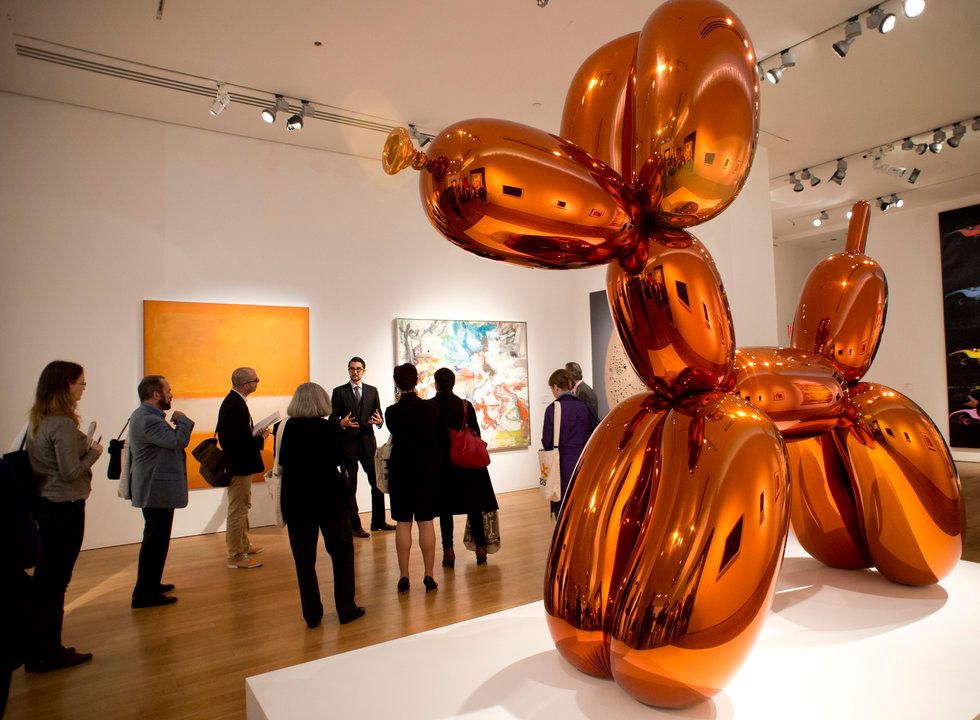 The art industry, is of course, a capitalist carnival for the wealthy and powerful that funnels crucial art from the public view of millions into private homes for the enjoyment of the elite few. But the facts and figures the art-world's market context also provides nakedly hard evidence of how deep and slow-changing our society's prejudices are.
It's ironic that the painting to win this fraught, bittersweet title is a militantly feminist artwork. The words scrawled over the painting's female figure read in French: "If we continue to speak in this sameness-speak as men have spoken for centuries, we will fail each other..." It seems that the whole affair actually skewers the strange limbo of our time, where our vocalized political concerns about equality wildly outpace, sometimes to the point of willful ignorance, the conditions of the world we live in.