On Tuesday, Jennifer Lopez made a surprising hashtag choice in a tweet to promote her Orlando benefit single.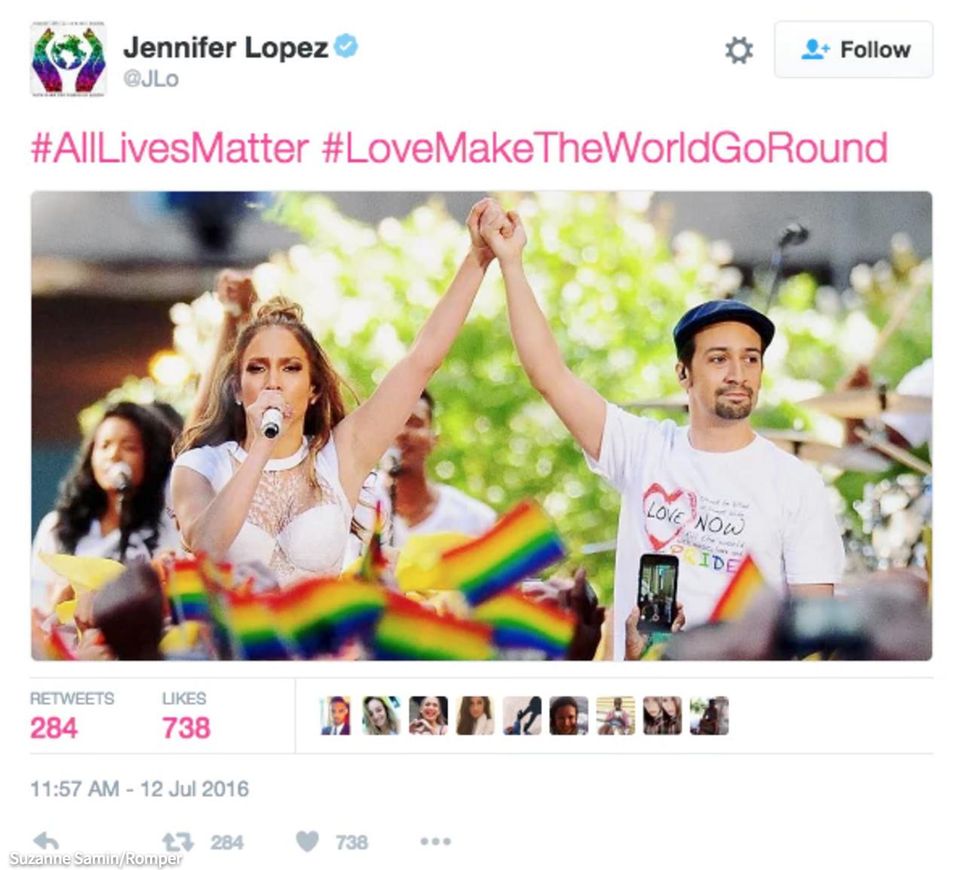 Photo taken from Twitter
Promoting "Love Make the World Go Round," her Orlando benefit song featuring Lin-Manuel Miranda, the offending tweet included a photo of the two of them performing the song on Good Morning America on Monday. The hashtag was used to spread a message of kindness and love but was not maybe received that way.
Miranda, renowned for being an immaculate Tony and Pulitzer award-winning genius, as well as someone with a fine-tuned awareness of politics concerning people of color, has probably never felt the need to use the hashtag #AllLivesMatter. That's probably because the phrase #AllLivesMatter is redundant.
People on Twitter promptly called Lopez out for using the phrase, and it immediately was taken down. The backlash generated some funny responses.
She told them niggas, "Mind ya biz", but they ain't hear her, though. https://t.co/lQZixNYBxL
— Black. Queer. God. (@Adamant_Yves) July 12, 2016
The same @JLo who said "nigga" in "I'm Real", stole her songs from Ashanti, did a song with Jada & Styles P? Nah...
— WNA (@wordsbywanna) July 12, 2016
When you hack @JLo's Twitter and tweet #AllLivesMatter #JLoisOverParty pic.twitter.com/zZJNB5g3nn
— Becky Lopez (@JLoArchive) July 12, 2016
Now I gotta stop liking ya old ass https://t.co/u8XvXiwrRu
— Adrian Bronzer (@_Myeshaskye) July 12, 2016
RIP Jennifer Lopez's #AllLivesMatter tweet, 7/12/2016-7/12/2016
— eve peyser (@evepeyser) July 12, 2016
This is not the first time JLO has come under fire for being a tad socially tone deaf. In May, "Ain't Your Mama," Lopez's song produced by Dr. Luke and written by Meghan Trainor-- need I say more?-- garnered negative press because the feminist message of the track was overshadowed by the fact that it was produced by Dr. Luke,who has been accused of rape by Ke$ha.

Honestly, though, if JLO drops a song as good as "I Luh Yuh Papi" we might be willing to let her out of pop culture jail early for good behavior (read: creating certified bops).
[h/t Huff Post]

Image courtesy of Youtube