Even within the freaky, fabulous rainbow tapestry of queer culture, makeup mogul and male YouTube video vixen Jeffree Star is somewhat beyond compare. Sure, boys who wear makeup (here's looking at you, Babadook) are an emerging, commercially viable category of gay, but Star's goth histrionics—his Snapchat handle is "jeffreedahmer"—and almost caustic brand of beauty (highlighter hair, colored contacts, injected lips, etc.) would be a gamble for any brand—if it weren't for the fact that his own Jeffree Star Cosmetics empire continues to grow apace.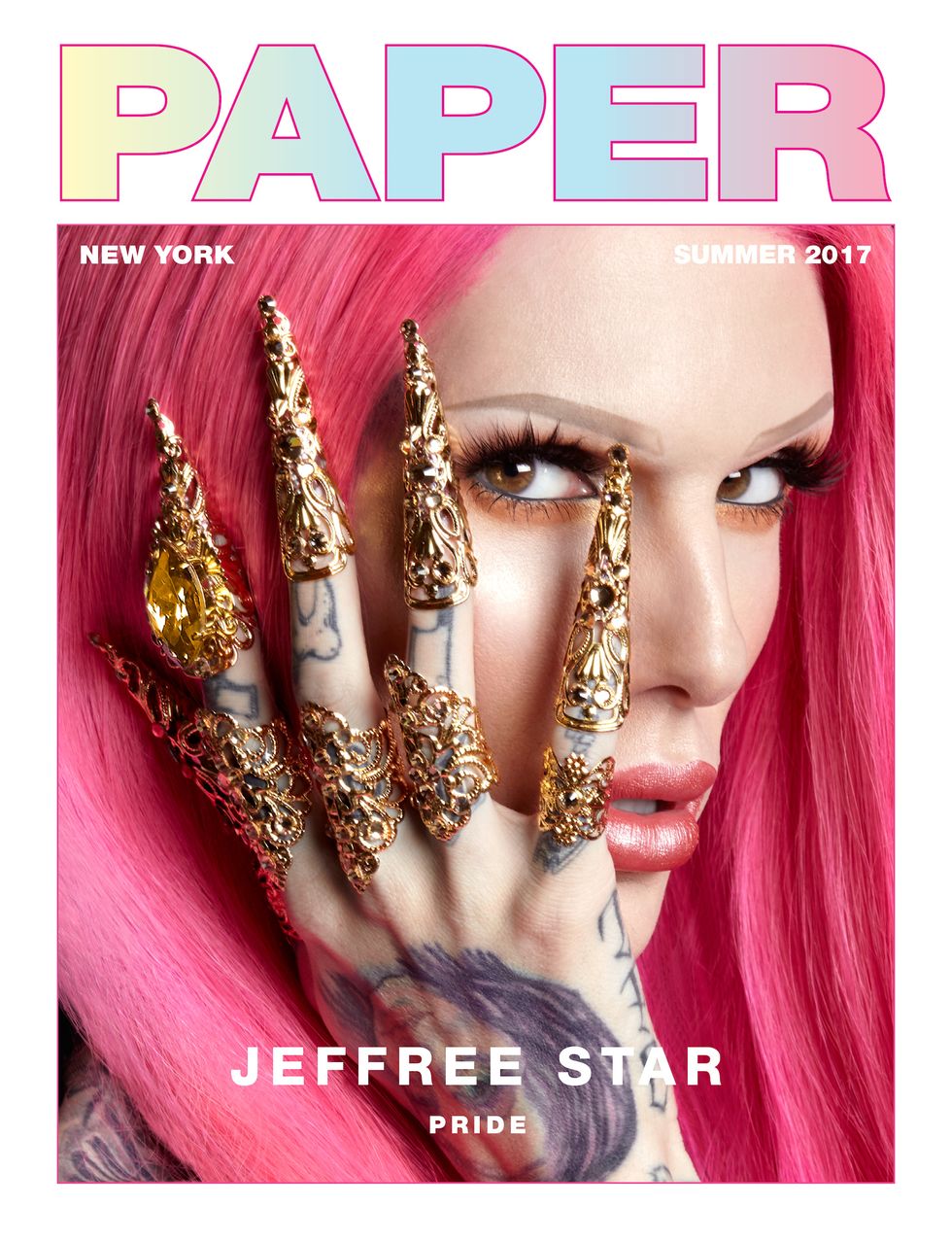 Oddly enough, if you had to pick an LGBT icon that stacked up against Star, it might be Bette Davis. Besides having bob haircuts, arched eyebrows, and sharp tongues in common, both weathered major paradigm shifts in their industries—Davis in going from the Golden Age of Hollywood to B-movies like Whatever Happened to Baby Jane, and Star in the fall of MySpace and ascent of the Instagram-YouTube-Twitter mega-complex. Both kindled very public feuds, and both of their pasts came back to haunt them—only Star's, of course, could be replayed online.
In the ranks of Tila Tequila and the late Christine Dolce, Star achieved peak MySpace fame in the mid-aughts as a model and musician, combining a hyper-femme aesthetic (Star identified as gay at this time, a label he says no longer adequately defines him) with nihilistic messaging (see: Louis Vuitton Bodybag.) It was during this time that Star engaged in online behavior that many called racist—a controversy he finally addressed in a video posted a day after we spoke to him.
Here, we talk with Star about sexuality, his haters, and the continued struggle for acceptance.

Your dislike of labels is well known. Did you ever subscribe to a label within the LGBT spectrum?
If you go back like 10 years ago, you will find interviews where I say I'm gay or I'm androgynous or I say I'm whatever. And I think that was an easy route for me, because I didn't really know what was going on in my brain. I am attracted to both genders and I have been with transgender people and I just don't even know if there's a name for it. And even with all these new labels out there, I still am just like, "I'm Jeffree, and I'm attracted to whoever I want to be." I'm attracted to anyone. I'm attracted to personalities. Gender doesn't really matter to me. And I think we're in different times and because 10 years ago people would not be talking about the things we're talking about now.
Who did you look up to growing up?
I think back then I just loved over the top people. I loved pop music. I was obsessed with The Spice Girls. They were a really big inspiration, just with the branding and the big shoes and the outlandish clothes. And I loved Britney Spears and N*Sync. But I was also really into dark metal music. I was really into Korn and Marilyn Manson. So it was kind of like I was always really into bubble-gum but with a dark side.
What was the vibe like where you grew up?
I grew up in Huntington Beach. The rock scene there was really huge, and I used to go to shows after school. When I started wearing makeup to high school, there was no crazy backlash. Not that Huntington Beach is the smallest town, but when you go to school with the same kids all through grade school and high school that have always accepted you… I was never really bullied or picked on.
Did you consider it gender expression at the time, and did other people perceive it that way?
I think other people definitely did. It was really weird… there were not a lot of guys in California wearing makeup. But to me, I just loved fashion. I loved fashion magazines. I loved looking at the ads, I loved emulating the looks. I became really infatuated with makeup and the playing around and changing your face. From the outside, I think people were like, "Is Jeffree trying to be a woman? Is he a girl?" I think people were confused. I didn't see it as gender bending, even though that's what a lot of people were calling it back then. But I was just obsessed with makeup.
In your videos you've alluded to the fact that some of your first sexual encounters were with straight guys. How did that come about?
It stems from being involved in that Warp Tour punk rock scene. I was me, but I was also surrounded by a bunch of guys in bands with tattoos and maybe I was the gateway. I've always maybe wanted to hookup with someone who is kind of male or whatever you want to call it. I think it was easy for people to be comfortable around me. I was always doing whatever I wanted to do, and being comfortable, and I think I made others feel comfortable to maybe want to explore. So yeah, in my early 20s there were a lot of straight guys and secrets.
Did you ever think you would be in such a public relationship like yours, in the sense that your boyfriend Nathan had only been with women before you?
Honestly, never. Even five years ago, I was the person that was like, "Well, I think I'm going to be lonely forever. And I think every guy I was with or with behind the scenes, it was always secretive because, "My family will judge me," or "My family will think this is crazy." Even though I'm accepted by my friends and family, there was always that void of real love that I really never got to experience until recently. I was very hopeless. I think when I stopped looking, finally, Nathan fell into my life.
Are you interested in talking more about identity and politics within the LGBT community?
I think the older I get, people's priorities obviously change, and the things that were important in your early 20s aren't important anymore. So I definitely think the bigger it gets, the more it's time to bring awareness to certain situations that I am passionate about.
For the first time, I'm offering a discount code for a brand I'm working with, Jouer. All the profits go to the Los Angeles LGBT Center. I tried to spin it in my own way and encourage other influencers to give time and energy to charity, not just to makeup.
Has getting personal been an adjustment for you, given that much of your image, including on MySpace, has been based on this idea of a mannequin-like, out-of-this-world creature?
I think in the past I just really wasn't happy as a person. It stems from crazy family stuff and personal life stuff, and I just have never been as happy as I am currently. Life has been so blessed and I'm finally able to be in control of my career for the first time in a long time. And that does come with a lot of heat and hate and backlash.
Do you think you're still struggling for acceptance?
As numbers grow and the audience gets bigger, there's more hate, there's more crazy people. People dig up things from 10 years ago and want to use it against me at all costs to make me look like a piece of shit. I've dealt with more bullying now than I've ever dealt with in my entire life. I think when you live your life online for this long, it really doesn't mean anything. It's just a different picture calling you ugly or a faggot or disgusting. It's literally the same insults since MySpace to now.
Did you ever come out of the closet?
Growing up, I was always just outlandish. I started doing my hair in 8th grade. I was weird. So my mom kind of assumed. There was never like a, "Hey mom, I like men, and sometimes women." It was kind of just like, I find dudes attractive. It wasn't really a big deal. And thank god I have a mom that always raised me to be open-minded.
Have you had to continue to "come out" as you've become more famous and more open about your personal life?
What I love about YouTube is it's very direct. I think it's important that in just four days, over 4 million people can listen to me talk about finding love with a man that has only dated women. I think it opens up a lot of people's minds that we're all not the same. We're all different. And it's okay. There's nothing wrong with it.
I think the thing that sticks to me the most is when people say, "You living your life fearlessly has inspired me to maybe not so uptight or be more open-minded and experiment." Whether it's with makeup or sexuality or anything. I think the message is clearly to just love yourself.