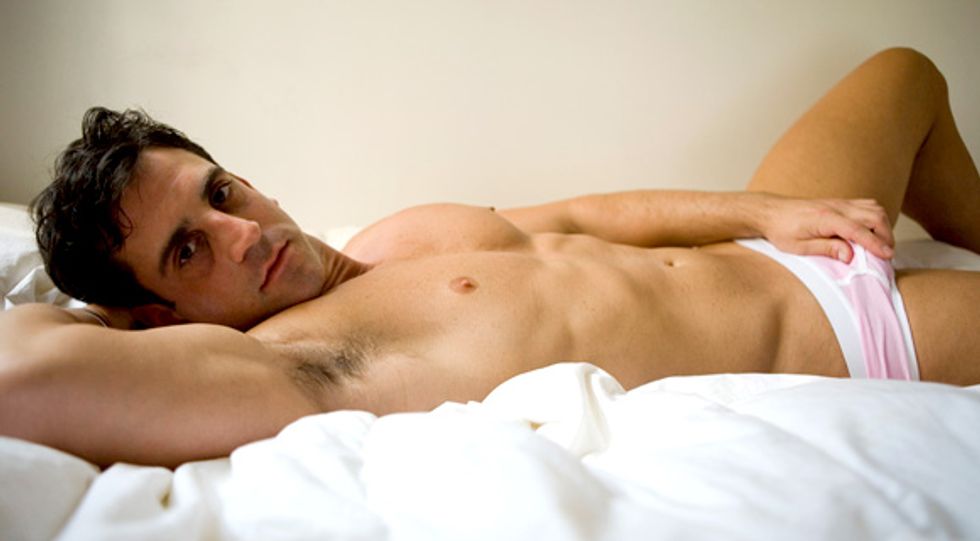 Welcome to the one month anniversary of JD Ferguson's porn star extravaganza! He's chatted and photographed Tommy DeLuca, Ben Andrews, Luke Stevens and now he presents to you the delicious and pink-underpants-wearing Matt Cole. Cole is an Italian beefcake if we've ever seen one! He was also named "Best Newcomer" at the 2007 GAYVN Awards. Word Up readers, we are pleased to present to you, Matt Cole...
Age: 29
Hometown: Chicago, IL
Sign: Sagittarius
Company you shoot porn with: All the major studios, including Falcon, Hot House, Titan, Colt, Channel One, Studio 2000, Jet Set, Lucas Entertainment and Raging Stallion.
Measurements: 8" cut
What's the most memorable sex scene you've ever done and why?
I just shot an incredible scene with Tyler Saint for Jet Set. It was honestly one of the easiest shoots I've ever had. It was like no one else was in the room and we were just going at it. That boy has one hell of a body. I remember them yelling, "Cut," and I just kept riding and riding...
Which celebrity would you most like to have sex with and why?
I don't have any celebrity crushes... There are, however, a few straight men in porn that I'd love to have sex with... like Jullian or Billy Glide... Woof!
What's on your bedside table?
An alarm clock. But luckily, it never gets used...
How many MySpace friends do you have?
1,800 or so... MySpace has proved to be a great networking tool for me. It's been a great tool in directing people to my website www.mattcolexxx.com.
What turns you on?
I'm such a voyeur these days... I think it is because I'm usually the one performing... Now I just get so aroused by laying back and watching two guys have hot, sweaty, loud sex.
What turns you off?
A bad kisser.
Lube: wet or glide?
Hmmm... I vote for gun oil silicone.
So how does it feel to be named Best Newcomer of 2007?
It is such an honor to be recognized in this industry by the people who are known and respected in this business. You can only win "Newcomer" once... and it's something I'm very proud to have accomplished.