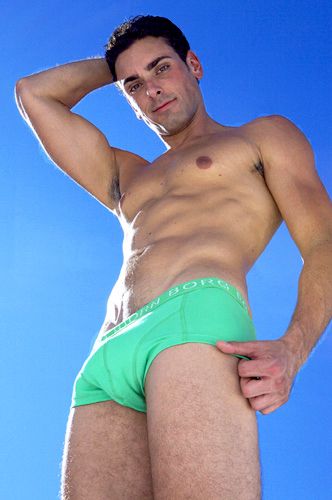 There's nothing hotter to the gays than a straight guy that does gay porn! And newcomer Jeremy Bilding is no exception. Before his recent move to Southern Cali, Jeremy spent the last seven years in Key West working for the Boy Scouts of America. And before his recent weight loss of over 70 pounds, tipped the scales at a whopping 240. Now, he's quite the tall drink of water. He's the second guy I shot for this year's series, and he definitely had me shvitzing for two days afterwards!
What company do you shoot for?
I am now a Channel 1 Releasing exclusive, but I started with Next Door Studios and Jake Cruise. I have also shot with Jet Set Men.
How long have you been in the industry?
I started back in March.
Where are you from originally?
Born and Rasied in Colorado, and my eyes opened in Florida.
Are you single?
I am.
What's the last song you downloaded?
It was actually the whole Kings of Leon album.
What's in your refrigerator?
You know, the usual: marinades, juices, eggs, fresh veggies, tons of yogurt, cheeses, wine, champagne and a few of my favorite beers. Definitely have the meat, breads, and White Castles in the freezer.
Myspace or Facebook?
Both. MySpace for the music, Facebook for the simple, personal touch.
What's your favorite food?
Anything flavorful
What's your favorite movie of all time?
Loaded question. Depends on my mood at the time of question, or what I'm trying to do, and whether I want mindless entertainment, emotional stimulation, something thought provoking, inspiration or just pretty pictures moving in front of me to meditate and let my mind re-settle.
What's the last movie you saw?
Role Models was pretty good.
What's on your bedside table?
I actually do not have a bedside table. But, on the windowsill/headboard is my iPhone (alarm clock), DVD/entertainment controller and TV controller.
If you could have sex with any celebrity who would it be?
Wouldn't you like to know...
If you were trapped on a desert island who would you want to be trapped with?
I have been "trapped" on a desert(ed) island, for years, and with the best people in the world. I would take any one of them in a heart beat.
What TV shows do you watch?
I really got into Heroes and recently, Smallville. I loved Valentine, the newcomer this season, and was sorely disappointed in the CW's decision to cancel it already. I'm also a big fan of Cold Case, Lost and CSI Miami
Cats or dogs?
I have a cat but I am a dog person. I like big dogs -- Akitas, Labs, Huskies, etc. I just am not at a place to have a dog at this moment.
How will you stay warm this winter?
I moved to L.A., so that's a start. Other than that, the best way to stay warm, double up on the body heat.
What are you working on right now?
Right now I'm working on figuring out the industry, getting settled into L.A. and making the best I can of everywhere I'm at. Chi Chi LaRue and the Channel 1 Releasing guys, and Jake Cruise are the best mentors I can have, and are taking care of me in ways that are surreal to me. It's great to be able to let loose, let myself come out, share that with everyone, and do what I can for anyone and everyone watching.
What's next for Jeremy Bilding?
Up next, is a great future with Channel 1 Releasing and Jake Cruise. I am making appearances all around town, promoting Channel 1 with Chi Chi. I am also doing some various projects with Jake Cruise, getting ready to release CocksureMen.com, Jake's newest adventure. I've got videos coming out with Channel 1, and scenes still to come with Jake Cruise, and NextDoor Studios. Other than that, I'm getting settled here in L.A., and figuring out my scene and niche in the town.
What are your thoughts about President Elect Obama?
I won't lie, I've done so much traveling and running around this year, and over the past eight really, that I haven't really even batted an eye towards politics. I wish I had, so much, especially seeing how much it is affecting all of those around me. From what I've seen, and heard, I fully support him, and hope he does right by us, and our country to turn us back to a successful power within the world again. I don't believe that we've burned any bridges between nations, but I think there was damage done, and I feel that President Elect Obama has the ability to repair that damage and turn us around. I think the new set of eyes, ideas and beliefs are what we need right now. I only hope that it goes as smoothly as I think and want it to. But, like I said, I didn't really pay that much attention to his platform, nor politics in general over the past few years, so I am quite out of the loop.
How, if at all, will Obama's election affect the porn industry?
I wish I could tell you. I have absolutely no idea. Though, I'm sure you'll see spoofs soon.
What's the background on your computer?
It's a standard HP background, probably even the default. I'm lame, I know.
Where do you see yourself in 10 years?
The short answer, I know I'll be happy, wherever I'm at, doing whatever I'm doing.
To be honest, I hate the "where do you see yourself? where did you see yourself?" questions. Don't dwell on the past, don't freak about the future, be happy where you are and what you're doing, and if you're not, change it up. Have goals in mind, and make them happen. That's what I'm doing, that's what I've always done, that's what I'll always do.
Jeremy wears Bjorn Bjorg. Shot at Zune Studios LA.
For more photos, check into jdvisiontheblog.com on Monday.
***
Previously on JD Ferguson Presents...