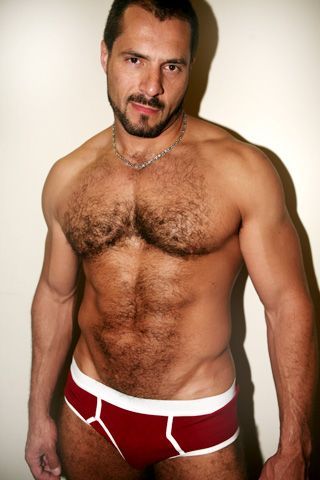 This week JD Ferguson brings us the industry's most infamous manly-man, Hungarian-born and New-York-City-based Arpad Miklos. With several titles under his belt, this hunk stands at 6' 2" and weighs in at 240 lbs. "He has been the most requested star for the series," says Ferguson. Looks like JD certainly had his hands full this week.
Age: 30 +
Hometown: New York City
Company you shoot porn with? I should list the ones I haven't...
What's on you iPod? Not too much, I'm not a devoted iPod fan. Mostly older songs.
How's your English? Xscuse mee?
How long have you been in the porn industry? I think I'm a fossil. For about 12 years.
Who would you like to see as the President in 2008? Hillary, no question.
What's in your refrigerator? Apart from different frozen body parts, some basic stuff (eggs, cheeses, diet sodas). I can cook, but I don't.
Where do you see yourself in five years? Hand in hand with Hillary.
What type of men do you like? Actually a wide scale of men... face and personality are very important to me. I prefer hairy; can't stand shaved... And I prefer over 30 -- this doesn't mean I can't corrupt a younger guy.
What was the last good book you read? Exupery's The Little Prince. Warmly recommended for everybody.
What was the last good movie you saw? Grindhouse, Disturbia, The Lives of Others, The Perfume, etc...
What TV shows do you watch? I have no TV at home. When I'm at somebody's, usually Sex and the City. By now my English is good enough to understand the slang. And, I think it's a really great show.
If you could live anywhere, where would that be? Probably Spain.
Any summer plans? Besides some work trips, a two-week drive along the Pacific Highway from South Washington to San Diego. A few National Parks on the way...
What's next for Arpad Miklos? After finishing this questionnaire I gotta wash up the dishes...
***
More "JD Ferguson Presents..."
Matt Cole
Tommy DeLuca
Ben Andrews
Luke Stevens
Zach Randall
Jason Ridge
Buck Angel
Damien Crosse