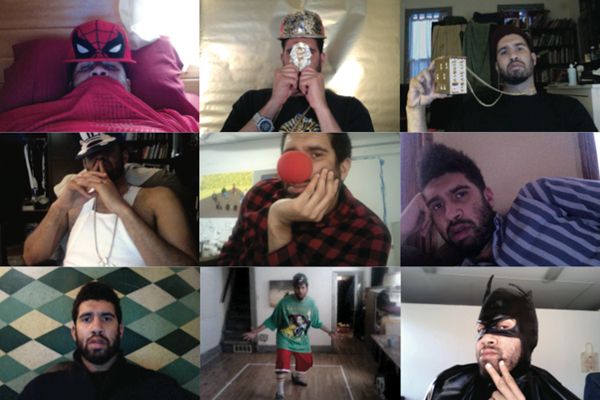 Best-known for his unflappable alter ego Hennessy Youngman, Jayson Musson is the art world's greatest pundit. A cognac-drinking, bling-wearing Web star who riffs on everything from Bruce Nauman to Joseph Beuys, Youngman preaches the truth -- like why poststructuralism off-sets so-so art and how relational aesthetics give inept artists a social life -- in a YouTube series called "Art Thoughtz." His strategy of using a public online platform to make incisive stabs at a traditionally pretentious, inaccessible realm is genius. "I thought the incongruence would be fun," Musson says. 
In April, his candor captivated artist Marilyn Minter and Family Business gallery heavyweights Maurizio Cattelan and Massimiliano Gioni so much that they gave him his own exhibition. Musson promptly handed the reigns to Youngman, who took to his webcam and told viewers he'd include anything brought to the gallery in the show. Though one snarky website deemed the show "a clusterfuck," its reality was an organized mess of objects crammed in the closet-sized outpost. "It was like taking little art Moseses in," Musson says. "Wait, what's the pural of Moses?" 
But Musson is much more than Hennessy Youngman, as confirmed last month at his debut show, "Through a glass, darkly," at Postmasters Gallery. Alongside his YouTube reels hung his "Black Like Me" poster series, a playfully grim meditation on politics, drugs and sex. "If it wasn't for the experience I gained producing those pieces, I never would've been able to craft a character like Hennessey," the Bronx native says, noting he never planned for his video shtick to go viral. "I don't think that any artist is really capable of speculating which body of work will gain notoriety."   
These days, when he's not working on his upcoming children's book for Badlands Unlimited, lecturing at Pratt or prepping for his summer exhibition at Salon 94, he's toiling away on future Thoughtz. "I want people to realize they don't need permission to make themselves heard," Musson says. "The possibility exists to just do it."