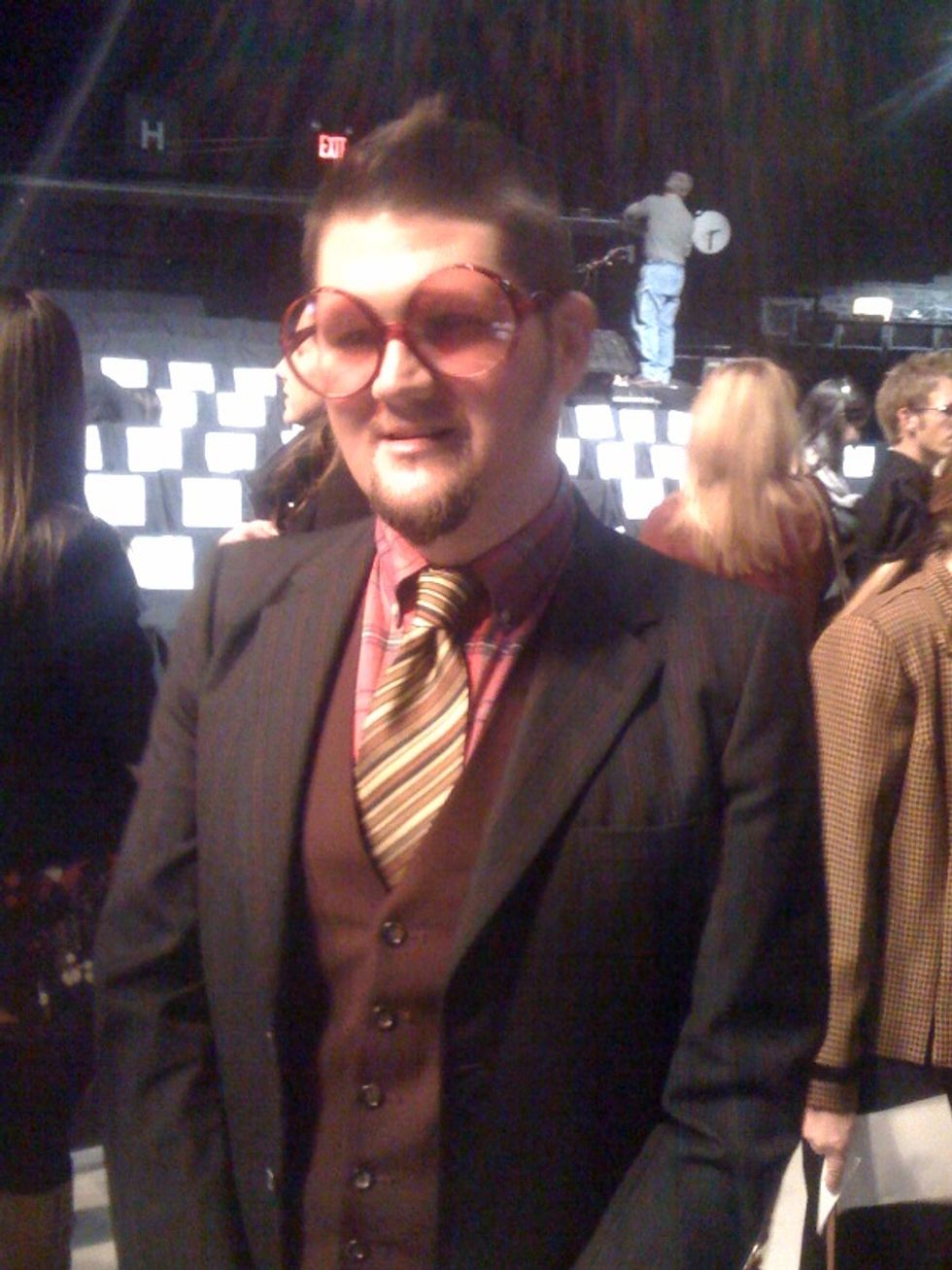 I can't say that
Project Runway
ever topped my list of dream shows to attend during Fashion Week, but when the opportunity came up, the reality-addict in me couldn't pass. (Thank you Donya!) But alas, now, I secretly wish I had. As darling as it was to see
Nina
,
Michael
,
Heidi
and guest judge
Faith Hill
in the flesh, it's a pleasure I could have done without. Seeing them meant seeing 10 collections (back to back) from the current contestants of the show. Only three of these will be shown during the finale, but producers felt it necessary to inject "dummy" collections so the audience could not tell which the final three are. (I for one wasn't fooled, it was abundantly clear who the finalists and the winner was. But I'll stay mum.) I digress... there was one bright spot in the Hewlett-Packard-sponsored show, and that was:
Jay McCarroll
. The season-one winner was there in his trademark red glasses serving the kids a strong look and strong words about the collection, his current project and my fur coat!? J'die!  
Hey Jay.
Are you wearing fur? Is that real fur!?
It is! Don't judge! What did you think of the show? 
There were some highlights, but there were also some lowlights.
Like what?
Well if you have the opportunity to show during New York Fashion Week, don't show me a fucking turtleneck! I don't want to see anything I could see off the rack. I want to see fantasy!
Well speaking of good clothes -- I love your look!
Thanks! Thrift store! All of it!
Ouch! Are coins low? What projects do you have coming up!?
I still have my collection available online. I have my fabric collection and I'm on Celebrity Fit Club!
What's that like!?
Its crazy! Its not every day you sleep in the same room with someone whose had their dick in Britney Spears!
Well.... I've no witty comeback! How much weight have you lost?
700 pounds!
Say word!?
No! I can't say! You have to watch the show.
Now I will!
And don't wear fur! Its really awful, awful stuff! They electrocute those animals anally to kill them.
CLICK HERE FOR PAPERMAG'S COMPLETE DOWN-LOW FASHION WEEK FALL 2010 COVERAGE. >>