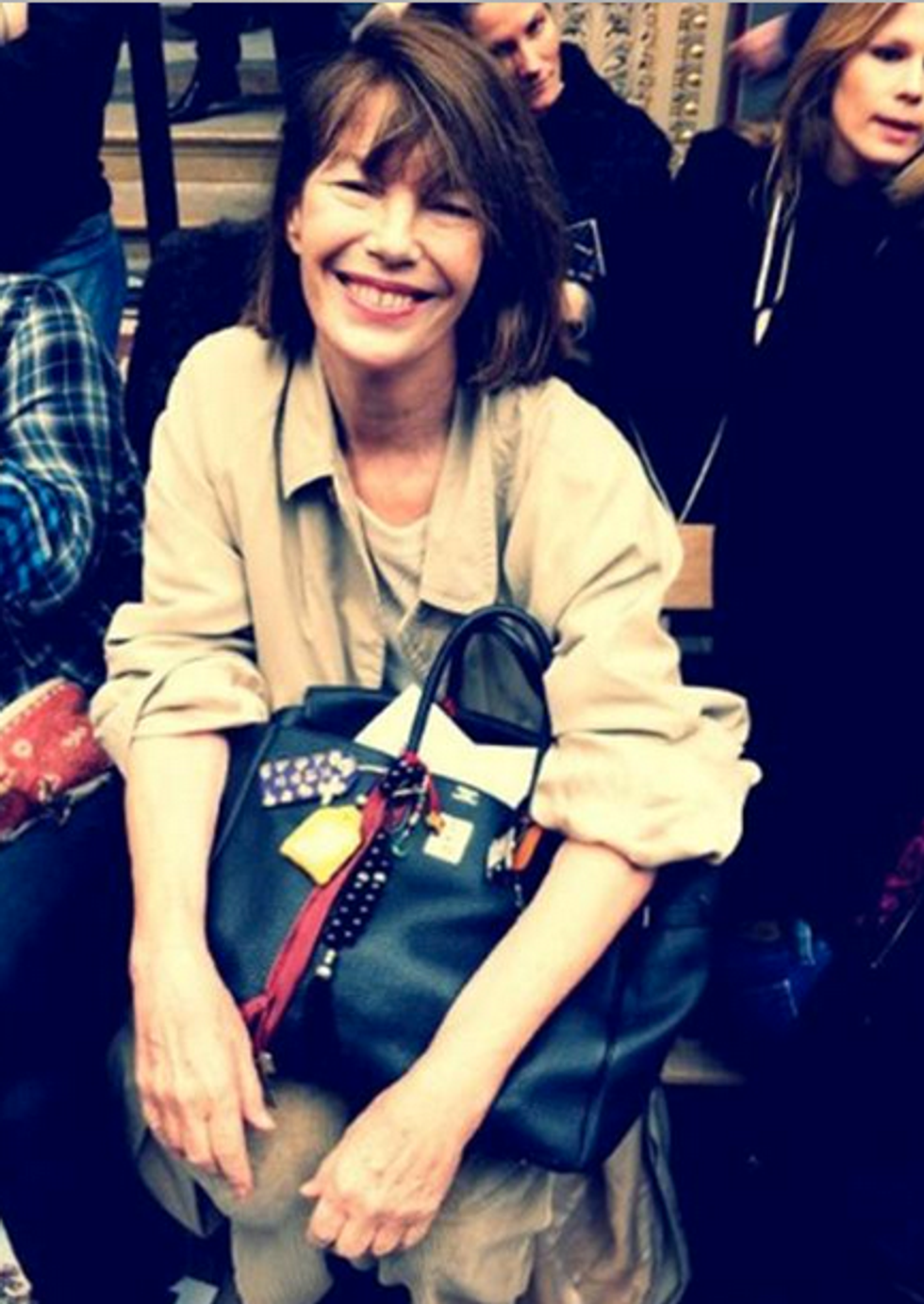 English actress, singer, and style icon Jane Birkin has decided she's had enough of Hermès using her name on their famous handbag. Or, more specifically, she's decided she's had enough unless the French luxury brand puts an end to, in the actress' words, the "
cruel practices reserved for crocodiles during their slaughter
" to make the Birkin Croco style. The actress, whose name has been affixed to the bag ever since 1984 when then-president of Hermès, Jean-Louis Dumas, met her on an airplane and heard of her desire to find a chic -- but practical -- bag, may have first been keyed in to the brand's practices by watching a
recent PETA exposé
that showed reptile farms in Texas and Zimbabwe and their inhumane treatment of the crocs. These farms, which are allegedly where the brand sources its skins,
"cram the animals into barren concrete pits
" and hack them to death. "I have asked Hermès to debaptise the Birkin Croco until better practices in line with international norms can be put in place," Birkin said.
PETA has applauded the actress' stance but Hermès has yet to comment. Perhaps the brand could use this as an opportunity to do a 180 and change their practices to be among the first ultra-luxe purveyors of cruelty-free handbags, which, we'd imagine, also make the perennially wait-listed item *slightly* more affordable. Wishful thinking?
Update:
Hermès has issued a statement
saying:
"Jane Birkin has expressed her concerns regarding practices for slaughtering crocodiles. Her comments do not in any way influence the friendship and confidence that we have shared for many years...Hermès respects and shares her emotions and was also shocked by the images recently broadcast. An investigation is underway at the Texas farm which was implicated in the video. Any breach of rules will be rectified and sanctioned...Hermès imposes on its partners the highest standards in the ethical treatment of crocodiles. For more than 10 years, we have organised monthly visits to our suppliers. We control their practices and their conformity with slaughter standards established by veterinary experts and by the Fish and Wildlife Service (a federal American organisation for the protection of nature) and with the rules established under the aegis of the UNO, by the Washington Convention of 1973 which defines the protection of endangered species."

 [via
Yahoo
]


You May Also Like