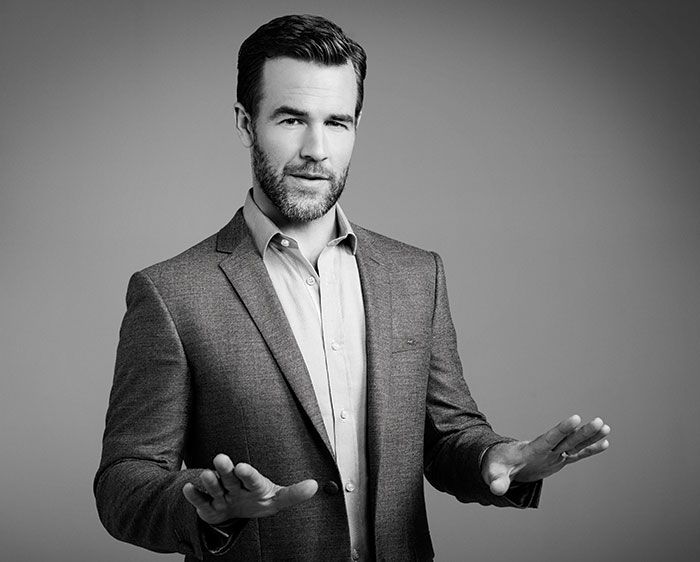 James wears a suit and shirt by Moods of Norway. 
Fresh off a stint playing a douchebag version of himself, rife with
Dawson's Creek
jokes, in the snappy sitcom
Don't Trust the B---- in Apt. 23
, James Van Der Beek is back on primetime in the new CBS comedy
Friends with Better Lives
. He plays Will, whose group of friends (Brooklyn Decker, Kevin Connolly, Zoe Lister-Jones, Rick Donald and Majandra Delfino) all pine for each other's lives. If six 30-something friends hanging around and bitching sounds familiar -- it should,
Friends
' producer Dana Klein wrote and produced the pilot.
What was your first job in TV?
My first TV job was playing Melissa Joan Hart's drummer boyfriend for one episode of
Clarissa Explains It All
on Nickelodeon. I was 16. And I CRUSHED it.
Would you be friends with any of your characters?
I liked Mox [
Varsity Blues
], he was a pretty solid dude. Dawson was sweet, but would probably get on my nerves and end up as one of those people I found myself making excuses to not hang out with. I think I'd avoid Sean Bateman [
The Rules of Attraction
] at all costs. I like Will [
FWBL
], though. I could watch football with him on a regular basis.
What's the first TV show that you remember watching regularly?
The Dukes of Hazzard
. Friday nights. I even had a
Dukes of Hazzard
lunch box. Seven-year-old me was a redneck at heart, apparently.
Is there a TV show theme song you know all the words to?
For some reason, I feel like I could recite the entire
Growing Pains
theme song. Fun fact: did you know that Stephen Dorff's dad wrote it? I am a fountain of useless information.
What TV shows are you currently addicted to?
Breaking Bad
is more addictive than meth.
If any actor could make a cameo on your show, who would you want it to be?
Mandy Patinkin. I wanted his career when I was just a kid doing theater in New York. Then I got really famous at 20 and blew that plan all to hell.
Do the fans who recognize you on the street come from a certain demographic?
I've done a Ke$ha video, a '90s teen soap, a sports movie, a dark cult-classic film and a dark cult TV comedy: it's all over the map.
What's the weirdest pilot you've ever auditioned for?
When I was 15 I was flown out to test for a sitcom called
Bringing Up Jack
. I lost the job to Matthew Lawrence and they flew me back to Connecticut.
Styled by Camille Yvette / Hair and Makeup by Christina Buzas
MORE FALL TV STARS