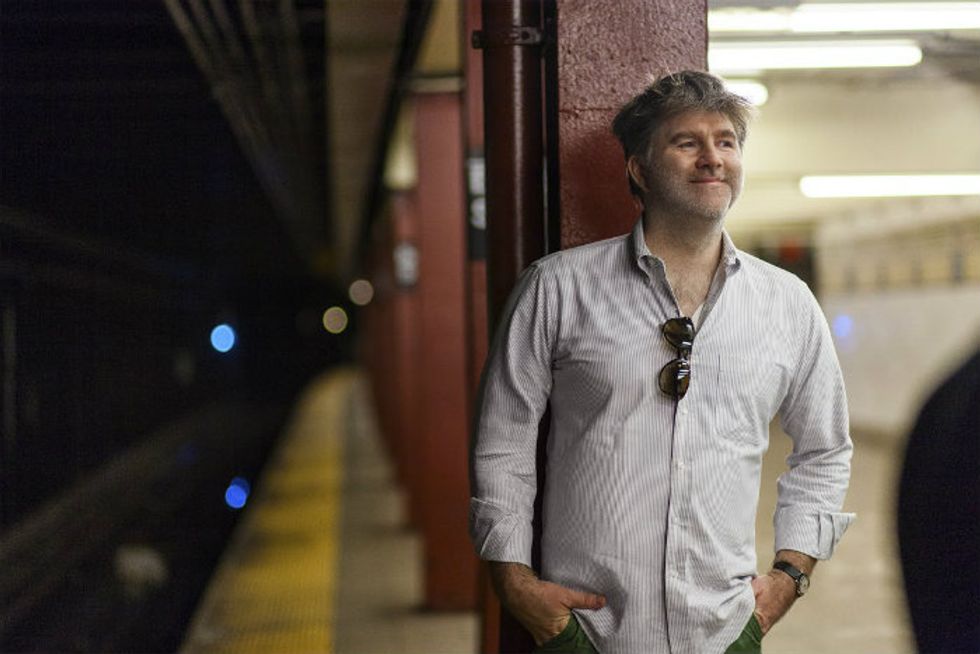 Why is James Murphy investing so much time trying to "fix" the sounds New York subway turnstiles make? For years, the former LCD Soundsystem frontman has been interested in making the admittedly harsh beeping of the New York subway into something a little more pleasant. The project now has corporate sponsorship, in the form of Heineken, who helped make this video explaining its merits.
But as of last week, the project appeared in serious jeopardy -- 
citing the MTA's Adam Lisberg,
Gothamist reported
that Murphy and Heineken's Subway Symphony team had to admit they would not succeed in changing the policy in order to be able to film on the subway for the video. If Subway Symphony had to admit defeat in order to shoot its announcement video, what was the point?
Murphy disputes this account: "They didn't call us," he says when asked about the story. "We certainly didn't agree to acknowledge that they wouldn't do it." (
Gothamist
has yet to acknowledge his disputation.) He says it's the result of a miscommunication between different parts of the MTA. "We have not been able to have a sit-down meeting them, which, fair enough -- they have real things to do."
I tell him that it sounds like he's just going up against a Byzantine, bureaucratic, Kafkaesque organization. He shrugs. "Yeah."
But that isn't stopping him. The project is now aimed at having interest be sufficiently high when the MTA changes the turnstiles from swipes to taps that the new sound can be slipped in at minimal cost. "They have to go in and design something new," he reiterates. "They're going to change the turnstile."
Here, and in other moments, Murphy has the air of protesting a bit too much -- "there's no way that anyone in their right mind would mess with the turnstiles just to do this," he tells me, seeming painfully aware of the way Subway Symphony sounds to the rest of the world. Throughout our conversation, he repeats the minimal level of work involved. "They just have to let us in," he says. "We could do a bake sale."
Still, his commitment is sincere, and it's something he appears to be willing to invest even more time in. "I think it's a good idea, and until I hear a problem that logically makes me feel like, okay, this shouldn't happen, or maybe it wouldn't work, then I don't like good visions, or good ideas, failing just because there's not a will for it."
So what would this project actually sound like? He leaps up to show me, swiping a MetroCard through the turnstiles Heineken has constructed as prototypes in Chelsea's Milk Studios, where the interview is conducted. "It's just a simple tone, a pleasant little sine wave." And that's not even the final version. "I think the people composing what's at what station should be a bunch of New York artists, and musicians, and maybe a class at a school with a music program," he says. "I think it'd be better if it's a group effort -- it'd feel more like a community project."
He's jumping over a lot of hurdles (or turnstiles) to make this project seem feasible -- whether or not it is, there's clearly an endpoint he's deeply invested in.  What's the final sound going to be like at his own home subway station, if Murphy gets his way? "Something beautiful and simple."