It has been a few days since I have had time to do this, but tonight seems like a good time to catch you up!
The night before the show is always a late one, if you were wondering why, here is a list of what needed to get done before the truck came to pick up the collection at 10 a.m. on Friday:
1. Make model cards for each girl with the following info: Look number, shoe size and color, clothing worn and special instructions for dresser if needed (tuck in shirt, unbutton top button, tie at back, etc), along with the polaroid of their look.
2. Score all shoes on underside (30 pairs) to prevent slipping. This is a given every show but really important considering we have 5 1/2" inch heels this season! Take off all stickers and tape name of model on innersole.
3. Take all labels out of thongs (22 pairs), and bag all accessories by model and look.
4. Finalize run of show, create Master Run Of Show Board for the dressers, show caller, and any one else involved in getting the models in order during the show.
5. Finish refits. I guess you would think all the clothes would be done by now, but sometimes garments need to be remade and refit because a girl drops out or you get a new one at the last minute, or the run of show
changes, and a girl is wearing a different outfit!
6. Finish alterations, steam, press, clip all threads, and lint roll all samples (66 pieces).
7. Make run of show booklet. This is the little program that sits on the chair at the show. Seems quite innocent but is my most hated part of the night before. Why? Because this cannot be finished until you finalize the order of the looks and who is wearing what, which usually happens that night. Then you have to describe each garment and make up cute color names and descriptions all while the above is going on, and it is 4:30 in the
morning.
8. Freak out because yet again you promised yourself that you would get a decent night's sleep since this is your 14th fashion show and practice makes perfect right? Robbie and I left at 5:30 a.m., slept for one hour and was back at work at 7:30, perfect.
Once I get to the venue, things are pretty good, besides being tired, I feel calm and excited, I say hello to all the crew, hair and make up, Jennifer Graylock my house photographer, Scott Ewalt my DJ, Voltaire my casting director and all the Company Agenda guys. I go over all the looks with each dresser, describe any tricky details and hang out with my parents who always come one hour early to see me backstage before the show starts.
I also do a run through with the show callers (the people who direct the exiting and entering of the runway models), the lighting guy, Voltaire who cast the show, and the DJ. This is the part where we decide the pace, the
attitude (or lack of one which I like) and the feel of the walk. This is also the first time the models actually see the space!
Is is funny to see the girls in hair and make up, they are so pampered and surrounded by so many people they look like Rita Hayworth on the Paramount back lot!
After they are done they are transformed into the most beautiful creatures, thanks to the genius Rodney Cutler on hair, and Julio Sandino from Nars. It is the first time I have worked with him and he is very talented and a real doll too!
I try to have a really calm atmosphere back stage with no drama; I think the models feel this and always seem to have a lot of fun, and are amazed at their transformation too!
When the show begins I always stand at the front of the line up and talk to to each girl, always gushing at how beautiful she looks and try to give them encouraging thoughts as they step through the curtain onto the runway. This is always a surreal experience as once they are gone a little part of the show has ended, and you leave all the past months stress behind, and share your dreams with the world.
Probably the most exciting part of the show is the very end when All 22 models walk out in a column, showing in one shot your vision of the season, a heady moment for the audience as well as me.
At last, it's my turn on the runway. This is really the ultimate moment of the whole show experience, you feel so euphoric, there is not one ounce of nervousness, it is like a dream. Everyone always asks me why I only come out
for a second, but to me it seems like an hour! This time, the column of models was still walking out and I grabbed the last model and escorted her back stage. I saw the pics for the first time today, and it is so funny, I look like I am a little kid with my big sis who is one head taller than me, I look so tiny, and I am 5 10"!
Robbie brings Francis to the show. Franics is always pretty good as we take him everywhere with us, but he has this thing about clapping; it drives him mad with excitement! So I know when the show is really over by his little
muffled bark among the applause.
After the show, everyone always asks me how I feel, because I never actually see the show (they always have a monitor backstage so you can see the show going on, but I never look because I am too busy primping the models!) To me if it runs smoothly backstage, it is a success, and this season it was
perfect! So I guess I am getting the hang of it slowly but surely.
So now you think, it's over, James can take a break and relax. Well I wish that were the case, but the pace won't slow down for about another week.
After the show I had lunch with my mom, her friend Diane and Robbie. This has been a tradition for the last several shows. It is always the same: We go out, have a nice lunch, and about two hours later I am nodding off at the
table. I always think everyone in the restaurant thinks I am a junkie! Is is so embarrassing.
The next day, which was yesterday, I went to work. First I went up to see Anna Sui and reviewed the hats that I would be making for her show. I already made the hats about two weeks ago but Anna had to finalize her looks and decide which hat would go with which outfit. At the meeting Anna showed me the polaroids of the looks with hats, and we discussed how they should be trimmed.
Anna found these little musical instruments, a piano, clarinet, violin, and a little electric guitar! All were painted black and covered with glitter, so cute! So I gathered them along with some tulle and ribbon I had left with her to
play with during the fittings and went back to work.
At 4 p.m. I had a meeting with my Japanese licensee, Itokin. I have had a license in Japan for about four years. I have 10 James Coviello Shops throughout Japan, and each season they come to my show, and then we have a
meeting to review the collection. It is always hard to have a big meeting right after the show, but I cannot complain, I love them!
Today I trimmed all of Anna's hats, ran up to see her at around 8 p.m. to drop them off. Meanwhile back at the office poor Rebecca is drawing all the line sheets for the showroom since we are opening to sell tomorrow!
It is now 12 a.m. and I am still at work. So you see there is no rest for the Fashion Designer even when the final bow is taken...
Until tomorrow...
James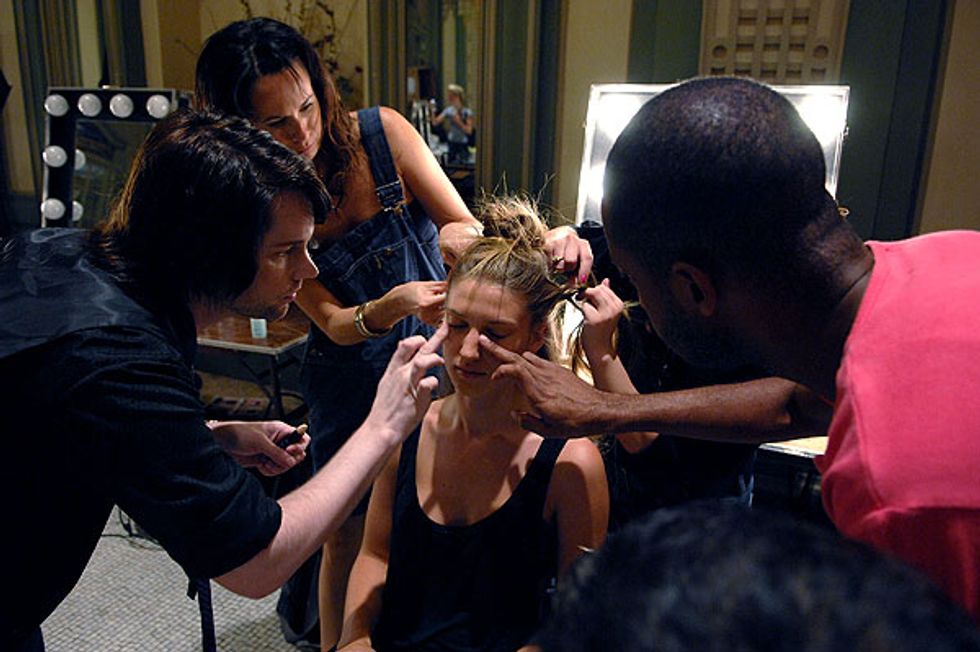 Getting ready...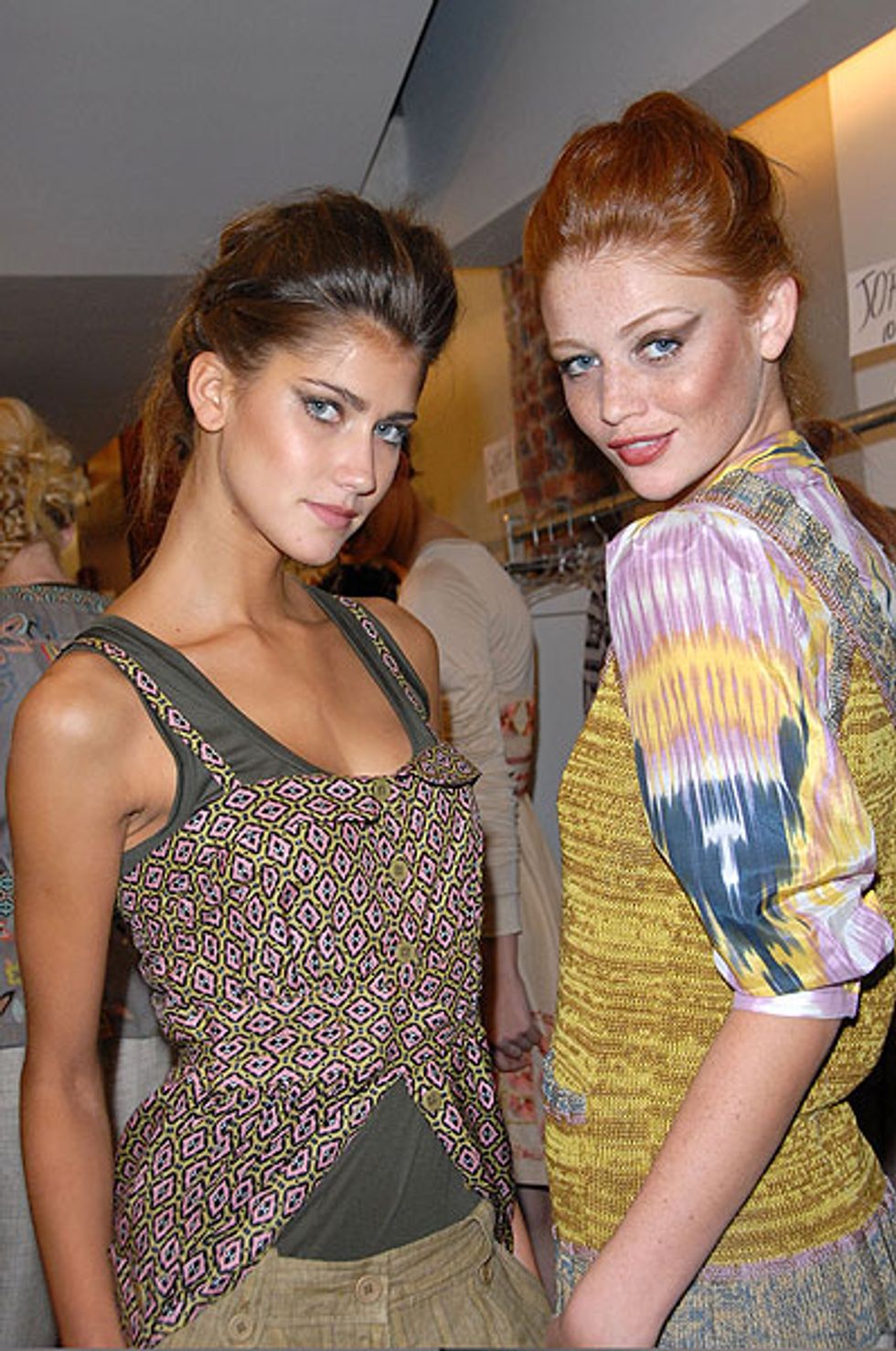 Models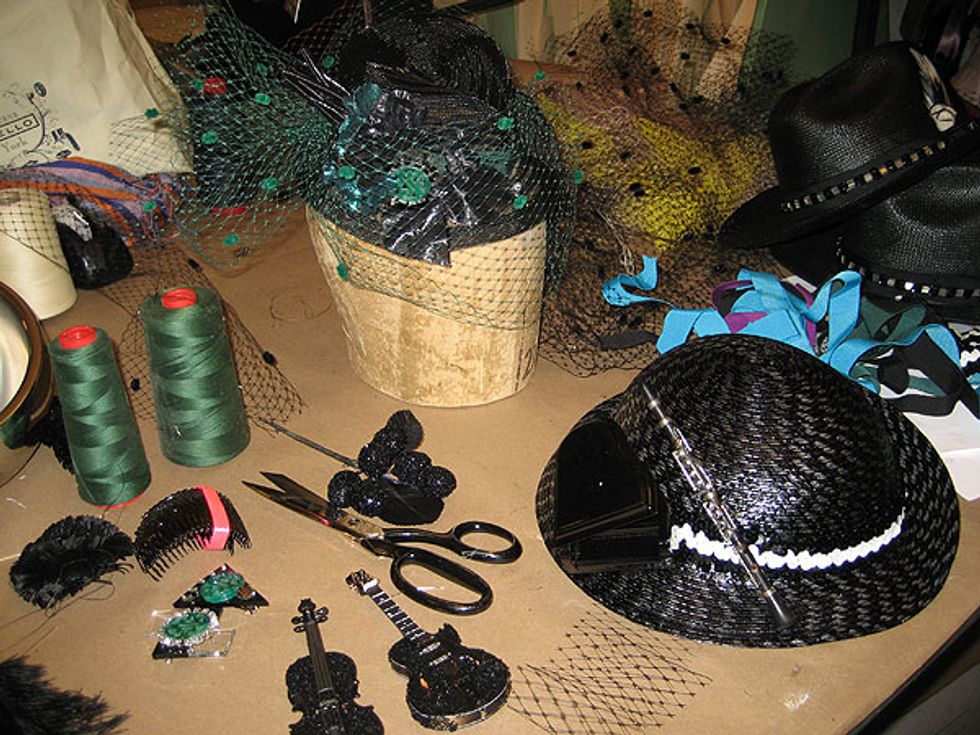 My hats for Anna Sui