What is it about turning 25 in the UK lately that produces such refreshingly heart-piercing ballads of love, loss and growing up? There may not be many immediate similarities between James Bay, the 25 year-old Herfordshire-born rocker, and the ubiquitous Miss A, whose 25 continues to break records across the globe, but their raw, soul-baring lyrics perhaps point to a larger story: that in our songs, at least for right now, we want the unvarnished truth.
Bay is currently midway through a US tour for his debut album Chaos and the Calm, released last March and taking the #1 spot on the UK charts. It was a long time in the making, he says, telling us that he's been writing it ever since he started playing music in his early teens. "A lot of it was from being a teenager, writing about what I thought of the rest of the world. And then encountering the world when I left home at 19 and never really going back," he explains over the phone before a show in Chicago. He seems so at ease with himself that it's hard to believe he's only on his debut album and his first headlining tour. The self-possession comes through in the record with stirring-yet-buoyant songs like "Scars" and "Hold Back the River." Also, the boldness of titling your first single 'Let It Go' in the era of Disney's Frozen speaks to a healthy confidence, though any confusion with Princess Elsa's well-worn rendition did not stop it from a top 10 debut on the UK Singles Chart last year and certified Gold shortly thereafter.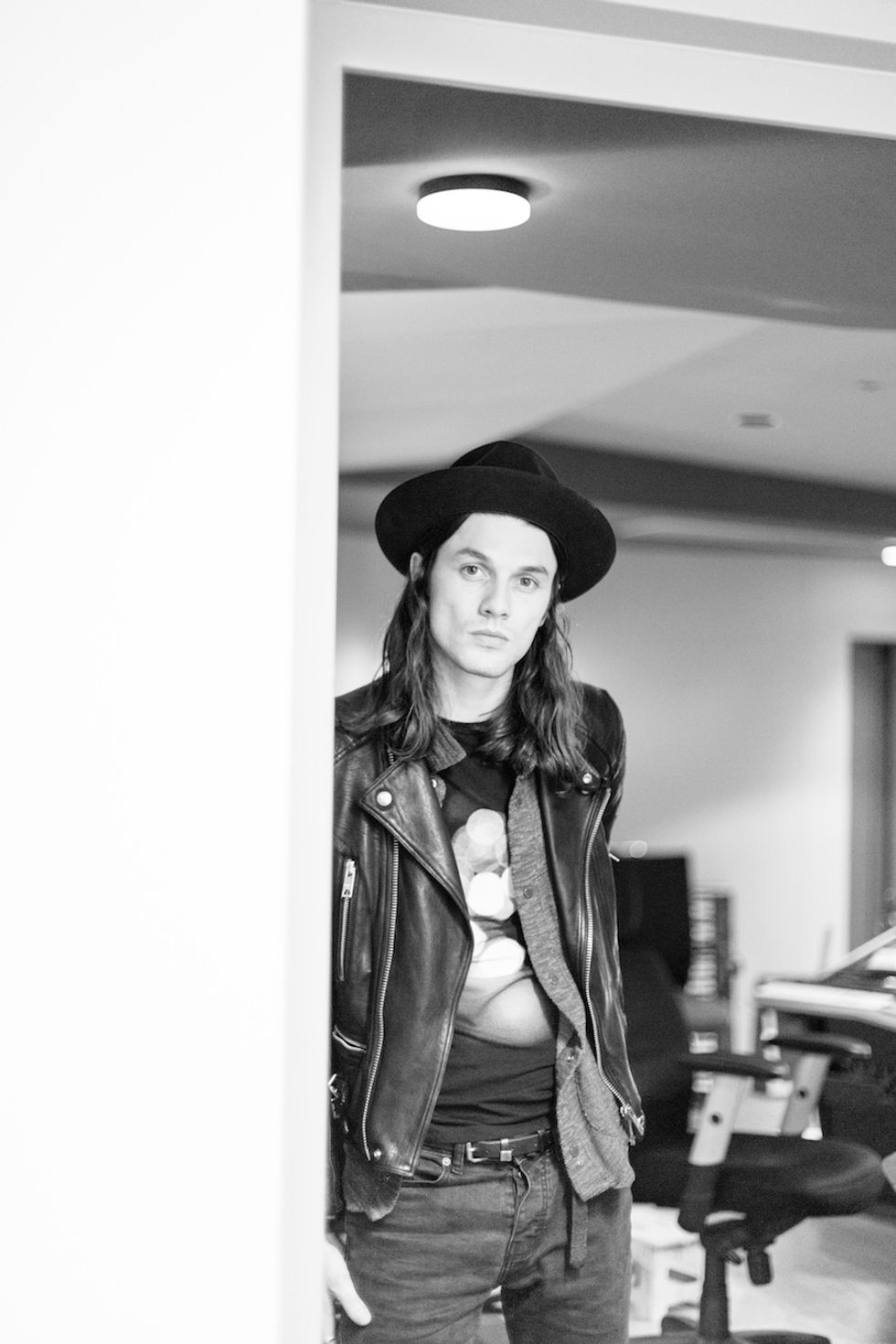 For many, their first introduction to Bay was not on Spotify but rather the Burberry runway during the brand's Spring 2015 show last autumn. Christopher Bailey, the Burberry's Creative Director and CEO, who has an uncanny ear for up-and-coming British musical talent (see: Paloma Faith, Ed Harcourt and Benjamin Clementine's respective performances at Burberry shows), tapped Bay to strum along to the season's 'Birds and Bee's' -themed collection. The musician also has a quick cameo on Burberry's Billy Elliot-themed holiday video this winter. This is all to say his bone structure and dreamy eyes can hold their own against the Naomis and Kates of the world, though he is happily uncomfortable among the fashion pack. "Christopher [Bailey] is wonderful, such a lovely guy and he loves music. But I'm not about to hang up my guitar any time soon to be a model. Though I have a tremendous respect for everyone that does that; the photographers, the designers, the models," he admits.
You also get the sense that when he isn't writing or touring, he's less likely to be carousing among the belle monde in the style of his musical forbears and idols the Rolling Stones than tucked away backstage with, say, a book. Particularly James Baldwin's Another Country, a personal favorite, whose words he calls, "the most poetic perspective on day-to-day existing. Every line feels like a song." We discuss a particular YouTube video of the author in a mesmerizing debate filmed at Cambridge University against the right wing pundit William F. Buckley Jr. "There is something so tragic and romantic and fantastic and emotional and aromatic about the way he wrote and spoke. It's incredibly inspiring as an artist," he says.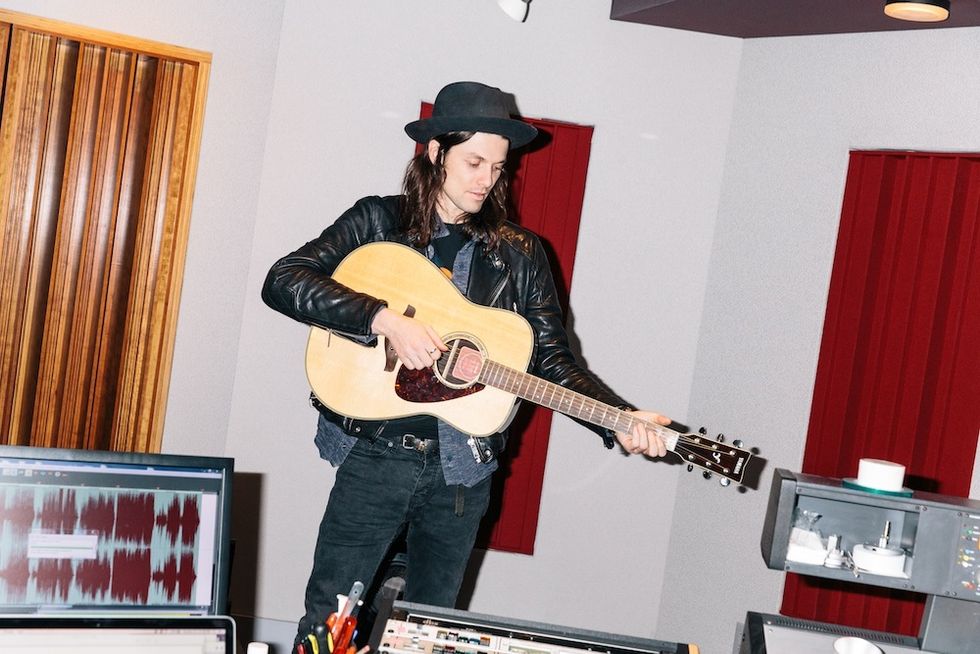 Bay is prone to poetic brushstrokes of vocabulary himself when describing the American landscape, to which he is recently acquainted: "It is a big, brash, muscular country. America when I was growing up was a massive, Wild West, Hollywood dream. It's like five countries all mashed together, all in technicolor," he says of Texas and Arizona in particular, some of the more out of the way areas the tour will wend through. Though it's hard to find time with the constant load-in and load-out of touring, he says one of his favorite moments in America so far was getting to visit the Lincoln Memorial after midnight. "Just standing in the silence and the solace of that beautiful space -- if you really want to see things when you're touring you go after the show, late at night," he says.
But there's nothing more satisfying than the few short hours he spends on stage. "The energy of 2000 people who have been waiting for months to come and see you, there is nothing like it in the world," he says. "There's a lot of ego involved -- understandable ego. It's all for the sake of the theatre of the moment. It fuels you to be a bit larger than life, and the crowds love that." Whatever ego he may need to perform vanishes when he gushes about artists he's currently enamored of like HAIM and Jack Garratt, an up-and-coming multi-instrumentalist and fellow Brit.
After the American leg of his tour ends this month, he heads back to London for a bit then picks up in Korea then Australia in the new year. Then it's back again to L.A. in February for the Grammys where he's nominated for Best New Artist, Best Rock Album, and Best Rock Song ("Hold Back the River"). A whirlwind to say the least but nothing short of a privilege to Bay who says, with characteristic grace, of the dogged tour schedule: "You travel the world and you seen none of it ha ha. [But] it's fantastic, it's incredible. Touring is kind of like having it all. It's a dream. Doing the thing that I love to do the most." Calm and chaos indeed.
You May Also Like