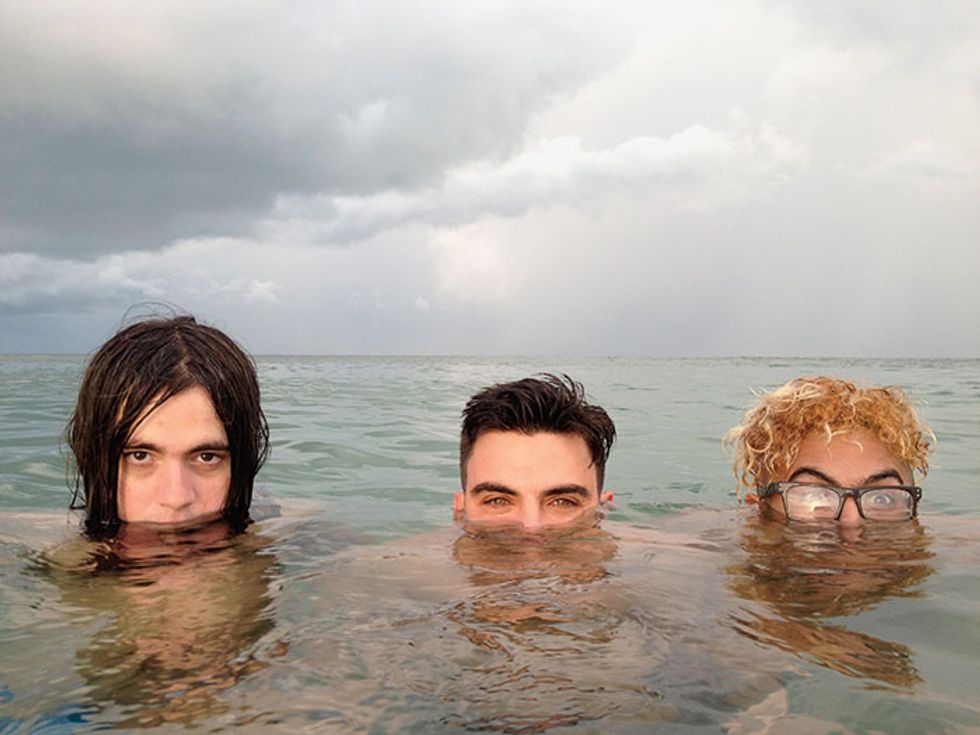 Miami-based garage rockers Jacuzzi Boys just released their self-titled third album on Hardly Art, and based on the coolly infectious thump of their lead single "Double Vision," they've crafted their tightest, catchiest album yet. We had a chance to talk with the Boys -- comprised of guitarist/lead singer Gabriel Alcala, drummer Diego Monasterios, and bassist Danny Gonzalez -- about the new record, Iggy Pop's outspoken admiration, and drag racing with Yngwie Malmsteen.
What's Miami's music scene like?
Danny:
I started going to shows a long time ago, and at least from my experiences, Miami's scene has had lots of ups and downs. When I first started going to shows there were all these labels based in town and bands always had 7''s for sale, and I just assumed that was the way it would always be. And then that completely went away for a couple years, and now it's sort of come back -- it's on the up and up again.
Gabriel:
Things tend to go away pretty quickly, bands included. There will be a batch of bands that come out in a year, and by next year they just sort of evaporate.
Danny:
I think it's because it's difficult to tour out of Miami -- that's the only thing I've come up with. Bands get bored playing shows around town.
But you guys have made the conscious decision to make Miami your home base?
Gabriel:
Yeah! I mean I was born and raised here, and these guys basically grew up here -- they were born in Venezuela -- but it's home, ya know? We make it work, we tour...it hasn't really held us back.
How would you describe the vibe of your new album?
Danny:
If our first album's vibe was "the Everglades," and [our second album]
Glazin
's vibe was "the Dadeland Mall," I call this one "the airport." Because there's more going on, and I guess we all get a little more anxious at the airport, and this album feels a lot more anxious.
Gabriel:
I think
Glazin
' has a little more of a daytime feeling to it, and this one definitely has a night time vibe.
You guys got cosigned by Iggy Pop (who lives in Miami). What was it like getting to hang out with him for that Juke Magazine feature back in April?
Gabriel:
It was pretty amazing. We showed up at his house and he was hanging out in his backyard sunbathing. We got to take a tour of the house and got to see all of his cool Stooges/Iggy memorabilia. As soon as we started talking, we just hit it off. There was no awkwardness, we just talked about different areas in Miami, his first experience in the city, what the rock and roll scene is like now. It was really special to us.
Danny:
We had previous encounters around town with him that were super brief, just like "Hey Man, hows it going?" So it was pretty awesome to just sit down with him and have a real experience. We got back in the van, and we were giggling and screaming like little school girls.
Gabriel:
He goes out to shows sometimes, but you can catch him driving around town in his convertible Ferrari.
Danny:
I have yet to see him in it, but we have a handful of friends who are like "Yeah, I saw Iggy today in his convertible at a red light." And shirt off of course, always. I would love a race between the two "rock stars" who live in town and have convertible Ferraris. It's Iggy, and (virtuoso Swedish metal guitarist) Yngwie Malmsteen. You see Malmsteen driving around town all the time as well. It would be amazing to have those two guys drag race.
Honestly, that would be legitimately mind-blowing to see those two drag race.
Danny:
We actually took a picture with Yngwie, he pulled up with his family to a Mexican restaurant we were eating at, and we were like "Dude, we gotta do this." And we posed with him by his Ferrari outside the restaurant.
You recorded the album at the Key Club Studios, in Benton Harbor, Michigan -- like you did for the last album Glazin' -- why do you guys continue to choose to decamp so far away home to make your records?
Gabriel:
Well our friends had recorded some stuff there, and really enjoyed their experience. And through recommendations from friends, and hearing about the place and looking at photos, and having a dialogue with their engineers over the phone about what we wanted to do, we felt like it was the right place for
Glazin'
, and it definitely was. The studio is incredible. They suggest you live there while you record. It's run by a couple who are just super rad, rock and rollers. They know the sounds we wanted and it was just an overall really awesome experience.
Is there something to be said for getting out of your hometown and being together and focusing solely on the music?
Danny:
Yeah, for sure.  Where [Key Club Studios] is located in Benton Harbor, MI, there is absolutely nothing there. You basically walk two blocks to a coffee shop, and at nighttime you stop at a liquor store and bring it back to the studio and make yourself drinks. There's no one around, there's no bars, there's no nightlife at all, there's nothing.
Gabriel:
Complete isolation.
What records were you guys spinning when you were putting together the new album?
Gabriel:
We were putting on a lot of Brian Eno, Here Come The Warm Jets -- we were definitely referencing some of the guitar parts on that album.
Danny:
And I think last year, during two tours of Europe when we were writing material for the new album, we were listening to a ton of '80s party stuff in the van, and that's how the synths kind of worked their way in.
Photo by Zach Ramsey