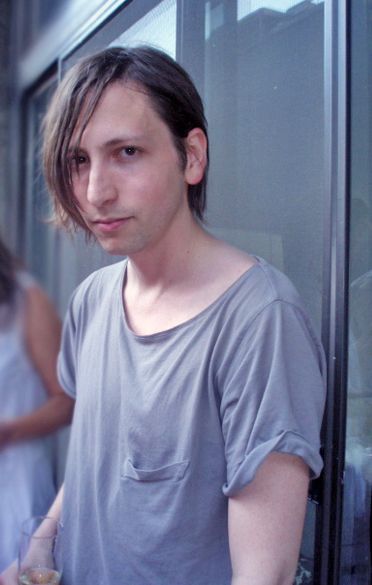 Jacob Brown, the new features/entertainment director at
T,
is a former PAPER employee and former editor at
V
Magazine
and
V Man
.
We talked to new T editor-in-chief Sally Singer
in our September issue and thought we'd also check in with her right-hand man about his new job and how it's similar to
Spiderman
's, his obsessions, and being a serious journalist.
At V you were known for championing skinny Scandinavian rock stars and male models. Is there room for that at T?
Well, yes and no. Musically, Scandinavia continues to be really important. The indie-influenced electronica that dominates these days originates there and continues to be driven by many artists from the region. Same thing with minimalist, easy fashion, particularly from Sweden and Denmark. As far as male models go, I do think they are an interesting subject. As you know the [short films] I'm working on deals with that world. And I think they have their place in
T
, though maybe not in the same way that they did in
V
. 
Sally Singer has been a real mentor for you. How did you meet her and how did that mentor/protégé relationship develop?
About five years ago Sally was researching a story about the Misshapes for the
The Atlantic
. At the time I was known to occasionally go that party, and Kim Hastreiter asked me if I would introduce Sally to the principals. Afterwards we stayed in touch and went to see a lot of rock bands together.
Do you feel now that you're at the NY Times there's new pressure to be more serious or journalistic in what you cover
?
I guess I've always felt that the things I wrote about or covered were pretty serious business. It's really amazing to be at a place like
The New York Times
that supports that attitude, and where the ideas I want to communicate will get taken as seriously as I take them. With great power comes great responsibility, right?
You're entertainment director, but you don't strike me as someone who is particularly obsessed with celebrity culture. Is that a good thing?

You are right that I am not particularly obsessed with Brangelina, the Octomom, or whatever are the reality shows du jour. But luckily/unluckily these days it is pretty hard to avoid being fully versed in such things. But I am obsessed with certain celebrities, and other cultural figures -- hopefully ones that people will think are interesting when they find them in the pages of T.

What are you obsessed with these days? Any bands? Any designers? Any travel destinations?
I just bought a Siki Im suit jacket and shirt that I am pretty obsessed with. I'm obsessed with a lot of TV comedy right now. Ricky Gervais's cameos on the new Louis CK show Louie kill me. The new season of It's Always Sunny in Philadelphia just kicked off. Eastbound and Down is next week I think. Music wise, I met the guy from the band JJ (which is Swedish of course) during fashion week. Their song "Ecstasy" is one of the best of the year. I've also spent an inordinate mount of time listening to that version of Justin Bieber's "U Smile" that has been slowed down 800%.