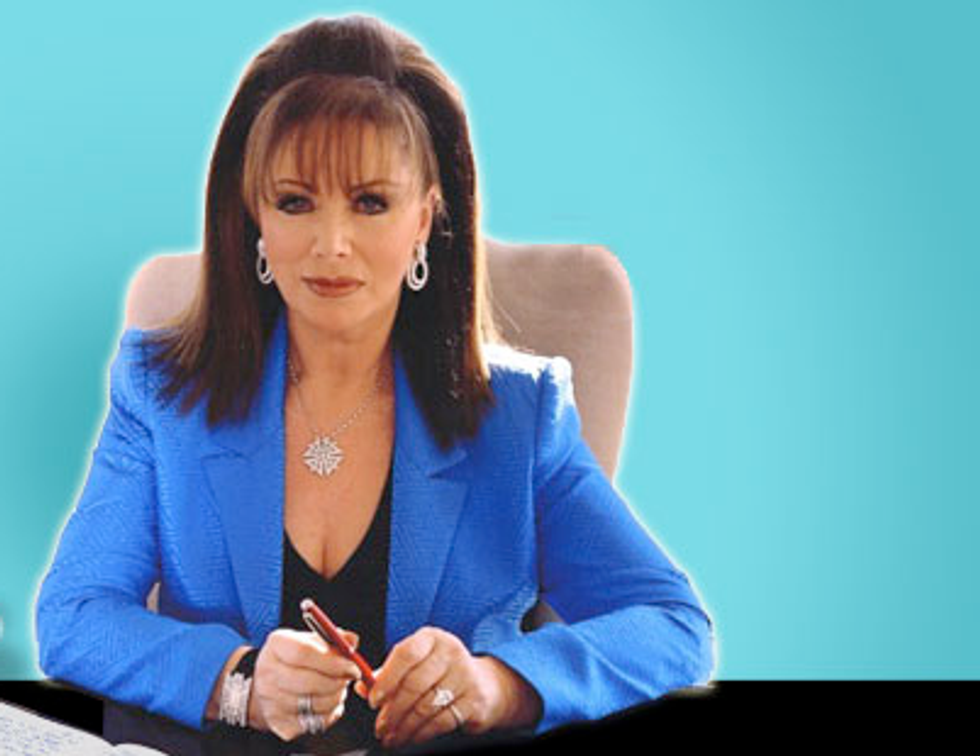 Jackie Collins'
first book
The World Is Full of Married Men
was published in 1968 under the condition that she remove all the profanity and sex scenes from it. Though Collins has gone on to write 32 uncensored books since then, she still knows how to offend -- when Collins appeared on
Good Morning America
Tuesday, the show refused to say the title of her latest release
Poor Little Bitch Girl
on air. Here, Collins, who says she writes erotic, not crude, sex scenes, and that
Philip Roth
's
Portnoy's Complaint
was one of the first books that truly shocked her, talks about her early days in Hollywood,
George Clooney
, and keeps mum about
Marlon Brando
, whom she had a relationship with when she was 15 (and he was 28).
How did
Good Morning America
go?
Fantastic. It was really fun because they didn't let me say the name of the book. But so many people wanted to know the name of the book that it crashed my website.
There weren't many women writing popular fiction about sex when you came out with
The World Is Full of Married Men
. Do you consider yourself one of the first women writers to get books with sex and profanity in them read by a mainstream audience?
Oh, absolutely. I think I was one of the first to do it. Women writers were only writing about having nervous breakdowns in department stores. Nobody was writing about sex. And I thought, 'Well, I want to write about sexual equality.'
And that meant writing erotic sex scenes, not smutty sex scenes?
Exactly. To turn my audience on, not turn them off.
Poor Little Bitch Girl includes a philandering U.S. Senator as one of its characters. With Bill Clinton, Eliot Spitzer, Mark Sanford, and John Edwards' affairs all eventually exposed, why do you think politicians bother trying to hide dalliances anymore?

Because they think they can. They have a sense of entitlement.
You were in the thick of the Hollywood social nexus in the '50s and '60s.
Are there any actors now who remind you of the icons you knew then?
Not really. I think the last great movie star is
George Clooney
--
he has that movie star quality.

You ran away from the U.K. and moved to L.A. when you were 15.
I know, it was so great. I used to drag race around the city and used to go down to muscle beach and watch the weight lifters. I probably knew a lot of people who became famous later. My friends were pumping gas and parking cars like the
Dionne Warwick
song ["Do You Know the Way to San Jose"].
But your big sister Joan was already in L.A., right?
She was there, but she was off on location shooting. She gave me the keys to her apartment and said 'You've got to look after yourself.'
And that's when Marlon Brando came knocking?
Oh yeah. I'm going to write about that in my autobiography.
What was that like? He was so huge then --
On the Waterfront
had just come out.
Yes, but I want to talk about that in my autobiography. I had never told anyone about that and it just kind of came out. My sister talked about it in her autobiography, and people ask me questions about it and then it sort of crops up in tabloids from time to time. I'll tell the real story when I write about it.
Poor Little Bitch Girl,
published by St. Martin's Press, is in bookstores now.