Amidst the arctic tundra swirling outside, constant media reminders of our country's uneasy political future, and the fact that there is a Starbucks in the heart of the Chelsea gallery district with disturbingly tasteful art on the walls, Fergus McCaffrey Gallery on 26th and 10th Avenue feels like a refuge. There's no doubt that this feeling comes, in large part, from Jack Early's towering bright canvases and sculptures displayed for one of his first New York solo shows in almost 20 years. The ex-lover and collaborator of artist Rob Pruitt, Early left the art scene in the 90s after an exhibition and the relationship went sour, thinking he'd never return.
Now, years later, Early's solo show brings a personal story of growing up gay in the South into a new light. With paintings of melting popsicles and scantily clad men posing with sly grins or a canvas soft sculpture printed with Early's childhood image surrounded by many plushy hamsters, the North Carolina-born artist depicts a homoerotic Americana that is so bright and joyous, it seems almost PG (despite the photo-realistic cocks). We spoke with Early about the childhood themes behind his radiant exhibition, the moment that brought him back to art, and how despite the changes and uncertainty around us, things can still manage to look pretty bright.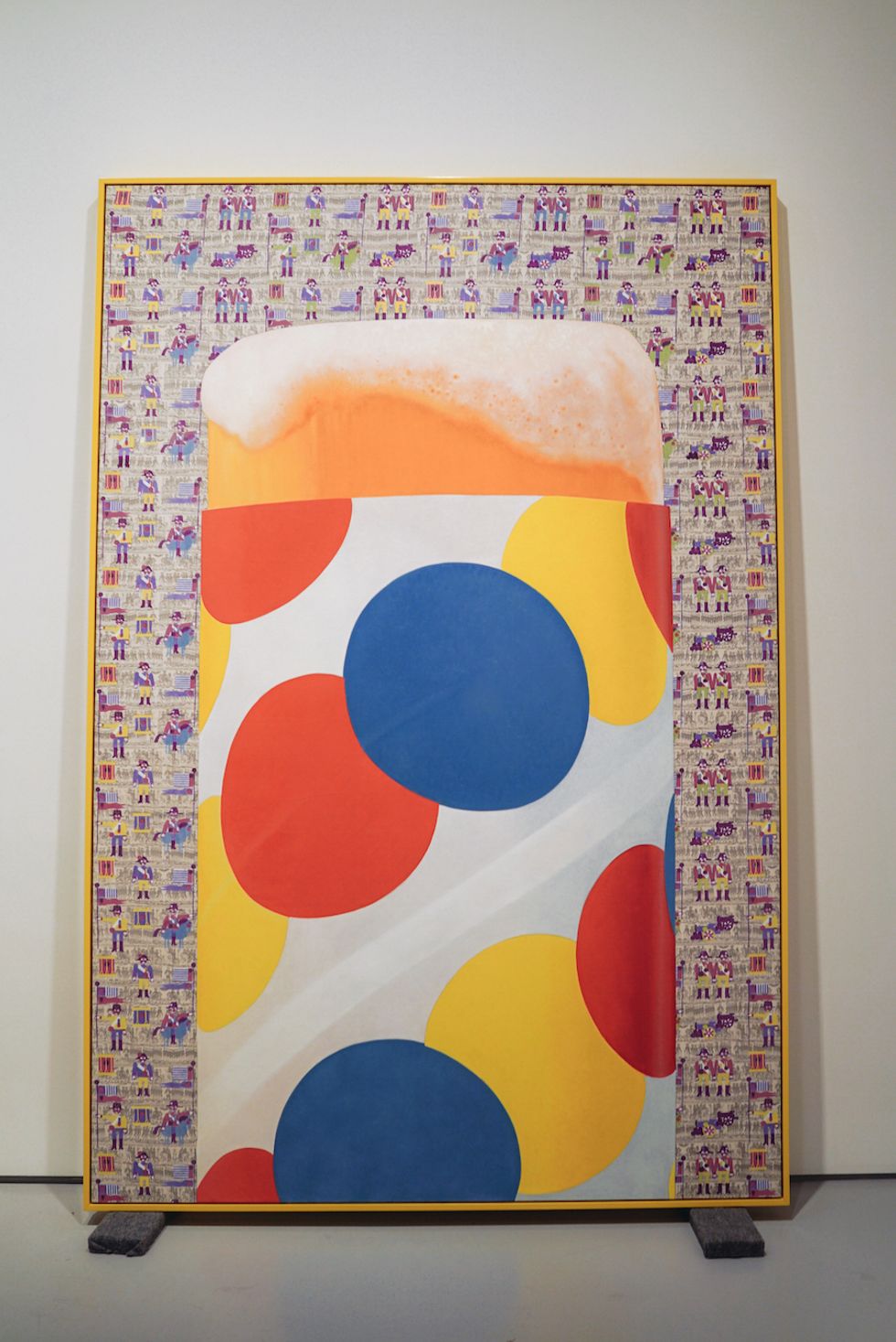 Your paintings feature a recurring backdrop of your childhood wallpaper, but altered to show the toy soldiers holding hands. Why did you choose to include this memento in most of these paintings?
I was thinking about how when I was a kid growing up, how scary it was, everyday, to be gay and not be able to say it. It was traumatic, but there were these bright moments. Like being able to pick my own wallpaper. I chose the soldier one because it had an inherent masculinity. When I was older I would steal magazines from my babysitters, Playgirl or something like that, and hide them in my beanbag chair. I would just stare at the pictures and stare at my walls, this wallpaper, and project those images on my walls. For the show I wanted to take those scary and traumatic feeling and make something bright and pretty, a picture that everyone will have to look at under a bright light. I knew it would make me feel good but I didn't know guys would start contacting me telling me they had had that wallpaper as a kid too, and that it really affected them.
Your newer works take that same wallpaper backdrop but make it brighter, adding images of Lucky Charms and dripping popsicles. Where do these motifs come from?
In this show I wanted to turn everything rainbow. These are images from my childhood and they made me happy. Lucky Charms was my favorite cereal. I would throw away the other stuff because I just wanted the marshmallows!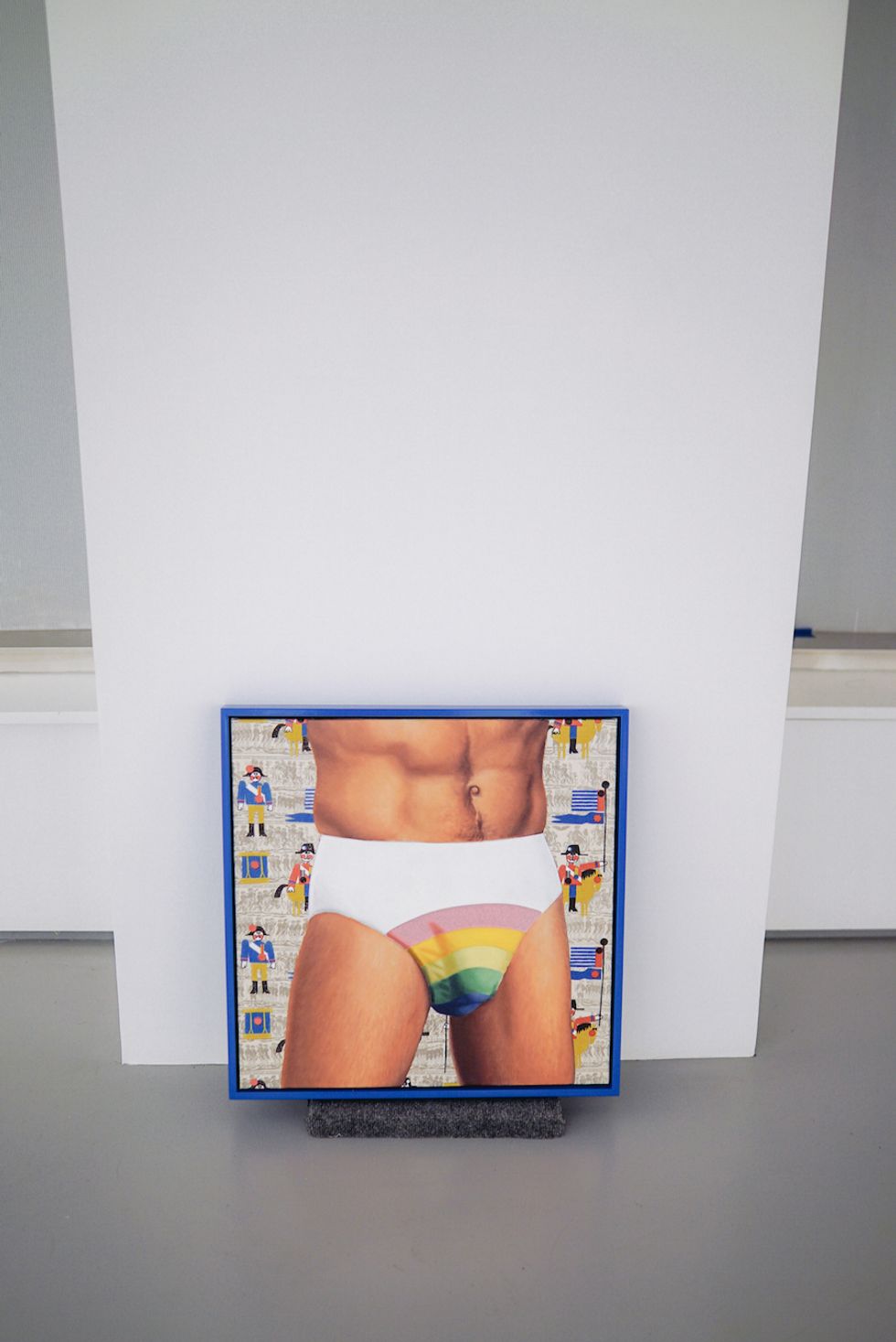 So, are the popsicles supposed to be phallic?
I mean of course they might be! But they are not 100% that. They are the little things you always loved. But, you know, there are those moments when a friend by the swimming pool holds it up and wags it in your face, saying: "It's a weenie!"
What's with the big yellow Gramophone in the middle of the gallery?
Yellow is a big theme -- it's my moms favorite color, the Yellow Brick Road, the Yellow Submarine. I love yellow. This yellow record player has my life story playing on it on a yellow record. It's my life story in just under 20 minutes, from when I was a baby until now. We did it in one take. You can say something in a lot of words, but if you can fit it four words or a whole life into 20 minutes, it can show so much. It can be colorful.
You took a very long hiatus from the art world. What brought you back?
I was with my friend Danny [artist Daniel Newman] and one night he said: "There's no reason you shouldn't be making art any more." I said, "No I'm done with art." It just made me sick to think about it again. But Danny said he wouldn't leave my apartment until I came up with an art idea. We went walking, we went to a record store in Times Square. I was looking at this case filled with Beatles stuff, and remembered that feeling of discovering the band as a kid. So I made a sketch. Years later I made that sketch into a John and Paul painting at Miami Basel. My art didn't exactly come back to me that night but Danny laid that seed for me to start thinking about it again.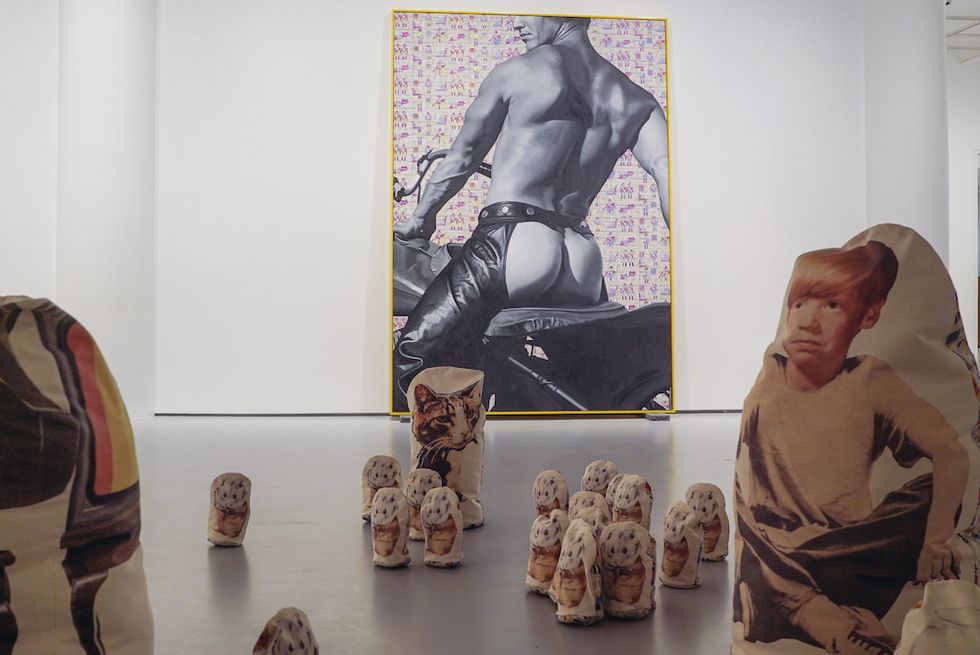 Is your work different now?
Art came back to me very naturally. All the other stuff has melted away. I had to come to it on my own terms, and by myself, which I really had never done. Not as a professional artist. I was always Rob Pruitt and Jack Early. But I did it by myself this time and it really feels good. With this show, I got to dig deep into what made me, me. And that's why all of this is so personal.
Jack Early will be on view at Fergus McCaffrey Gallery February 18th to April 9th
All photos by Ethan Goldwater