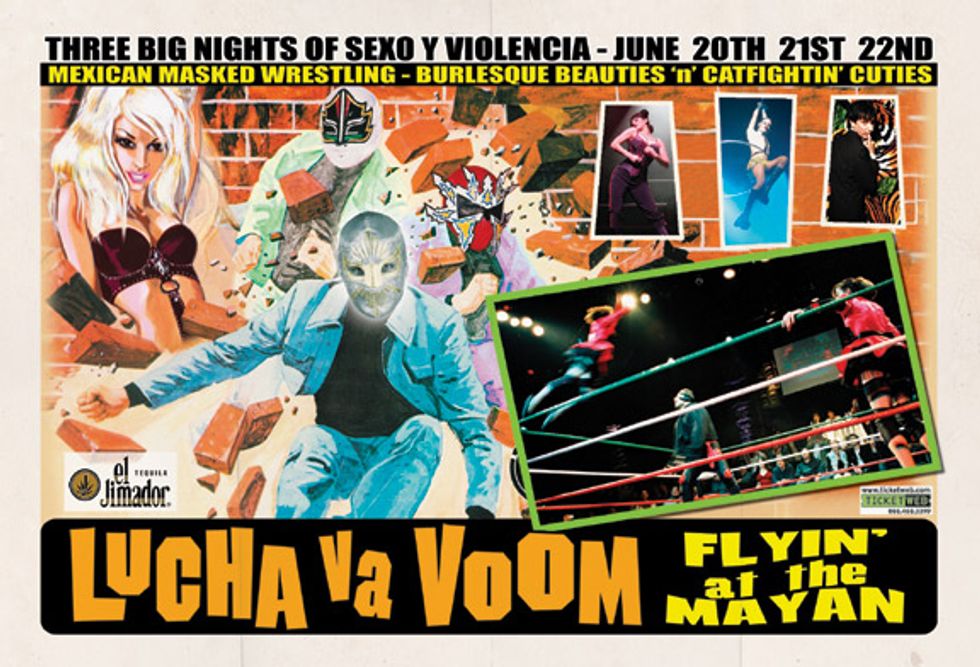 Before VANITY FAIR waxed ecstatic about the Mexican wrestling-cum-burlesque extravaganza Lucha Va Voom , PAPER magazine had the scoop on the now-wildly popular event way back in the spring of 2002! That's when LA WOMAN accompanied LVV founder Liz Fairbairn to a Lucha Libre event at the Anaheim marketplace so Liz could scout talent for the very first LVV show held in downtown LA.

Fairbairn (who used to manage the pre-Lordi metal monster band GWAR) teamed up with neo-burlesque queen Rita D'Albert (formerly of The Velvet Hammer, the hipster burlesque troupe that - to my mind- started this whole 21st Century bump 'n grind craze). The two brought titty-tassel-twirling alt rock chicks together with authentic muy macho masked hombres from South of the Border in a stage show that has since become the hottest ticket in town. Due to growing popularity, they soon moved their whole wrestling-ring circus to the legendary Mayan Theater and added show after show after show. On those special nights you can find the street in front of the Mayan lined with vintage cherried-out lowriders while inside the place is packed with the best dressed (and best tattooed) folks in LA.

Needless to say, a raucous time is had by all.  Celebrity comic emcees have included Patton ("King of Queens") Oswald and the hilarious Blaine Capatch and it wouldn't suprise me one bit if the creators of  the movie "Nacho Libre" were inspired by the magical mayhem on display at Lucha Va Voom. (In fact, the whole thing has become such a phenomenon that the show, like Starbucks, is now represented by the William Morris Agency!)

A recent email from the blonde Miss D'Albert (alluringly illustrated on the poster) assured me there were still tickets left for these upcoming shows. Don't miss it!