Ivanka Trump and her husband, Jared Kushner, were--along with their three children--reportedly verbally accosted by a fellow passenger on their JetBlue flight, before it took off from JFK International Airport for Palm Beach, Florida.
The man--who was traveling with his husband--began yelling things like "Your father is ruining our country," and "Why is she on our flight? She should be flying private," and was "jeering" at Ivanka's children.
Good question! The Kushners were flying coach, according to TMZ.
#relatable
Ivanka apparently did not react, and simply distracted her children with crayons.
After some flight attendants became involved, the couple were promptly removed from the flight; one of them tweeted a photo of the scene: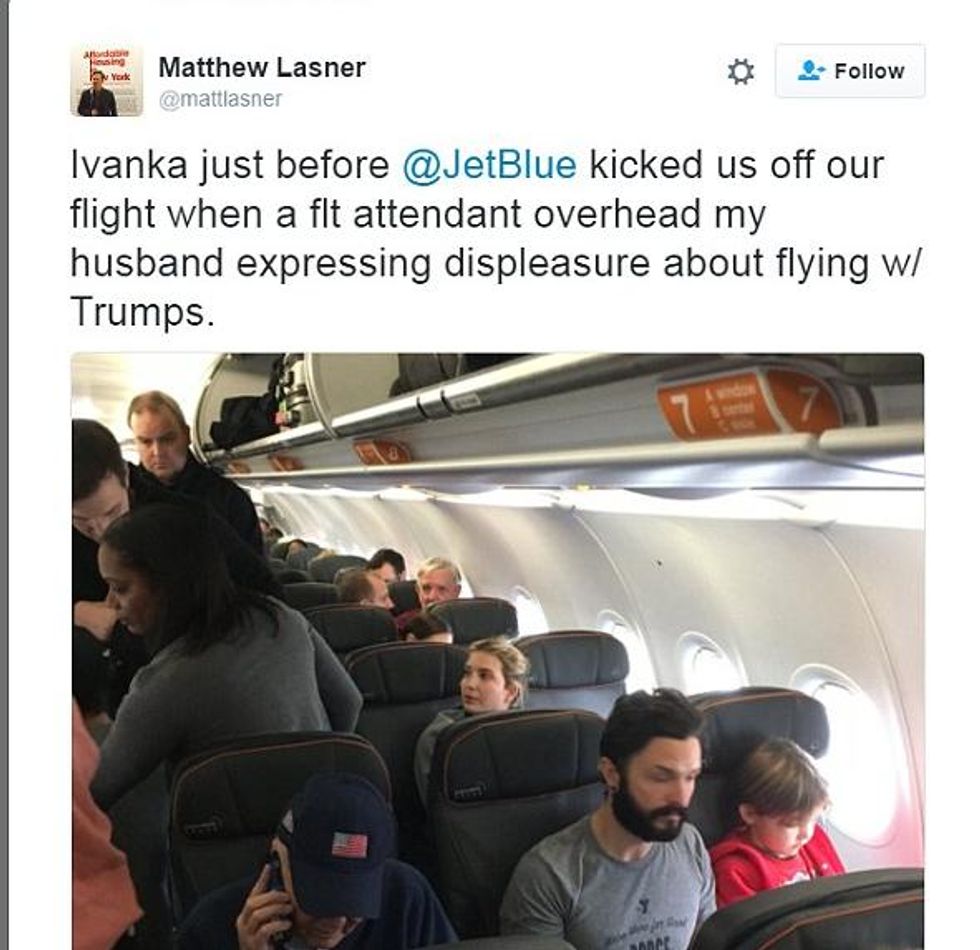 Lasner, who has since deleted his Twitter account, had also posted this...

...with an aggressive nature that seems to counter the rationality of this act.
Another passenger, who is seen in the above photo in front of Ivanka, posted on Facebook, and disparaged the media's (and the couple's) "sensationalized" account of the incident, claiming the two men, who were traveling with their son, were not yelling.
The passenger--Marc Scheff--also says that Ivanka didn't want the men removed, and asked the airline staff to not "make this a thing."
JetBlue has released an official statement on the matter:
The decision to remove a customer from a flight is not taken lightly. If the crew determines that a customer is causing conflict on the aircraft, the customer will be asked to deplane, especially if the crew feels the situation runs the risk of escalation during flight. Our team worked to re-accommodate the party on the next available flight
This comes a day after YouTube star Adam Saleh was removed from a Delta flight after passengers complained when they heard him speaking Arabic to his mother on the phone.
Header photo via Julian Mackler/BFA.com