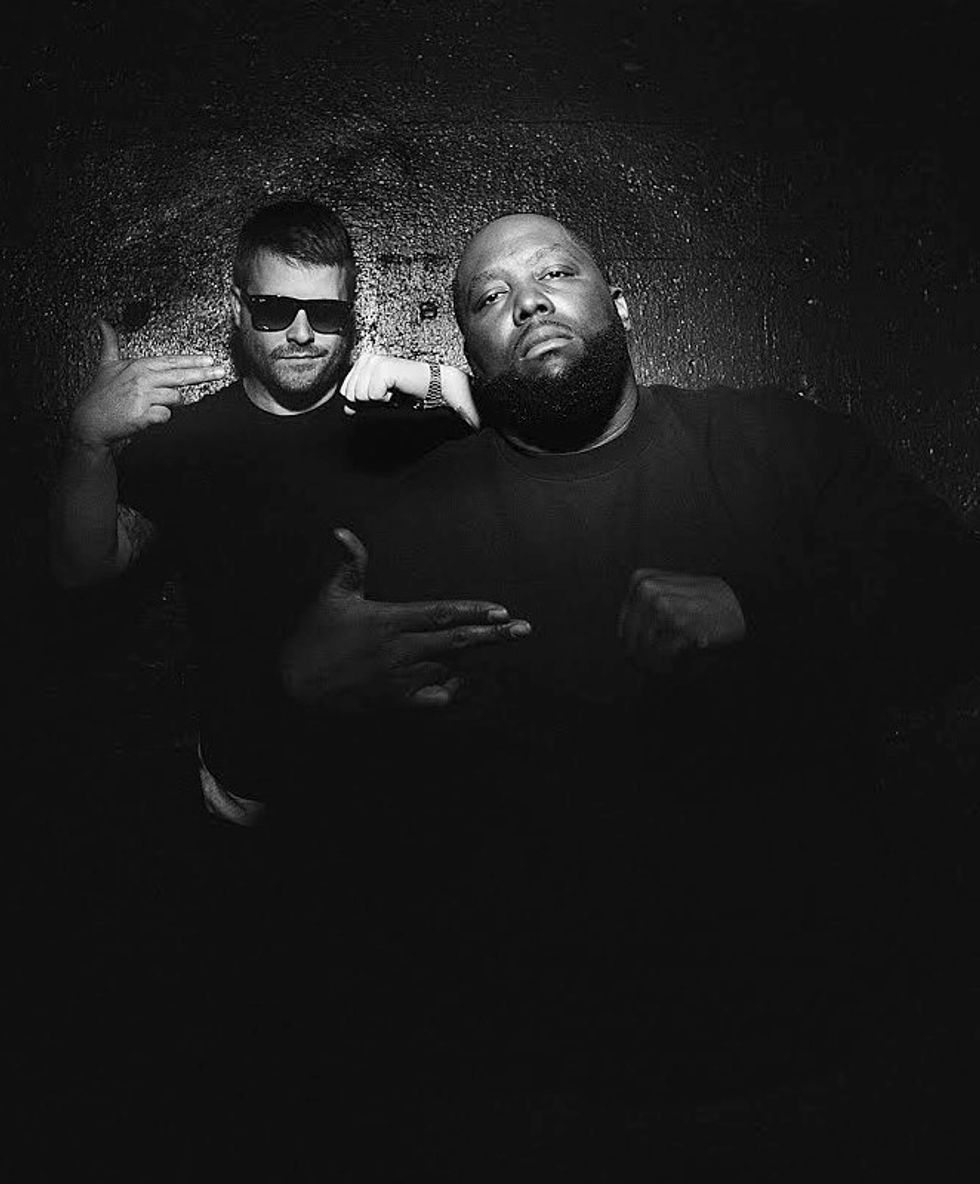 Run the Jewels' El-P and Killer Mike

While 2013 saw the release of several albums from many of rap's heavyweights (Kanye's
Yeezus
, Jay Z's
Magna Carta Holy Grail
, Drake's
Nothing Was the Same
) a dark horse
stood alongside
them in year-end
best-of lists
: rap duo Run The Jewels' self-titled debut. Now, a year later, the twosome (Killer Mike and El-P) are back with a much-anticipated follow-up album (which they l
eaked to fans
-- for free -- last Friday),
Run The Jewels 2
. Along with the release, the guys are coming out with a cat sounds version of the record (more on that
HERE
) and will be taking over Rough Trade in Williamsburg this Wednesday, giving fans the chance to hear
RTJ2
in full and meet the rappers. On the heels of the album's leak, we talk to the duo about collaborating with Travis Barker, auditioning cats, and why "mushrooms and alcohol" help fuel their all-night recording sessions.
What are the biggest differences between RTJ2 and your debut?El-P:
It's got a number "2" next to it...
Killer Mike:
The album cover is different.
El-P:
Other than that, it's literally the same record. We just changed the cover slightly and put number "2" on it and we're re-selling the exact same record and pretending it's new. But, actually, it's harder, it's meaner, it's darker. We tried to inject and infuse the songs with things that really mean something to us.
Killer Mike:
We decided to bring some of our individual thoughts and concerns that we usually reserve for our solo records and make this record heavier. Not sadder or darker in terms of gloom, but darker in terms of understanding the importance of what's going on around us right now. I remember writing a verse for a song called "Early," in which I describe a young man being stopped and frisked illegally and arrested for having 3 grams or less than an ounce of marijuana. It also describes a policeman overreacting in a situation in a working class neighborhood and a woman being murdered. All of this is done in a 16 bar verse and it's done passionately and without anger and with empathy. I'm glad that El and I decided to do it because people need to hear music that's reflective of the times.
You're donating all of the money raised on the Kickstarter to fund the cat-sounds version of RTJ2, Meow the Jewels, to Eric Garner and Mike Brown's families. What compelled you to do that?El-P:
A man's gotta stand for something. If we let injustice and death at the hands of our "protectors" slide, we're all fucked.
And, speaking of Meow the Jewels, were you surprised when the project got funded?El-P:
Yes, very much so. It was just a joke I thought of while stoned.

How did the cat auditions go?El-P:
Good batch of cats. Maybe a few stars. Hard to tell.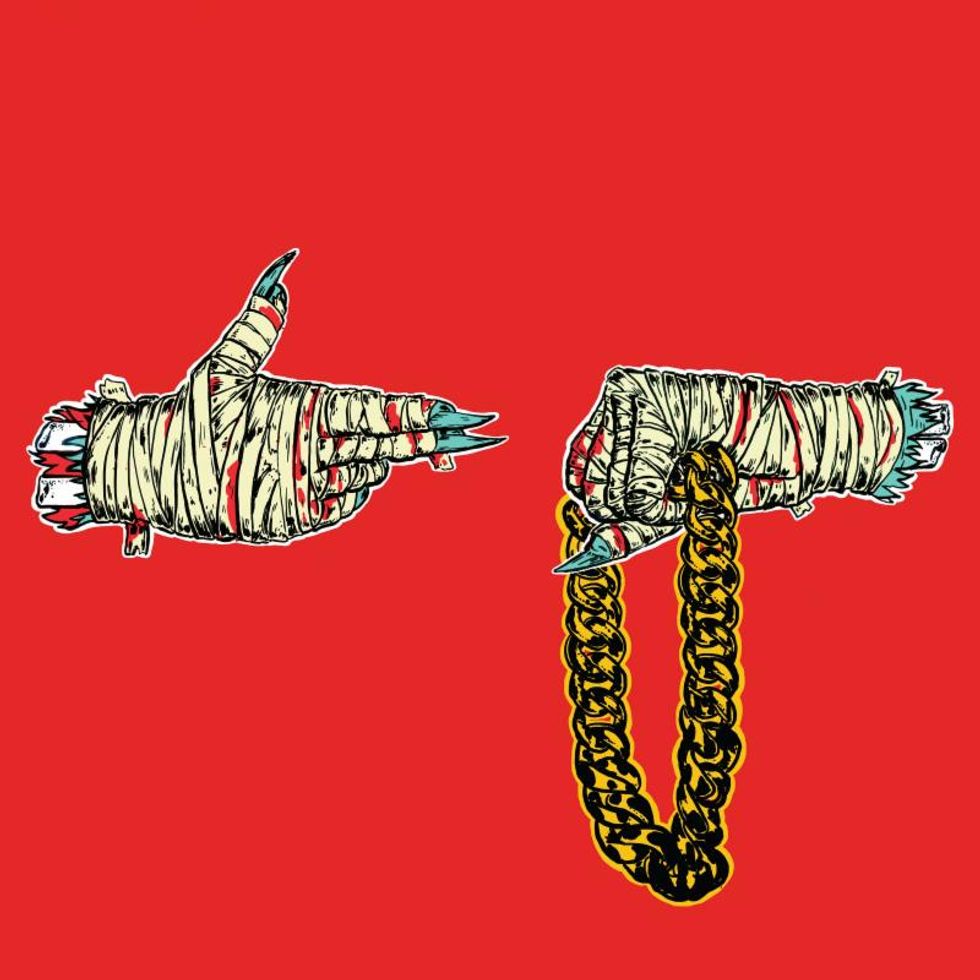 What's the dynamic like between the two of you when you're recording?El-P:
I'm a little bit more of a taskmaster because I'm also a producer. But we're pretty democratic when we work together because we really enjoy doing it.
Killer Mike:
El likes working in the daytime and I like working really late at night.
El-P:
But if you give me enough mushrooms and alcohol, I'll make it through the night.
Back to your album -- you have some interesting collaborators on it like Zack de la Rocha from Rage Against the Machine and Travis Barker from Blink-182. How'd you decide to team up with them?

El-P:
For most of my career, I've done [collaborations] like this. In 2007 I released
I'll Sleep When You're Dead
and I had Trent Reznor and Mars Volta and Cat Power on it. We're music fans. Period. It's a thrill to be able to work with people we respect and the people on the record are all friends of ours and connected to us in different ways. The collaborations unfolded just because of our relationships -- it was organic. Mike and I have been lucky to have gotten a lot of support and feedback from people from lots of different genres of music. And, as a hip-hop producer, you're familiar with so many different genres of music because you spend the first 20 years of your life collecting records from different genres. So it would be ridiculous for me not to be in love with rock 'n' roll, soul, R&B...it would mean that I wasn't doing my job as a producer and as a music lover.


What made you want to release the RTJ2 for free?El-P:
Let me tell you a dirty little secret: when you put a record out there and you're pretending that you're not giving it a way for free -- you are giving it away for free anyway. That shit is going to be online. I'm tired of the game. Let's not pretend that you don't have the record and you're waiting for some big premiere. If my record is going to be out there for free anyway, I might as well control it and give it to you the way I want to give it to you.
To find out where you can catch Run the Jewels performing live, go HERE.