Josh Thomas wants Americans to knock it off with the Hershey Kisses. Now.
"I don't want to tell you how to run your country, but you need to stop eating them," the Australian comedian says in between bites of his salad niçoise. "You don't realize how bad they are because you've been eating them since you were children, but they're actually repugnant. You've got some real dairy issues here.
"They don't taste like chocolate," he continues. "They actually taste like vomit. Like actual vomit." He prefers Cadbury.
Don't get him wrong. Thomas likes America. Before a U.S. promotional tour for the third season of his semi-autobiographical series, Please Like Me, the 28 year-old spent nine days in Disney World with his boyfriend.

"I did Disney. I mean I did Disney and I absolutely loved it." He pauses. "Well, everything but Epcot. Wait. No. That's not true. I liked it when I finally realized it was one big bar."
When asked if he was allowed to skip the lines due to his celebrity status (he has his own television series after all) at the most magical place on earth, Thomas laughs. "That's not how it works for me."
Not yet, anyway.

While the gawky Aussie may not be a household name, he's a social media sensation with over 340,000 Twitter followers and 260,000 Facebook fans. But internet admiration didn't come overnight; Thomas has been making people laugh for more than a decade. At 17, he won Melbourne International Comedy Festival's Raw Talent Competition — Australia's biggest and most prestigious open mic contest. Two years later in 2007 at the same festival, he performed his first ever-solo show, titled Please Like Me. By 26, he turned the act into a television series, which he writes, stars in and executive produces.
"People make really weird choices when they are teenagers," Thomas says. "They don't think things through. Some teenagers get girls pregnant. Some teenagers do meth and others play a lot of World of Warcraft. I decided to try standup. When I was old enough to realize that it's not necessarily the wisest career choice, it was already going quite well."

Please Like Me centers around Thomas' character, also named Josh Thomas, and explores his life, relationships, and misadventures. In the series' inaugural episode, Josh is dumped by his girlfriend, comes out to his parents, and moves back in to live with his bipolar mother after her suicide attempt. Not one to hold back, Thomas is able to inject potentially fraught subjects with humor. When he tells his God-fearing Aunty Peg that he doesn't want to go to church because he doesn't believe in God, she threatens him with hell. "You can't threaten an atheist with hell, Peg. It doesn't make any sense. It's like a hippie threatening to punch you in your aura."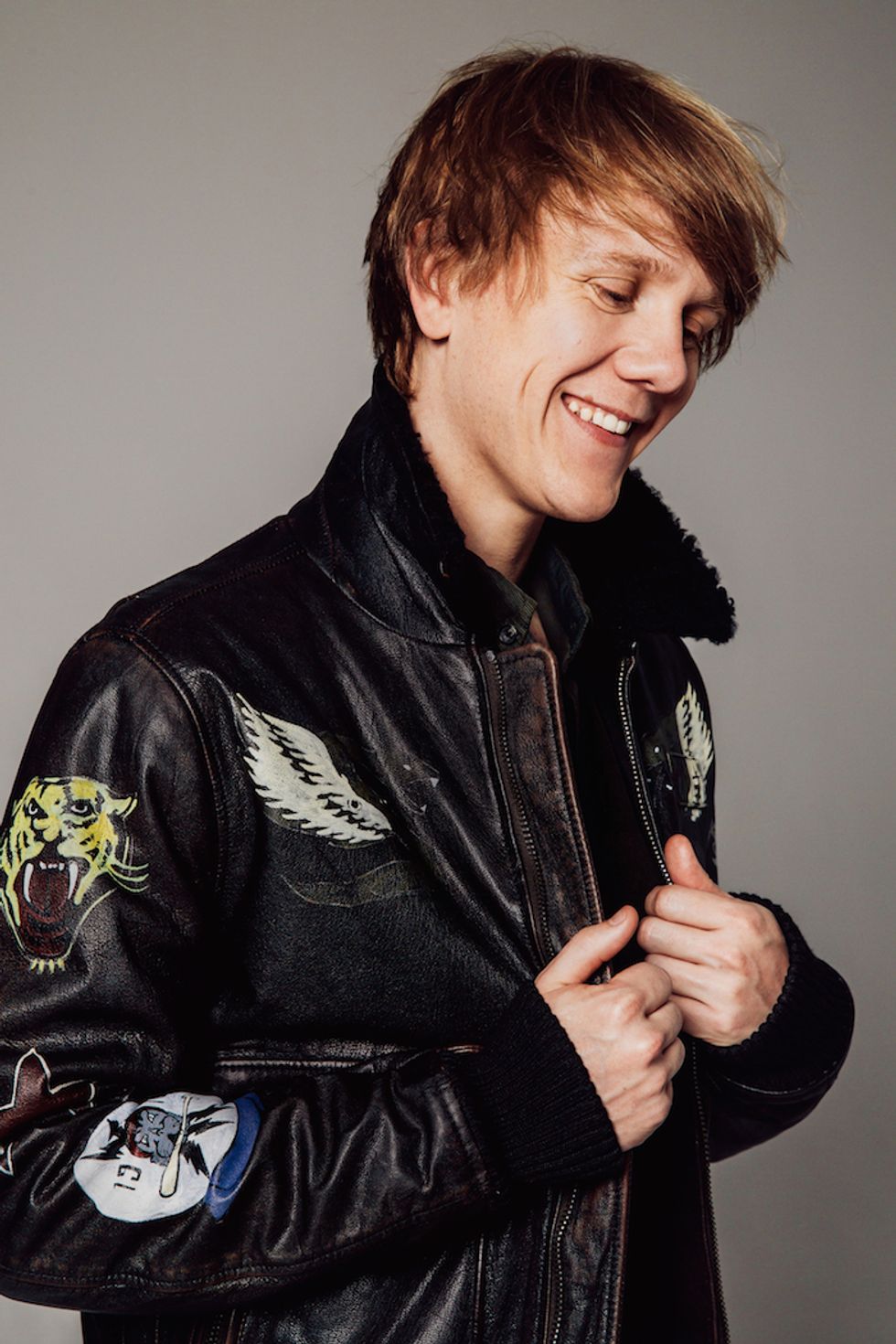 Thomas wears a jacket by Diesel. Photo by David Urbanke.
The first season premiered on Australia's ABC2 back in 2013. It soon caught the attention of the Participant Media's channel Pivot, which came onboard as a co-producer in 2014 and subsequently introduced it to American audiences. Since then the deeply personal comedy-drama has earned International Emmy Awards, Rose d'Or, and GLAAD Media nominations. Hulu recently acquired streaming rights to the first two seasons.

Thomas spent five years developing his ode to twentysomething angst, but he insists that the refreshingly honest and thoroughly dysfunctional characters he created for television are works of fiction. "It looks like my life and it definitely feels like my life when I was younger," says Thomas, "but most of the stuff on the show is made up."
Still, there is a lot of Thomas to be seen in his fictional Josh. But don't take the title of the show literally. The comedian isn't worried if audiences like his character. "I'm not trying to make [my character] anything," he says. "Some people think he's really likable and some people can't believe how rude he is. There are a lot of heavy-handed television shows that tell you what to think and what to like and not to like. But I prefer the audience not really knowing what to like and what not to like."
One audience member who liked Thomas' Josh was Pivot's Original Programming Executive Vice President, Belisa Balaban. In addition to his unflinching portrayal of a gay man's foray into adulthood, Pivot — a channel with a mission of running programming that is dedicated to inspiring and compelling social change — was drawn to the comedian's insightful and fearless depiction of mental illness. Thomas doesn't sugarcoat his mother Rose's depression and suicide attempt. He also doesn't make her illness overly dramatic or sad. It it was it is -- a disease that requires constant professional attention, support systems and self-care. By normalizing mental illness, Thomas effectively defuses the stigmas surrounding it.
"Josh has such compassion for all the characters -- those dealing with mental health issues themselves, and those going through them as a family member or friend," says Balaban. "The show demystifies and de-stigmatizes the experience on both sides by telling their stories with honesty and humor."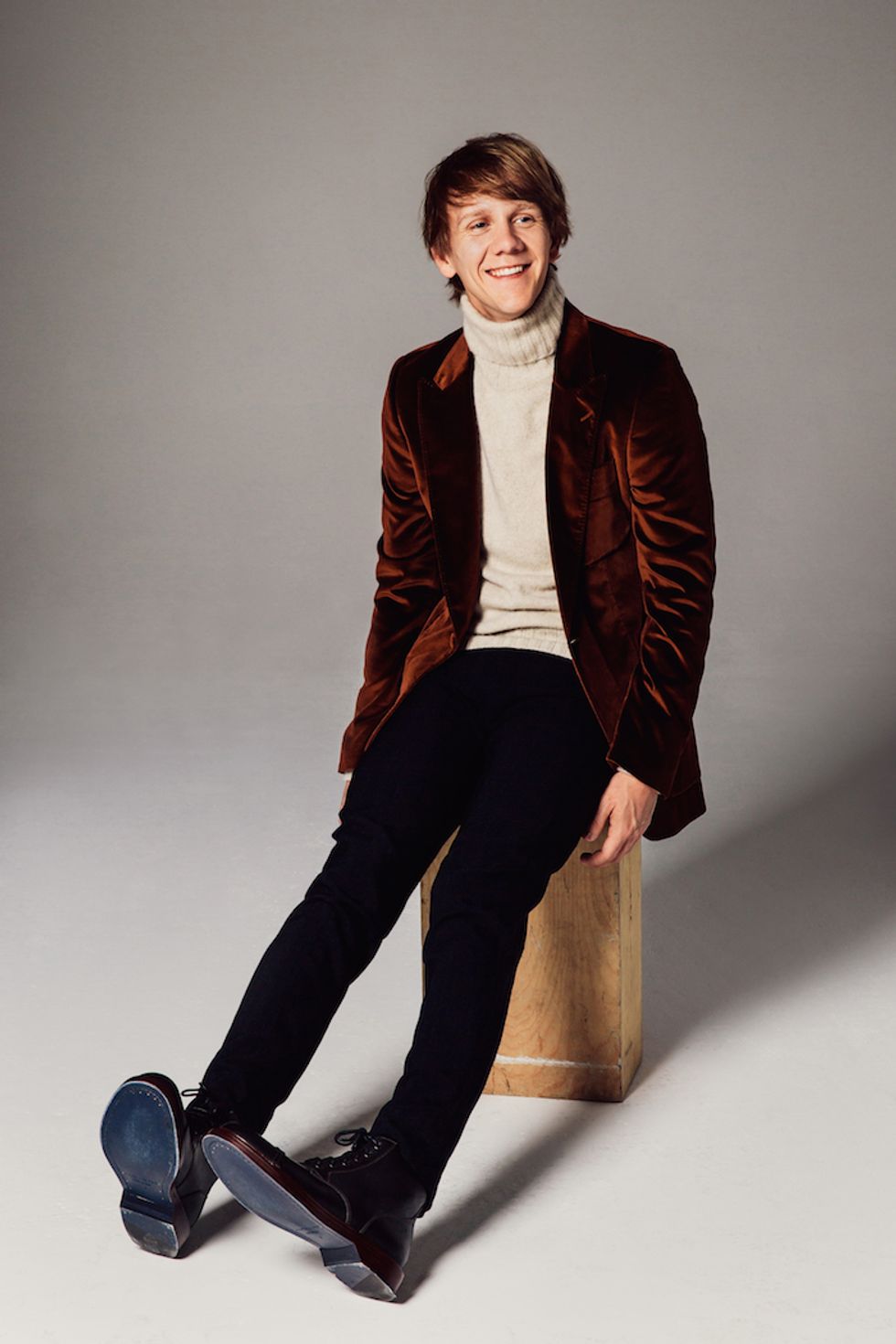 Thomas wears Marc Jacobs. Photo by David Urbanke.
Thomas admits that mental illness is not the most "useful plot tool as far as nuts and bolts of constructing a story, but I think Pivot liked that because it's not so heavy-handed," he says. "We try and show what really happens, instead of exaggerating it for plot purposes."

In addition to mental illness, the series also tackles Thomas' homosexuality in the same way that Girls star Lena Dunham dives headfirst into awkward sex and unglamorous nudity -- with raw honesty.
"Definitely some of what Pivot thought was socially responsible was that I was gay, which was weird to me because that's just what I am -- gay," Thomas says. "But they were like 'that's good. It's socially responsible to have gay people [on television].' I just never considered all the times I sucked a dick as being socially responsible. I just wanted to suck the dick."

But Balaban says that Thomas' sexuality wasn't the driving force behind Pivot's involvement with the show. "The mental health storylines are what we've chosen to focus on in terms of our advocacy and social impact efforts. We're overdue for mental health care reform in this country and it's important to us as a company to bring attention to the issue."
Jokes aside, Thomas is aware of the power of television. The comedian has written two coming-out scenes. The first one was based on the actor's own non-dramatic coming-out while the second, which occurs in season three, takes a darker turn. "Kids are still getting kicked out of their houses," he says, "so I think it's was important to show both sides."
With season three behind him, Thomas is feeling confident about the show's future. "We had no idea what we were doing the first year," he confesses. "But now I know how to construct a plot, so writing this last season was freeing. I got better at coming up with things and I feel like I know the characters and what they would do."
But at the end of the day, the star isn't too worried about audiences reaction to the latest season. Instead, he's surprisingly zen about his future.
"It will do what it does. I don't have much control over it. When the show goes away – I'll come up with a project that I want to do."
Photographer: David Urbanke
Style: Kevin Breen
Grooming: Miriam Robstad
You May Also Like