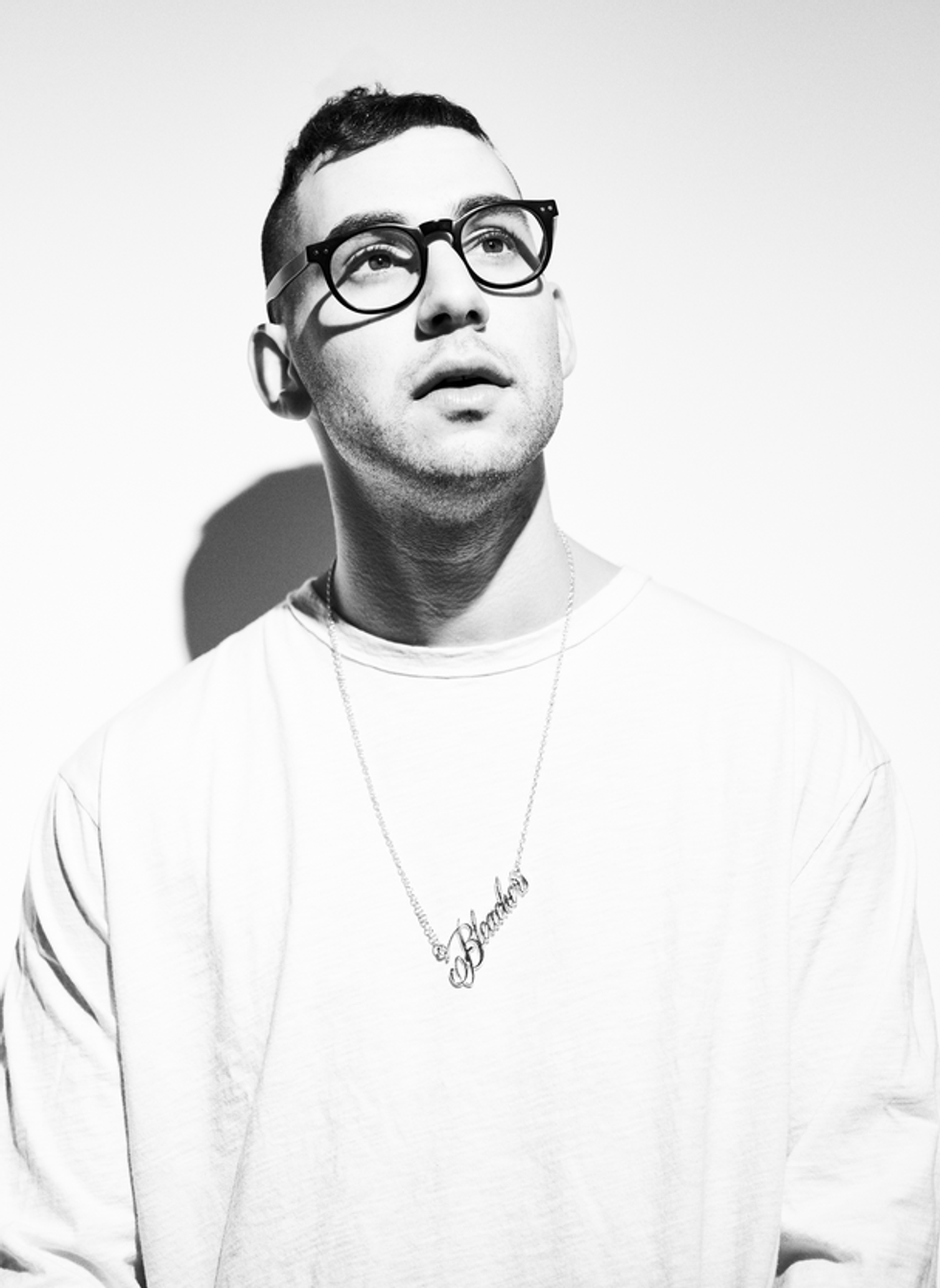 [Photo by Daniel Silbert]
Fun. guitarist and Bleachers frontman Jack Antonoff has put a new spin on the ubiquitous cover album -- he's covering his own music. Well, actually he's tapped some of pop music's leading ladies to cover tracks culled from Bleachers' 2014 debut
Strange Desire
, reimagined from a female perspective. From Charli XCX, who injects '80s pop-rock ebullience in "Rollercoaster," to Carly Rae Jepsen sparkling in a bouncy synth-laced version of "Shadow," and Sia's stark rendition of "Like A River Runs,"
Terrible Thrills Vol.2
, free and out now via RCA, is a beautifully eclectic amalgam of distinct female vocal styles and experiences that offers a fresh take on Antonoff's originals. We caught up with the artist and chatted about how he's able to navigate between penning female-centric songs and writing for himself. He revealed his long-term plans of creating a series of alternate, companion albums that inhabit parallel universes and relived the surreal experience of hearing one of his favorite childhood pop artists cover his music.
When was the seed planted to recreate Strange Desire using only female vocalists?
It started about six years ago with my old band Steel Train. I always write music starting from the female voice in my head, and it's not something that I ever really thought about but then it started to occur to me a long time ago that that's how I was creating the music and so I wanted to find a project that showed people where everything was coming from. And so I did
the first volume with my old band Steel Train
and since then I thought that with every album that I make I wanted to have a companion piece and one that was totally represented by the opposite gender. Both because I think that it's a fascinating way to hear the song but it's also extremely personal because I'm always doing things with that in mind. I'm always making music and thinking,
if I was a woman what it would sound like?
Why did you choose this specific cast of women to reinterpret the songs?
A big part of the project was to have people who inspired the songs to be written in the first place recreate the song, which is really fucked up in an amazing way, and so it had to be people that are the very artists that I'm literally thinking about when I'm writing music. Every song and every artist was very meticulously picked.
Strange Desire has been described as an '80s-inspired album, and you actually have The Bangles' Susanna Hoffs putting her spin on "I'm Ready To Move On." What new dimensions did she bring to the song as she deconstructed and recreated it?
She's one of the artists who took the song and totally just recreated everything from scratch. The arrangement she did on it, the instrumentation, it's all incredible; she completely made it her own. For me personally it was sort of weird to hear because the actual sound of her voice is something I literally grew up on.  
What was the most surprising cover of the compilation for you personally?
Tinashe's "I Wanna Get Better" because it's such a personal song, and it's such an intense song, and at one point it was very hard for me to rehear it emotionally and I really couldn't imagine who and how that was going to come out, and I love Tinashe and we got to work together. We make such different music that I was really inspired by her taking that one on and what she did with it is just completely incredible. It was really intense to hear.
Will there be a Vol. 3?
It's something that I envision as part of all the albums that I ever make, provided I keep writing music like this and I keep with that process that I've had my whole life of imagining things in a female voice.
So would you say that these covers are all extensions of what you start with, like a more in-depth exploration?
Well it's a companion piece. What's really interesting in putting out a record is that you make a record and it's one way, it's something you've worked on, and then it's finished, it's done. But then the moment you put it out, in a matter of seconds -- the second it goes out to the public -- it changes, and it never stops changing because peoples' reactions change. It's no different than if you walked out of your house naked, but nobody saw you, nothing would happen, it would be no different than what happens when you wake up in the morning and you're naked, but if you walked out of your house naked and there's people on the street the reaction you would get would entirely change the experience, and that's what it's like to put out an album. And that just constantly happens as people reinterpret it and to me it's just another phase of the album.
You're known for writing songs for female vocalists. Do you find it challenging to shift back to your point of view when you're writing music for your own projects?
No because it's very separate. When I'm writing for myself it reads like a diary, it's not something that's too universal. It's very specific to my life so it's very easy for me to separate the two.
What's your first reaction when you hear music that you've written for yourself that's been reworked yet again to fit the sonic contours of a woman?
It's completely wonderful first and foremost but it's also totally bizarre and kind of eerie. First of all you're talking about women that I'm extremely inspired by, that inspire me to write music in the first place, but it also recalls when I'm first writing the songs and I kind of hear it in a female voice, so it's very strange, it feels like a secret deep within me is all of sudden out for everyone to hear. It's very weird to revisit the beginning and end of an album but I also think it's very interesting and important.
Taylor Swift, one of your highest profile collaborators to date, is surprisingly absent from the album?
She and I have done a lot of work together and I feel like the stuff that we did together is very well represented and I just wanted to push things in a direction that was unexpected. It's important for me to work with people whom I haven't worked with before.  
What else are you working on these days?
The biggest thing at this moment is that I'm probably half way through the second Bleachers album. Tthat's kind of where my focus is, but I'm working on a bunch of things. But I'm not really supposed to comment because it involves other people and it has to remain secret.
Terrible Thrills Vol. 2
is free for the taking on Google Play.
You May Also Like