Way back in the ancient time of 2009, Kanye West had a blog on
his website
. This blog was amazing. Mostly images of Versace sofas, Nike Air MAGs and all-caps screeds, Kanye's old blog was my Tumblr before Tumblr and a source for all things dope and cool. It's no longer online, but here's a screen shot someone took of a classic Kanye rant about (then) not having a Twitter account: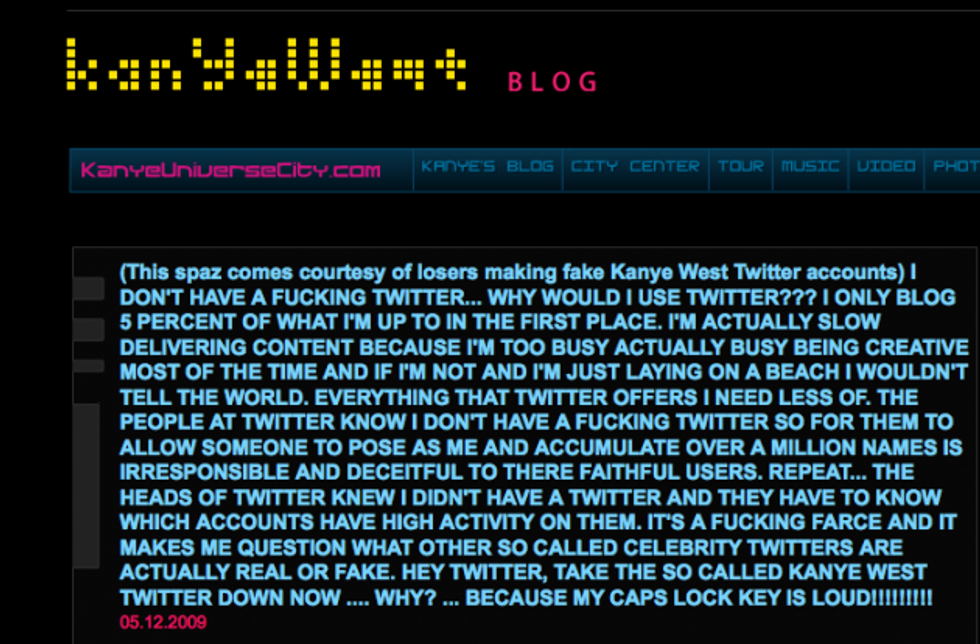 In a recent
Style.com interview
, when asked what influenced his newest collection for Adidas, West responded: "
....
I'm not going to try and act like I was influenced by a fucking dog walking down the street that broke its ankle that I had a heartfelt discussion with. I had a heartfelt discussion with all of these fucking Helmut Lang images that I stared at for so many years. I had a heartfelt discussion with my Tumblr." 
Wait a minute, Kanye West has a Tumblr? Since the interview, hypebeasts and Yeezus disciples all over the internet have been trying to wrap their Supreme-obsessed heads around this possibility. And I, my friends, have taken time out of my recovery process to attempt to search for that Tumblr. Like a wise man bearing gifts, I present to you what I have found:
The obvious choices would be simple guesses like "
kanyewest.tumblr.com
" or "
kanye.tumblr.com
." Just "Kanye" is most likely
not
him, as it boasts a single photo from the
808's & Heartbreaks
era, and if I had to guess, that's probably
not
Kanye's favorite era of himself. However, the apparently empty "
kanyewest.tumblr.com
" could
possibly
be him. It's what folks on Tumblr call a "hoarded URL" -- one you snap up before anyone else can claim it and then never do anything with. Also of note, on the always-reliable
Kanye To The
message boards, 'Ye fans have speculated that this password-protected Tumblr, "
kanyeomariwest.tumblr.com
" is the real thing. Good luck guessing the password.
Passwordless, I continued with more straightforward choices, such as "
donda.tumblr.com
" and "
yeezus.tumblr.com
," but all felt like dead ends. So I got in tune with my inner-Yeezus: If I wanted to find Kanye's blog, I must think like Kanye's blog. Though it could take days, I knew sifting through tags like "aesthetic", "architecture", "god", "visuals", "ballerinas" might bring me closer to finding Tumbye than any obvious vanity URLs might. And I think I was right, as these three all felt like very real possibilities.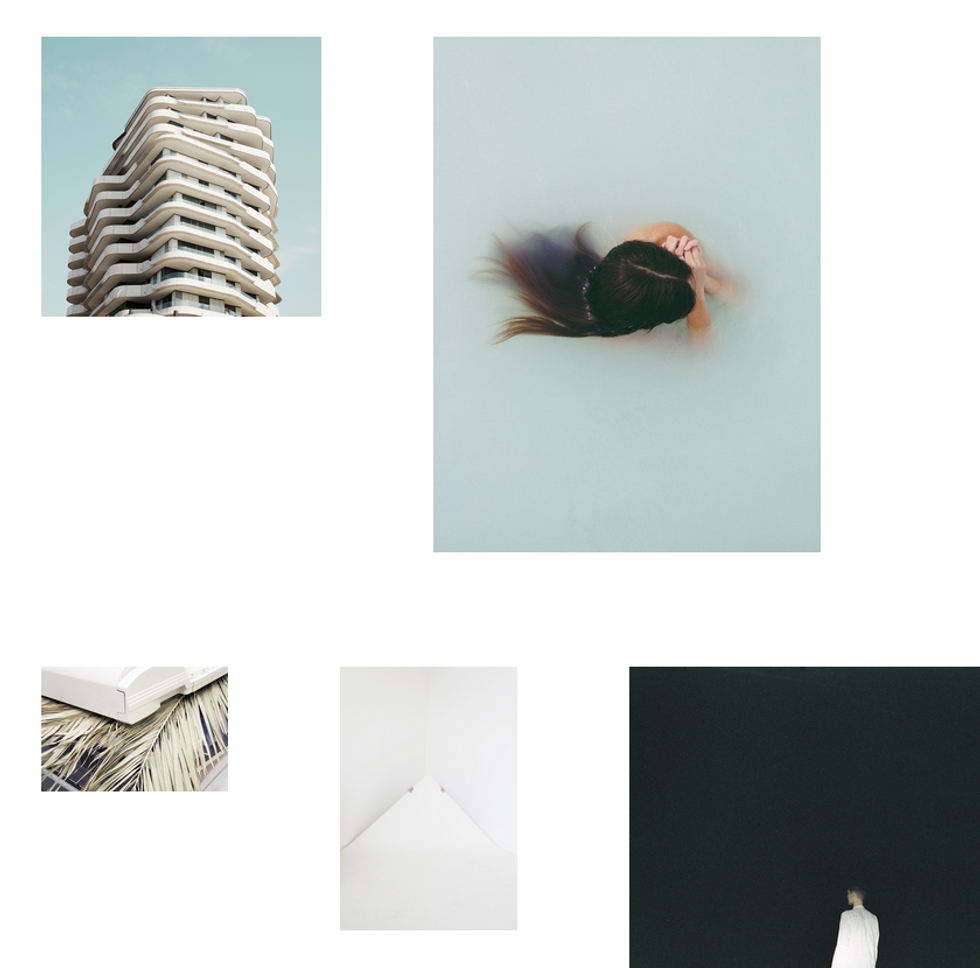 fuckwhat.tumblr.com
The aesthetic of this blog is good enough to potentially be Kanye's tumblr -- it's mostly design, architecture and Margiela masks. However, this random-style Tumblr template feels wrong. It seems like Kanye would choose a layout that is more cohesive and consistent.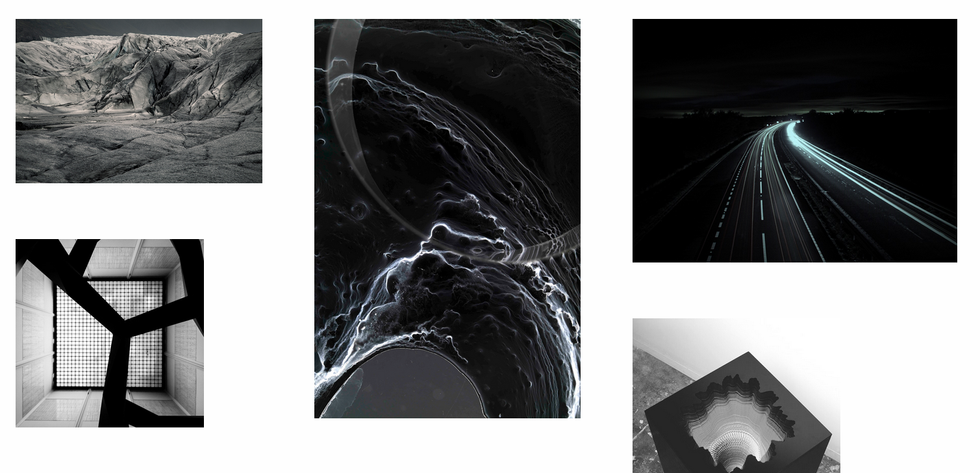 galleryofsmart.tumblr.com
The URL of this blog doesn't necessarily scream "Kanye scream" to me but the overall aesthetic does. The images on this tumblr are a bit more abstract and look the way that
Yeezus sounds
. Plus, there are images of Aleali May, who is a stylist in Kanye's circle.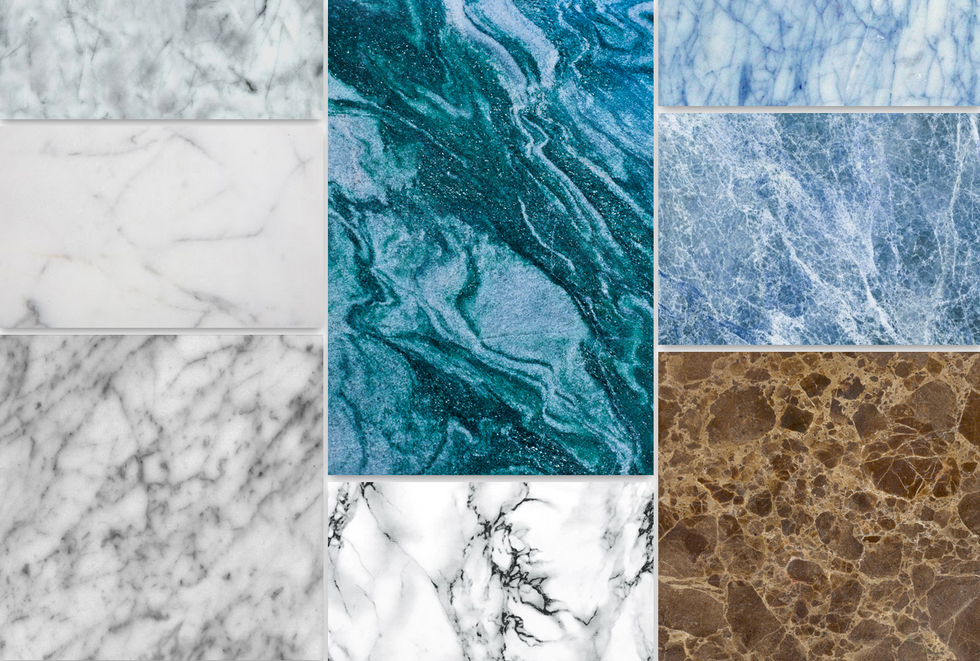 marbremarble.tumblr.com
Okay, hear me out on this one. I know it looks like just a Tumblr of marble. But it's so much more than that. Kanye LOVES marble! If you were Kanye, YOU WOULD MAKE A BLOG LIKE THIS! Let's not forget this tweet: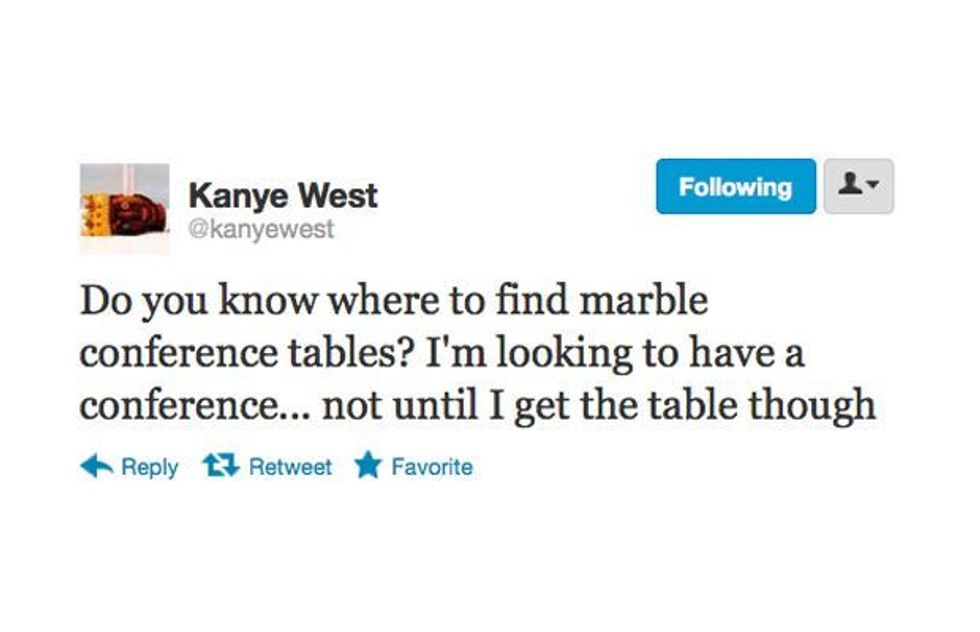 I'm just saying he's a creative. A creative that loves marble.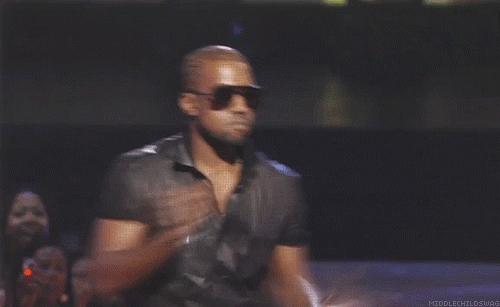 Still, I needed to dig deeper in this investigation. I was thinking so much like Kanye at this point that I probably should have booked studio time! (I'm a comedian and that was a joke!) But seriously, I was channeling Kanye something serious at this point. I continued searching Kanye-esque tags, this time including "concept", "design" and "vision," which led me to fashionwolf.tumblr.com.
 
WAS THIS IT?! WOLVES! Kanye loves wolves right now!! The first several images of the blog hold strong to the Ye aesthetic, however, it starts to get a little sus with posts about Kendall and Gigi Hadid. Still, there were a whole world of very-Kanye tags I hadn't even explored, including designers and artists that Kanye likes. Those names would DEFINITELY lead me to the holy grail. I mean, if Kanye has a Tumblr he's definitely gonna tag his favorite artists, right? I searched "Claudio Silvestrin," the architect who designed Kanye's minimal loft in Soho. It turned out to be the golden ticket that led me straight to the gates of heaven, ladies and gentlemen. I present to you, my personal conclusion for what is possibly Kanye West's blog:

7while23.tumblr.com

What does the URL mean? I have no idea. Maybe that Kanye has, and will, always feel like a kid? Maybe the "23" stands for the significance of Jordan when he was a kid in Chicago?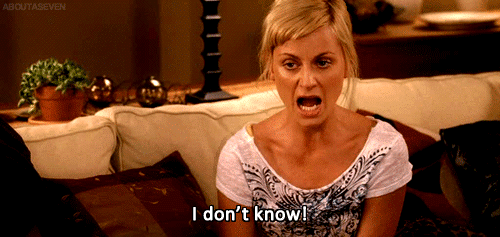 True, it's missing a few obvious things such as classical Greek statues and there's an alarming lack of architecture but this tumblr has most to all of the symptoms of Kanyeitis: triangles, Japanese fabrics, art, naked girls, masks, ballerinas...VANESSA BEECROFT! The list goes on!! Obviously, no one can say for sure whether or not this is actually Kanye's blog (maybe 'Ye collaborator Theophilus London can -- supposedly he is one of the lucky few who has seen Kanye's Instagram) but my vote is in for this one. If the new Kanye album title ends up being "7 While 23" everyone reading this owes me one trillion dollars.
You May Also Like